This article is part of a series focusing on the grads of the Dalhousie Class of 2022. Spring Convocation runs from May 24 to June 3 in Halifax and Truro. Read all our profiles here as they are published, and for more information visit the Convocation website.
If you ask Joy Ifesanya (DDS'22) why she chose Dalhousie's Faculty of Dentistry's Qualifying Program for internationally trained dentists, she doesn't hesitate to answer: "Dal chose me."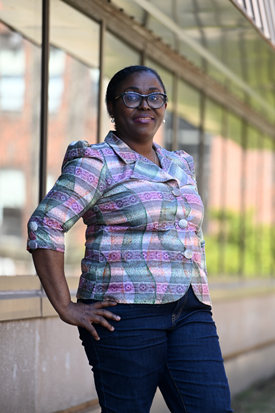 Joy's journey to working toward certifying as a dentist in Nova Scotia began at home in Nigeria, where she earned a BDS in dentistry at the University of Ibadan in 2001. Eight years later, she added a Master of Public Health in Community Health and Preventive Medicine from the same university.
Joy and her husband, a family physician, decided to immigrate to Canada in 2017 because they felt there were better opportunities for their three daughters here. They first landed in Regina, where her family had friends who could support them while they got settled. "I was aware when I left home that my dentistry degree wasn't certifiable in Canada," she says. "Of all the Canadian schools I applied to, Dal was the one I least expected to be successful, primarily due to the distance from my family, who were in Saskatchewan, but Dal was the only one that even put me on a wait list! So yes, Dalhousie chose me."
Joy joined the Faculty of Dentistry's graduating class in 2019, in the second year of the program. She liked what she had read about Halifax on the internet — the city was coastal, multicultural and friendly, and it had a beautiful fall season. While the family makes Halifax their home, Joy's husband commutes to his family practice in Shelburne (their daughters are 19, 14 and six).
Although Joy initially suffered from "technology shock" in the classroom — "I'm more of a pen-and-paper person," she quips — she quickly took to her instructors, whom she will miss.
"They are so open, and they made me feel comfortable and challenged me to want to know and do better," she says. "They always wanted to know how they could help me make my experience here better. I tend to overthink things because I want things to be perfect, but they helped me extend grace to myself and accept that 100 per cent is not always possible, that 99 or 98 per cent is fine."
At 46, Joy was the oldest in her class of 44 students, but her age was never an issue. "They didn't believe me when I told them!" she says, laughing. She made fast friends during the program; two classmates, a husband and wife, encouraged her to take breaks to play ping pong and pool, and someone else is planning to teach her to ride a bike. "It's the interaction with my classmates, instructors and patients that I'll miss the most after I graduate," she says.
A doctor for teeth

Joy has devoted her career to dentistry, so it's hard to believe that growing up in Nigeria, she never went to a dentist — and that she had never even heard of the profession until she was 18. In fact, she wanted to be a medical doctor, but her application wasn't successful. When she was considering her options — reapplying to medical school, veterinary medicine, or nursing – a family friend offered dentistry to her as another option to consider.
"At home, you didn't go to the dentist unless you had a serious dental problem, and I was lucky that I never did," says Joy. "My friend said that dentists were doctors who only treat teeth. I decided to try dental school for a year to see if I liked it, and the rest is history!"
At Dalhousie, Joy didn't encounter any surprises in the program. "Knowledge wise, it's basically the same as at home," she says. "The difference was in the processes. Here, there's a protocol for everything, which wasn't the case in Nigeria. Also, where most things are manual back home, here we have computers and technology for competencies and practical exams. The knowledge is the same, but the exposure to clinical practice is different."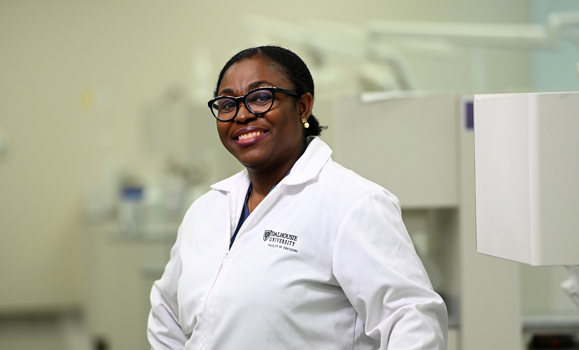 Giving it everything she can

Throughout the program, Joy enjoyed the time she spent working at outreach clinics at the IWK Health Centre, Harbour View Elementary School in Dartmouth, and community clinics in North Preston and Halifax's north end. "That was a high point for me," she says. "I have a passion for reaching the underserved in medical care."
Less enjoyable was studying virtually during the pandemic, but she took it in stride. "It was good to be able to adapt to remote learning, but of course we need in-person exposure for clinical practice," she says, "and the clinics had to be shut down for certain periods of time, which was challenging."
Although Joy will soon be saying farewell to Dalhousie, she and her family have no plans to leave Nova Scotia. "We are staying here, definitely," she says. "We like the environment, the weather, and the people. Our oldest daughter is studying at Saint Mary's University. And someday I'd like to be an instructor in the Faculty of Dentistry."
For now, she's busy in her job search, hoping to land a position in Halifax Regional Municipality. When asked what advice she'd give to someone considering Dalhousie's Qualifying Program for internationally trained dentists, she says this: "First realize it's a privilege to be a dentist. You should strive to give it everything you can. Set goals and reach for them. Everything is possible, even though there are no easy roads in life. I have no regrets about choosing Dal. Life is smiling at me."