This article is part of a series focusing on the grads of the Dalhousie Class of 2022. Spring Convocation runs from May 24 to June 3 in Halifax and Truro. Read all our profiles here as they are published, and for more information visit the Convocation website.
When Jonathan Haggett began his Bachelor of Music studies at Dalhousie in the fall of 2008, his focus was carrying on with his studies of the trumpet — the instrument he'd been playing since he was eight years old. But early on during his time at Dal, he questioned if he had set himself on the right path. After two years, Jonathan decided that he needed to take a break to reflect and reassess his choices.
That break turned into a 10-year pause.
Upon returning to Dal later as a mature student, the Halifax-born musician did so with a new outlook and, soon after, a new instrument. Following one more year of trumpet, he switched to the euphonium — a change that was a long-time coming. Jonathan recalls receiving some bad advice from a music teacher at another school when he was younger that encouraged an embouchure change, a shift that led to added problems including an inability to play music in front of people.
Jack Brownell, tuba and euphonium instructor in the Fountain School of Performing Arts, helped repave his journey.
"I knew that I needed some serious help and knew Jack Brownell from a younger age and knew his guidance would be the answer," says Jonathan. "I had always loved Brass Band from an early age and loved the sound of the euphonium. I used to mess around on my brother's euphonium when I was younger and knew I had a nice sound on it. ​So, on a whim and a prayer I took a chance and made a leap of faith. Jack and I started from scratch, and I worked very hard to bring my damaged chops back to life on a different instrument."
Finding his 'musical voice'

Jonathan worked under the instruction of Brownell to condense a four-year applied study program into two years, and this spring, Jonathan graduates with his Bachelor of Music degree.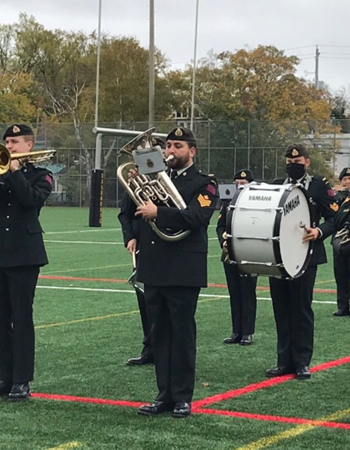 "Jonathan absolutely blossomed; he finally found his 'musical voice,' and excelled," says Brownell, noting that Jonathan's training with a new instrument happened during the COVID era, with lockdowns, online lessons, diminished one-on-one in-person time with instructor and accompanist, and a third-year recital without the support of an audience due to COVID safety protocols, and the general overall added stresses caused by the pandemic.
Additionally, Jonathan has been a member of the army reserves as a musician since he was 18-years old, having reached the rank of sergeant. He has taught basic training on several occasions and has served musically as trumpeter and drum major and during the earlier days of the pandemic he helped with COVID relief taskings in Halifax undertaken by the Canadian Armed Forces military.
Atop of all this, Jonathan worked full-time in the winter, driving the large-scale highway snowplows through the night, often during heavy storms, clearing highways around the Halifax Regional Municipality.
"Being a mature student is hard," adds Jonathan. "Working full time while doing a performance degree presents a very particular set of obstacles. There is never enough time to practice as much as you would like." Jonathan adds that even though he loved plowing snow, the 12 hour shifts he worked made his practice scheduling and preparations for exams difficult – those would often end up happening at 6 am or 10 pm to maintain consistency.
Dedicated and detemined

Brownell says that Jonathan is considered a leader-by-example amongst those he works with. "His level of dedication and determination has been top level from day one," he says. "This is the stuff of which role models are made, and Jonathan has served as such to all who know him — both his Dal music peers and those in the community."
Jonathan notes that some of the pandemic restrictions had in some ways allowed him to better focus on his studies. As he was already experienced in playing with bands and ensembles, thanks to his experience as a musician with the military and community groups, he was able to focus totally on his individual skills as a euphonium player.
"Every day was extremely regimented in my approach to making better music without other commitments," he says. "I got to be 'in the lab,' so to speak, working on my skills. Taking my electives online was nice because it allowed me to work full time during my degree."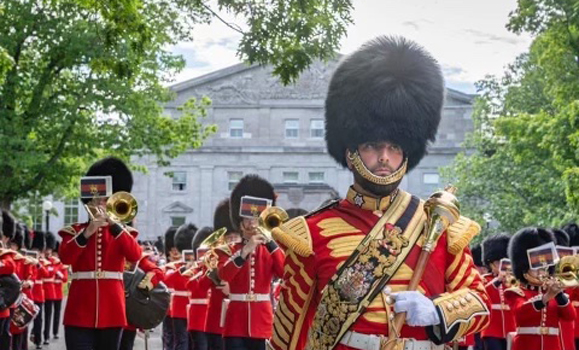 A standing ovation

And finally, in April, Jonathan had the opportunity to play the euphonium in front of an audience for the first time (to more than 70 people including friends, family, peers plus community and professional musicians) at his year-end senior student recital, receiving a standing ovation and an outstanding grade in recognition of his performance.
"Nothing can prepare you for that experience — it was incredible," says Jonathan. "All of your hard work comes down to one performance. I felt incredibly loved by my friends and family who came to hear me play."
Jonathan says doing a condensed performance degree may have been the biggest challenge he has ever faced in his life, often questioning his choice to switch instruments. But the bursaries and scholarships awarded him helped financially and mentally, and the support he received from loved ones, peers and instructors confirmed his choice was the right one, adding his biggest success was "Coming back to Dal as a broken music maker and leaving as a happy healthy one that can fully enjoy making music again for the rest of my life."
Jonathan is now at the Canadian Forces School of Music in Borden, Ontario (where he did his musical military training) as the drum major teaching new musicians how to march and play in a parade band formation. He will also teach euphonium there this summer. He wants to use his musical abilities to help people and plans to hold another recital next year to raise money for a good cause. In addition to continuing to pursue a career in the Canadian Armed Forces, he is considering returning to school for a master's degree in conducting at some point.
Above all, Jonathan hopes to be an example to people who may be struggling to find success with their personal instrument.
"With hard work and proper instruction, you can be successful. I went from not being able to play an eight-bar melody to playing an hour-long recital. If you are upset and crying in the practice room, it is time to find help!"