TThis article is part of a series focusing on the grads of the Dalhousie Class of 2022. Spring Convocation runs from May 24 to June 3 in Halifax and Truro. Read all our profiles here as they are published, and for more information visit the Convocation website.
After years of hard work and preparation, first year medical students often encounter an unfamiliar feeling — one of inadequacy. Described as 'imposter syndrome,' after years of achieving at the highest levels, students suddenly start to feel like a very small fish in a very big pond. Surrounded by other high-achieving peers and lofty expectations, questions begin to creep in about whether or not they truly deserve to be there.
For Class of 2022 medical school graduate, Lauren Miller, these troubling feelings of self-doubt and inadequacy began during her undergraduate collegiate basketball career at Acadia University. Like many other high-performance athletes — though not often talked about — the high-pressure environment and associated performance anxiety had a negative effect on her mental health. Years later while in medical school, this would retrospectively spark a personal and professional journey in learning to accept her imperfections, and helping others do the same along the way.
"Being a perfectionist is utterly exhausting," says Lauren. "The moment I leaned into the fact that I was (and always would be) imperfect and a work in progress, it felt like a huge weight was lifted from me. 'Failures' no longer feel like attacks on my identity and my self worth and I am now able to see them as learning opportunities and a chance to grow. The ability to be compassionate with yourself is absolutely a game changer."
Battling burnout

Once in medical school, Lauren quickly identified a major issue facing physicians and students: burnout. "It was extremely disheartening to hear the proportion of physicians experiencing burnout, poor job satisfaction, depression, and suicide — and this was before the pandemic hit," says Lauren.
As a result, she and her colleague, Claire Bullock, co-created an inter-professional education mini course titled 'Battling the Burnout Epidemic' to address some of these issues. While it was a tremendous amount of work to build, reading students' post-course reflections hammered home the importance of what they were doing, and that it really was making a difference in peoples' lives. This experience reinforced her passion to advocate for people to learn to feel safe in addressing their mental health, and to help break down the stigmas that prevent so many from accessing necessary care.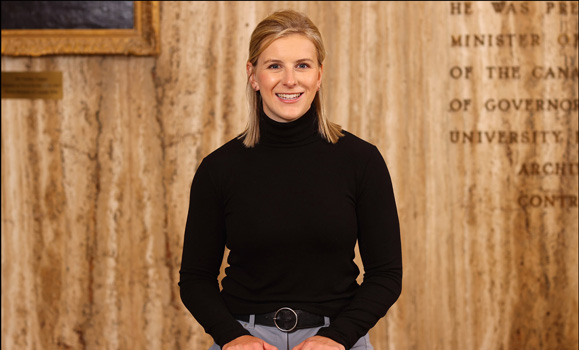 During one of the countless COVID-19 lockdowns, and with encouragement from her partner Annie, Lauren redirected her newfound self-compassionate mindset and put her thoughts to page in the form of a blog, The Recovering Perfectionist.
By laying bare her own vulnerabilities and struggles with mental health — and the subsequent work she has done to address them — Lauren has not only found a therapeutic outlet for herself, but national recognition. In April of this year, the Canadian Medical Association Journal published her blog post, The Fallacy of Perfection.
"It is extremely gratifying to know that my thoughts resonated so much with others that they found their way to a national audience," says Lauren. "Whenever I start to worry that I might be revealing something too personal, I remind myself that this is the very thing which makes it so relatable."
Shifting mindsets

Having left her mark at Dalhousie Medical School, Lauren's future is bright; she will undoubtedly continue to foster a healthier, more compassionate, and wellness-centred culture of medicine wherever she goes.
"I cannot tell you how much this shift in my mindset has changed the way I think and live," says Lauren. "I hope I can continue to help others do the same."
Now matched to a psychiatry residency in Halifax, Lauren is excited for the next chapter of her life with Annie. Though she is currently undecided on a psychiatry speciality, for now, Lauren is focused on being present in the moment, and ready for whatever comes next.