This article is part of a series focusing on the grads of the Dalhousie Class of 2022. Spring Convocation runs from May 24 to June 3 in Halifax and Truro. Read all our profiles here as they are published, and for more information visit the Convocation website.
Freddy Lee was raised in a family with no background in medicine, so his very early interest in the human body came as a surprise to his parents. While most youngsters devoured fairy tales and nursery rhymes, Freddy read about digestion and the content of our blood.

Born in Seoul, South Korea and raised in Halifax, Freddy was drawn to medicine from an early fascination about the human body to treat diseases and the desire to work with people to improve their health and to make an impact on their lives.
 
"For me, there was never an epiphany kind of moment," he recalls. "But it was really a gradual and conscious decision to pursue this long, long journey of medicine."

Freddy completed a master's degree in neuroscience before entering medical school, eager to apply what he had learned to patient care.

With a strong commitment to student leadership, Freddy excelled during his training. He served as president of the Dalhousie Medical Students' Society and Class of 2022 co-president, was the recipient of various awards, including the Canadian Medical Hall of Fame Award and the Canadian Federation of Medical Students Leadership Award, and also developed several initiatives aimed at easing some of the burden associated with COVID-19.
Alleviating the pressures of a pandemic

With the arrival of the pandemic came the closure of public schools and daycares across the province. As the demand for healthcare professionals increased, so too did the need for childcare for these frontline workers. Spearheaded by Freddy and fellow medical students, Clara Long, Margaret Sun, and Kristin Ko, a childcare program run by student volunteers from the allied health programs helped alleviate this pressure.

"We were not able to be involved in patient care as medical students, but we wanted to contribute in meaningful ways at this difficult time. Fortunately, we had many amazing volunteers who really made this possible."

Childcare was not the only issue that Freddy knew needed addressing during the pandemic.

"As the COVID-19 outbreak developed, there was growing concern that the availability of alcoholic beverages could become unreliable as provincial liquor stores threatened to close, as seen in other provinces," says Freddy. "People with severe alcohol dependence were particularly vulnerable to acute adverse effects of withdrawal, chronic health consequences, poor mental health, and social exclusion."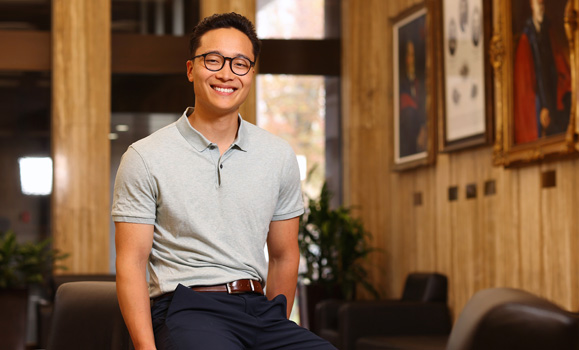 Working with Dr. Leah Genge — lead physician at Mobile Outreach Street Health (MOSH) — and other Canadian managed alcohol program sites, they developed an emergency managed alcohol program at MOSH aimed at preventing and reducing harms of unsafe alcohol use, including drinking non-beverage alcohol, binge drinking, and unsafe alcohol consumption. The program focused on stabilizing patients with severe alcohol-use disorder and reinforced social isolation to reduce the risk of spread of infection. As the pandemic persisted, the program shifted from a scattered site model to a centralized community program which is ongoing and now managed by MOSH.

Much has happened since Freddy Lee walked through the doors of the Tupper Building to begin his medical training in 2018. When he walks across the stage of the Rebecca Cohn on May 24, he will be eyeing the next leg of his journey — residency in the Department of Ophthalmology and Visual Science here at Dalhousie.

"I was drawn to ophthalmology by the patients," he says. "I loved working with this patient population, and I realized that restoring and optimizing vision for patients makes a huge tangible impact on how people interact with the world and loved ones. Being able to have a hand in providing this kind of care is incredibly gratifying."

Freddy plans on becoming a comprehensive ophthalmologist and hopes to engage in medical education through continued connection with the medical school.