Medical Research Graduate Program PhD student Jasmine Mah was the winner of the finals of Dalhousie's 3 Minute Thesis (3MT) competition. 3MT challenges research-based master's and doctoral students to distill their research into three-minute chunks for a non-specialist audience, with a single PowerPoint slide permitted as a visual aid.
After a year away in 2021 due to the pandemic, 3MT returned to Dalhousie in a virtual format in 2022. The Faculty of Graduate Studies hosted the event via Zoom on the evening of Thursday, April 21.
For finishing in first place, Mah earned a $2,000 prize and a spot representing Dalhousie in the Eastern Regional 3MT competition that will be hosted virtually by the University of New Brunswick in June. Second place went to PhD in Agriculture student Tommy Davies, with MSc in Medical Neuroscience student Adam Sunavsky finishing third. The People's Choice Award, as voted on by the live virtual audience, went to MSc in Epidemiology and Applied Health Science student Alex Stirling.
Measuring social vulnerability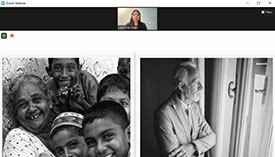 Mah opened her presentation, titled Social Vulnerability: What It Is, How to Measure It, and Why It Matters, by showing photos of two older adults and asking which of them was more likely to be the victim of "granny dumping", a colloquial term for the act of being abandoned at a hospital, usually by members of their own family.
"Lucy, who despite living below the poverty line, has a large and loving family who visit regularly and cook her meals," said Mah, "or Elliott, a retired lawyer who lives in a mansion but is estranged from his only son and has no close friends."
The holder of an MD, Mah explained that her research uses large information databases and medical statistics to create a holistic measure of someone's social circumstances. This social vulnerability index, or SVI, can be used to predict deaths, disability, and nursing home placements among seniors.
Mah said afterward that she felt "shocked" to have been named the winner. "Public speaking has always scared me," she said. "My heart was palpitating at a dangerous rate." Despite those nerves, she decided to enter the 3MT competition after being encouraged to do so by Dr. Lynne Robinson, a Dalhousie professor and academic director of the OpenThink Initiative, of which Mah is a member.
"Good quality research is useless if those who will benefit or those who can enact change can't understand it," said Mah. "In my research on social vulnerability, I want to convince older adults, caregivers, healthcare professionals and policymakers that social factors beyond medicine are overwhelmingly contributing to poor health outcomes and healthcare inefficiencies."
Participating also provided an opportunity to share her research with members of her family. "While always supportive, my family has difficulties understanding my research and why it matters. The 3MT was the first time my parents watched me talk about my work in an academic setting and felt they could relate to it.
"This is why the 3MT has been one of the most special experiences of my graduate studies."
Mah also thanked her thesis committee (Dr. Melissa Andrew, Dr. Kenneth Rockwood, Dr. Janice Keefe and Professor Susan Stevens), the Medical Research Graduate Program, Geriatric Medicine Research and the Department for Medicine for supporting her research endeavours.
The people's choice
MSc in Epidemiology and Applied Health Science student Alex Stirling took home the $500 People's Choice Award, sponsored by Estelle Joubert and Paul Doerwald. In his presentation, he asked the audience to imagine they were a paramedic forced to make a quick decision when a patient stops breathing. Would you provide the basic option for treatment, the effects of which, while reliable, may not last long enough to make it to the hospital, or the advanced option, a high-risk, invasive procedure that could easily leave the patient worse off should it fail?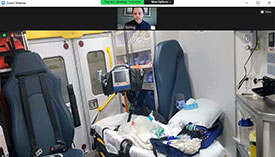 "As a paramedic, I understand the stress of these emergency situations and want to help ground medics make the best choices," said Stirling afterward. "Being in these situations myself and facing these exact questions has made me very passionate about this project, and I think that shines through when I'm presenting.
"I want to thank my supervisors and committee members Dr. Sanja Stanojevic, Dr. Jill Hayden, Dr. Judah Goldstein and Dr. Samuel Campbell. I wouldn't have been able to get this far without their help."
Future thought leaders on display
The Faculty of Graduate Studies' annual battle of brains and brevity had a different feel compared to pre-pandemic editions of the competition, which featured both the heats and finals performed in front of in-person audiences (a line in the recap of the 2020 event referencing a "packed crowd of 200 people" in the Student Union Building's McInnes Room feels particularly anachronistic). Due to uncertainties surrounding in-person gathering limits and masking requirements, the 2022 3MT was held entirely online. For the preliminary heats, participants provided video recordings of their presentations, with judges determining the finalists who presented live on Thursday evening.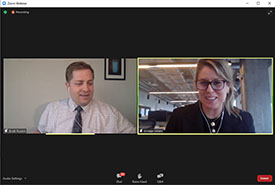 Some things about the finals remained the same, despite the virtual format. CBC reporter and video journalist Brett Ruskin served as host for the fourth time, a VIP judging panel of Frank Harvey, Kristan Hines and Theresa Rajack-Talley deliberated over the final rankings, and approximately 200 members of the Dalhousie community signed up to watch, albeit from their homes.
The competition showcased the high-impact research being done by Dalhousie's graduate students. "The very important contributions that graduate students make to Dalhousie's research enterprise is one of the major reasons why Dalhousie is one of Canada's leading research universities," said Dalhousie President and Vice-Chancellor Deep Saini, in his opening remarks. "I have no doubt that these future thought leaders that we have with us today will go on to make an impact in the world."
In her opening remarks, FGS Dean Marty Leonard brought up the challenge of summarizing a complex research topic for a non-specialist audience within a set time limit. "Usually when I ask students what is harder, putting together a 45-minute research seminar or a 3 Minute Thesis presentation, hands down the 3MT presentation is much more difficult and time consuming to put together."
Looking to next year
"I'd like to congratulate Jasmine Mah for finishing first in this year's competition," said Dr. Leonard afterward. "Nova Scotia has a large population of older adults, and social vulnerability is a growing concern. Jasmine did a great job of explaining her research and the problems it aims to solve. She is a very worthy winner.
"I also want to congratulate each of the finalists and thank everyone who took part and showed the initiative and commitment to improving their communication skills. Next year, I hope we will all be back together on-campus so we can do this in-person!"
The finalists
Jasmine Mah, PhD in Medical Research Graduate Program, Faculty of Medicine (First place)
Tommy Davies, PhD in Agriculture (Second place)
Adam Sunavsky, MSc in Medical Neuroscience (Third place)
Alex Stirling, MSc in Epidemiology and Applied Health Science (People's Choice Award)
Julia Jordan, MA in Musicology
Madeline Shivgulam, MSc in Kinesiology
Learn more about the finalists and their research areas
Judges
Frank Harvey (Provost and Vice-President, Academic)
Kristan Hines (Board of Governors; Senior Vice-President, Public Affairs, NATIONAL Public Relations)
Theresa Rajack-Talley (Vice-Provost, Equity and Inclusion)
Related reading: Get to know this year's 3 Minute Thesis finalists as they prepare to battle it out