Medical Neuroscience PhD student Tareq Yousef was the big winner of Dalhousie's eighth annual 3 Minute Thesis (3MT) competition held on Wednesday evening in the Student Union Building's McInnes Room.

The competition's final round saw 10 graduate students show off their groundbreaking research in accessible 180-second presentations in front of a packed crowd of 200 people. It was hosted by CBC reporter Brett Ruskin for the third straight year.

Yousef took home first place for his presentation, Horizontal Cells Help Us See from Sunrise to Sunset, and also the People's Choice Award, as voted on by the audience. The win earned him the top prize of $2,000 and a spot in the 3MT regional competition being held at Saint Mary's University. The People's Choice Award, sponsored by Estelle Joubert and Paul Doerwald, earned him an additional $500.

The fourth-year PhD student was quick to credit others following his victory. "I definitely didn't do this on my own. I got so much help from other people," Yousef said, crediting his boyfriend, his supervisor Dr. Bill Baldridge and Dr. Lynne Robinson for helping him with his talk.

"Even all the way back to my undergrad days, Dr. Leanne Stevens was such a big mentor for me in science communication. It's a big job to trim a lot of the nuance and get to the foundations of what we're working on."
"Like a kid in a candy store"

University President Deep Saini (pictured below) was in attendance for the first 3MT of his Dalhousie tenure and provided opening remarks. Having experienced the event at institutions in Australia and Canada, he said he felt like a "kid in a candy store," because of the delight he took in hearing the diversity of ideas on display.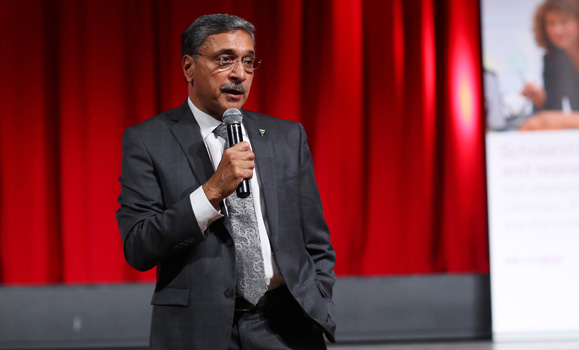 "Dal is by far the foremost research-intensive university in Atlantic Canada and one of the top research universities in the U15. You can't hope to be within the U15 without having outstanding graduate students at the master's and PhD levels, and we have both."

He also stressed the importance of knowledge translation. "I can't imagine a better way of honing the skill of telling the story of your research than a 3 Minute Thesis presentation. It's the ultimate elevator pitch."
Practice makes perfect
Also a finalist in 2019, Juliana McLaren (pictured below) of the School of Communication Sciences and Disorders improved on last year's performance with a second-place finish. Her presentation, Two Truths and a Lie, explored hearing loss and its relationship to dementia. She called on the audience to drown out part of her presentation by asking them to make a shushing noise to emphasize how hearing loss prevents sufferers from getting the information they need.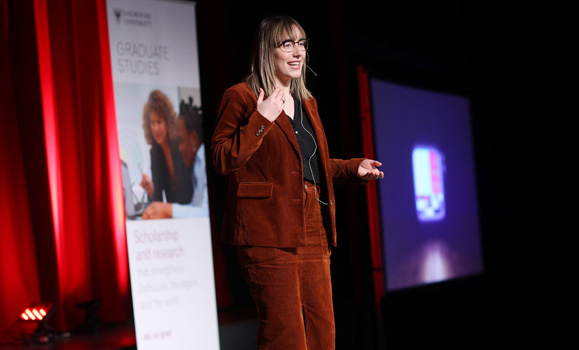 A superhero for your spinal cord

Spider-Man may exist only in comic books and on the big screen, but Lizzy Baker (pictured below) drew inspiration from the web-slinger en route to a third-place performance. A Biochemistry & Molecular Biology student, Baker's presentation, My Spidey Senses are Tingling: Engineering Spider Silk for Nerve Regeneration Following Spinal Cord Injury, asked the audience to imagine the role synthetic spider silk could play in the spine's recovery process.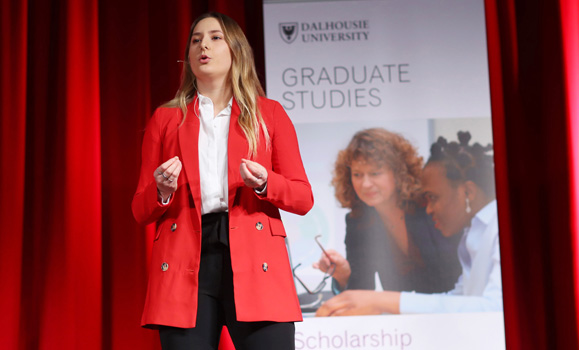 "The highlight of the year"

Marty Leonard, Dean of the Faculty of Graduate Studies, said she was proud of the students who took on 3 Minute Thesis, not just because of the challenge of speaking in front of an auditorium full of people but because of their commitment to serving the public by sharing their research beyond the university.

"For me and everyone at the Faculty of Graduate Studies, 3MT is the highlight of the year," said Leonard while addressing the crowd. "It brings together our grad community and is a wonderful opportunity to showcase the quality and the diversity of the research our graduate students are doing."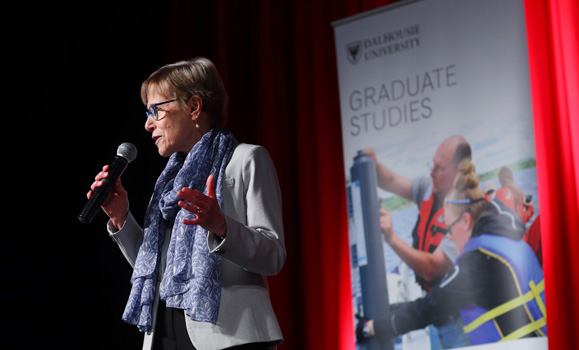 Marty Leonard
Complete list of finalists

The 10 finalists, representing programs from across the university, earned their places by advancing out of a field of 80 of their peers during first-round heats held Tuesday.

Elise Aronitz, Psychology & Neuroscience, Using Darkness to Shine Light on the Molecular Mechanisms of Visual System Plasticity

Lizzy Baker, Biochemistry & Molecular Biology, My Spidey Senses are Tingling: Engineering Spider Silk for Nerve Regeneration Following Spinal Cord Injury

Isobel DeMont, Civil & Resource Engineering, It's All Green to Me: Algae and the New Age of Drinking Water Treatment

Laura (Cole) Hirello, Health Administration, Health, Wealth & Measurement: Equity in the Canadian Health Care System

Nicole MacKenzie, Psychology & Neuroscience, Parents and Needle Pain: Keeping Knowledge from Getting Lost in Translation

Caitlin McCavour, Earth & Environmental Science, The "Lime" Between Unhealthy and Healthy Forests

Juliana McLaren, Communication Sciences & Disorders, Two Truths and a Lie

Chad Simmons, Biology, Treasures in our Backyard: Exploring Rare Forest Plants in Nova Scotia

Sean Thornton, Chemical Engineering, Green Solar Energy

Tareq Yousef, Medical Neuroscience, Horizontal Cells Help Us See From Sunrise to Sunset