Next week, six graduate students from across Dalhousie will present their research live at the finals of the 3 Minute Thesis (3MT) competition — the Faculty of Graduate Studies' annual battle of brains and brevity.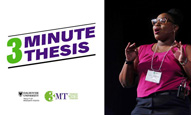 Traditionally held in person, this year's 3MT finals will take place online Thursday, April 21 from 6-7 p.m.
Following opening heats in which participants submitted recorded videos explaining their research focus in under three minutes, six finalists were determined. Four master's students and two doctoral students will make their presentations in front of a live virtual audience during the 3MT finals, while competing for a share of $4,000 in prizes and a place in the Eastern Regional 3MT competition at the University of New Brunswick.
3MT showcases the diverse types of research being conducted by Dalhousie's graduate students. The areas of focus explored by this year's finalists include how to reduce elitism in opera, how improved apple production can help combat food insecurity, and how our brain responds to pleasure and pain.
All are welcome to attend. Please complete the Zoom registration form to receive a link to join the virtual event.
Meet the six graduate students who will be presenting at next Thursday's finals:
Thomas Davies, PhD in Agriculture


Presentation title: An Apple a Day Keeps Food Insecurity Away!
"Pests, disease, and shifting climates are becoming a major issue impacting the production of apples, the world's third most valuable fruit. My research leverages the power of Canada's Apple Biodiversity Collection to map the precise genetic locations of important traits in apple, in the hopes of breeding better apples for the security of our food systems."
Julia Jordan, MA in Musicology

Presentation title: How We Can Use Timbre to Reverse Elitism in Opera
"In the elitist field of opera, performers and researchers alike often find it challenging to navigate this deeply patriarchal genre. In this presentation, timbre is identified and shown to be a changeable element that opera singers can control in order to regain their artistic voice."
Jasmine Mah, PhD in Medical Research Graduate Program, Faculty of Medicine

Presentation title: Social Vulnerability: What It Is, How to Measure It, and Why It Matters
"We know that an individual's medical conditions determine health outcomes and utilization of health and social resources; however, did you know you can also predict these things by looking at their social circumstances? For example, people who are socially isolated, with lower educational attainment or are financially unstable have worse health outcomes and more nursing home placements compared to others who are in those ways more fortunate. We call this phenomenon 'social vulnerability'."
Adam Sunavsky, MSc in Medical Neuroscience

Presentation title: Pleasure and Pain: Two Sides of the Same Coin
"My research shows that pleasure and pain are largely intertwined: brain regions that light up when you consume sweet treats also light up in response to pain. This insight can be used to develop novel therapies for debilitating pain-related conditions."
Madeline Shivgulam, MSc in Kinesiology

Presentation title: Taking a Stand Against Cardiovascular Disease!
"Sedentary time, or the time spent sitting or lying down while awake, has been shown to have negative impacts on vascular health. My thesis aims to investigate whether decreasing sedentary time over one year will improve artery health in adults."
Alex Stirling, MSc in Epidemiology and Applied Health Science

Presentation title: Prehospital Airway Management Association with 30-day Survival, and Prehospital Hypoxi; 5 Year Retrospective Cohort Study
"My thesis examines how external factors affect prehospital airway management association with hypoxia and survival."