Update, Friday, April 1: Please note that performances on Friday, April 1 and Saturday, April 2 have been cancelled. Please contact the Dalhousie Arts Centre Box Office for refunds.
The year is 1692, and in the isolated town of Salem, Massachusetts, an innocent girl is believed to be afflicted by a heinous sin: witchcraft.

Thus begins Arthur Miller's The Crucible, the fourth and final show of DalTheatre's 2021-22 season.

As Miller's drama unfolds, audiences discover the petty politics that rule the town and the lengths people will go to save their own skin — including selling out others.

After a season of ups and downs, changing regulations, and performances both in-person and online, The Crucible is being performed this week for audiences at 100 per cent capacity for some performances and 50 per cent capacity for others (though masks are still required).

The Crucible opened Tuesday night and runs each evening through April 2 at 7:30 p.m., with an additional matinee performance Saturday at 2:00 p.m.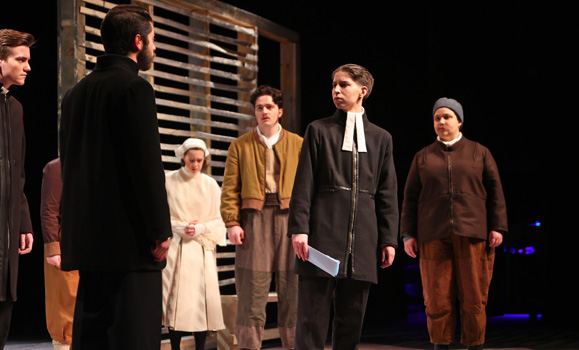 The cast of The Crucible on stage in the Dunn Theatre.
Dalhousie Box Office: Order your tickets
Taking on the classics

Of all the shows performed this season, this play might be the most familiar to audiences.

"When I first heard that our final production would be The Crucible, I was excited," says fourth-year acting student Riley McGill. She was moved by the chance "to share such an important story about the power of truth and how we find ourselves continuing to face such matters in our world today."

Fellow fourth-year student Olivier Blais had not read the play before this year, but he was "immediately struck by what a massive piece of work this is. Every scene, every line contains information that is relevant to the play in one way or another. It's a formidable story and an incredible challenge."

Riley McGill and Olivier Blais.
History repeats itself
 
The play may be a fictionalized version of the Salem witch trials, but it was written as an allegory for the Red Scare, a period after the Second World War when the United States government persecuted notable people who were accused of being communists.

"The Crucible is a cautionary tale about what can happen to our society when the truth no longer carries weight, and fear and lies are the governing body," says Director Nigel Shawn Williams. "The play investigates our individual responsibility of upholding the truth, defending the truth; against a mob mentality that would rather twist facts and corrupt proof to suit its own agenda, regardless of the agenda being political or religious, or both."

To highlight the responsibility of individuals, Williams has made the decision to keep actors onstage even when their characters are not involved in the scene. Often times, this involves actors standing as silent, shadowy figures behind the see-through wooden walls of the set. This staging means that no conversations between characters are ever truly private. Every discussion and action can and does have ramifications for the larger society.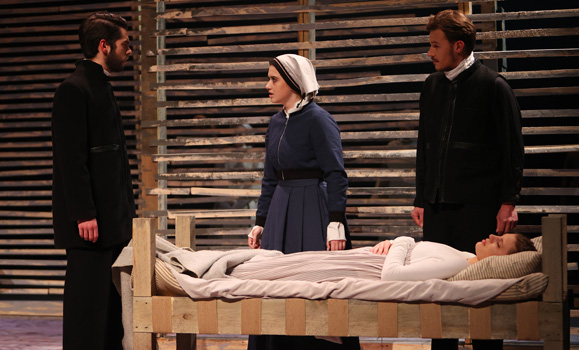 Wesley Giffen, Sid Nesbit, Gabriel Christie, Taryn Hanrahan.

Williams draws out these themes to highlight the relevancy of the subject matter for today's audiences.

"In many ways, The Crucible is even more relevant today [than in Miller's time]," he says. "The United States Executive Branch, between 2017-2021, normalized lies, hatred, and division and gave its citizens permission to vocalize its racism and misogyny. Of course, these horrors have always existed, but now the filter has been removed from our society, and the mob believes it has a right to hate."

Williams believes this problem is not limited to our neighbours down south. "These overt feelings of hate have traveled [their] way into this country. We have all just lived through two years of witnessing our neighbors questioning scientific proof. The truth has no power anymore, and we are living in a time in which lies can be weaponized . . . We are still living this play."
Complicated feelings
 
If this play is a chance for audiences to grapple with ethics and morality, then this is especially true for the actors.

For McGill, it was a joy to get to know her character. She plays Elizabeth Proctor, one of the most upstanding characters in the play.

"Elizabeth tries to find the good [in others], something which I try my hardest to do," says McGill. "She is certain in her beliefs and stands by her word. I have loved getting to know Elizabeth and finding a deeper understanding of her."


But for others, like Blais, getting in touch with their characters was more difficult. He plays John Proctor, a complicated man who makes his fair share of mistakes over the course of the show. In trying to understand John, Blais was forced to reflect on his own past.

"There is a definite complexity about his morality that I understand," says Blais. "I've done things I'm not proud of, but does that make me a bad person? What's the balance? Am I an honest person? These are all things that I have looked at within myself since we started the work."

The same questions were asked by fourth-year acting student Madison Kendall, who plays the vengeful Abigail Williams.

"I think Abigail has a horrible sense of morality," she says, "but I think that we can all kind of relate to Abigail … I have three little sisters, and when I was growing up, if my sister threw me under the bus, I was quick to do the exact same thing to her."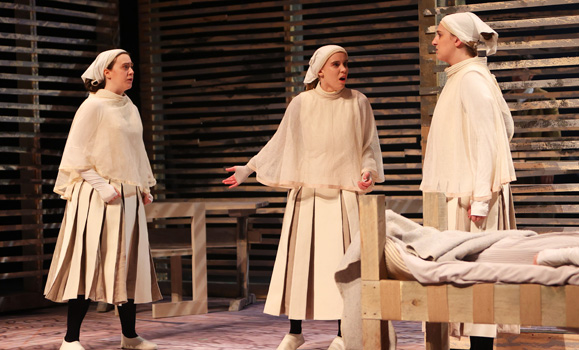 Madison Kendall, far right, plays Abigail Williams. Steph Simons, on left, and Hermione Davis also pictured.
Going out with a bang

The Crucible is not just the final show in DalTheatre's 2021-22 season; it's also the final production for this acting cohort, who have spent the past four years together.

"Although it's bittersweet, this show has been the perfect way to end my time here at [the Fountain School of Performing Arts]," says McGill. "I have grown with these people over the last four years, [and] the level of trust we have established with one another has truly been shown throughout the rehearsal process."

That trust meant a lot to McGill, in particular, who tested positive for COVID-19 mid-way through the rehearsal process. Although she was worried about returning after she recovered, she found "the support of the cast, creative [team], and crew made it seem like [she had] never left."

Perhaps if the characters in The Crucible had a little more of this trust and support, the play would have a much different ending.
Order your tickets for The Crucible from the Dalhousie Box Office online now.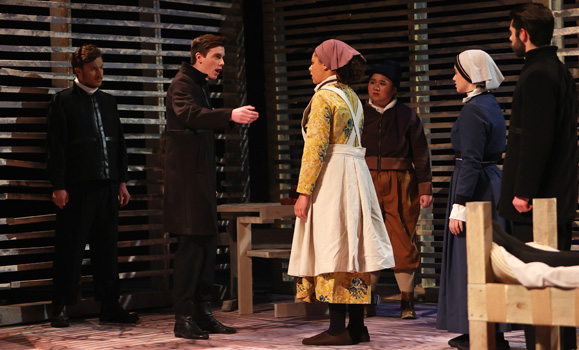 The cast of The Crucible.