If you've walked around parking lots at Dalhousie, you may have noticed electric vehicle (EV) charging stations. They're some of the first 100 in Nova Scotia and reflect Dal's commitment to incorporating sustainable infrastructure onto campus.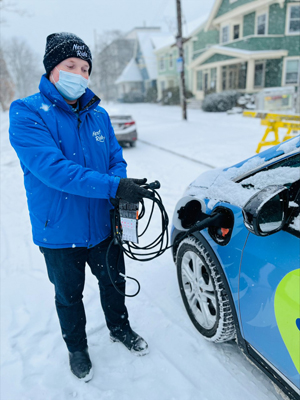 Dal is also doing its part to help encourage members of the Dal community and beyond to consider electric vehicles when car shopping. Every couple of months, the university grants Dartmouth-based non-profit Next Ride permission to use its campus as the base for EV test drives.

"Our goal is to encourage electric-vehicle adoption, to spur folks on and to get them to see why this makes sense and how it might fit into their lifestyle," says Next Ride's Robert Purcell, as I merge onto a freshly snow-covered South Street during a test drive of a Tesla Model 3 RWD (rear-wheel drive).

It was one of two electric vehicles I got to take for a snowy ride on increasingly greasy streets recently. The other was a Chevy Bolt.
Charge up: Where Dal's electric vehicle charging stations are located
Pictured above left: Robert Purcell from Next Ride with the Chevy Bolt and its charger.
An educational experience
 
Provincially funded with links to the Clean Foundation and The Canadian Automobile Association, Next Ride is one of the only options for drivers looking to test a Tesla in Nova Scotia as the company only has online purchasing here.

Next Ride erects kiosks in the Student Union Building and Dal's Office of Sustainability promotes the test-drive events. The sign up is currently online and all drivers must be at least 21 years old.

With Next Ride, there are no salesmen, just educators.

As a student, buying or planning for a first car purchase is stressful. Usually, a test drive means feeling the pressure from the salesman to buy. With Next Ride, there is none of that pressure. They're purely there to let you have the experience of driving an electric vehicle and learn about them.

"Because we are provincially funded, we can't be tied to any one brand," says Purcell.

Next Ride, instead, can give general recommendations for your personal driving needs, including if a gasoline car would be better for you.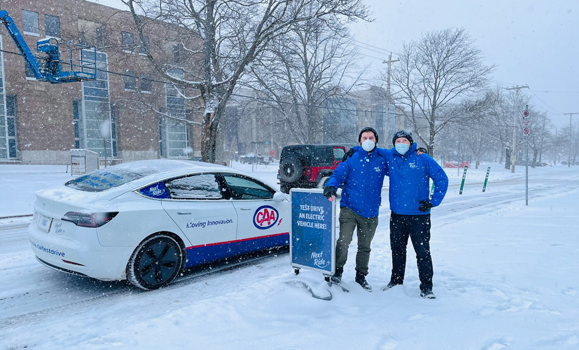 Next Ride volunteers brave the snow to spread the word about electric vehicles.
Related reading: Focus on sustainability research helps Dalhousie clinch third STARS gold rating
Just plug it in

One of the big questions people have when buying a car is, "How much will it cost me in gas?"

For anyone who has bought a car or is planning to, the calculator always comes out to configure weekly gas commute costs, especially to work. With an EV, including the Tesla and Chevy Bolt, there are zero gasoline costs. The cars are charged, much like a cell-phone battery.  

The Tesla Model 3 RDW ranges to 430 kilometres on a fully charged battery while the Chevy Bolt ventures about 417 kilometres. For long road trips, there are several phone apps like Plugshare that locate charging stations along the route.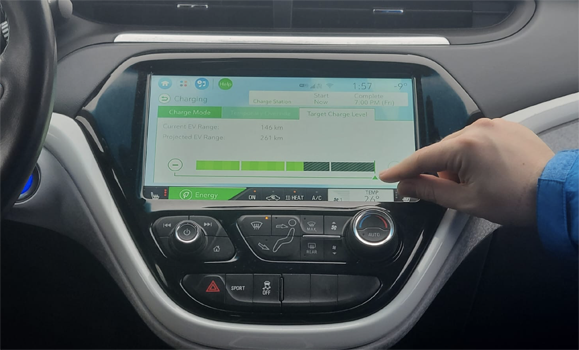 Checking out the feature-rich Chevy Bolt console.

Purcell says the big cost item on both cars is the battery.
"The warranty on the battery in an electric car is eight years or 160,000 kilometres," he says. "If you were outside of the eight years and the battery had some kind of a serious problem, you will be looking at a pretty expensive bill."
For the typical gasoline vehicle, large costs are likely to be had in engine and traditional maintenance. For EVs, there is no engine in the car. The life of an electric vehicle depends on the battery. There are EVs on the road with more than 300,000 kilometres running on the original battery. Following the initial expense of installing a home-charging station, a consumer pays only for the electricity to charge their car, which averages around $10 for a full charge when plugged in at home.
An EV also requires no traditional oil changes and has regenerative braking, which lengthens the life of the brake pads.
As we switched lanes on Oxford Street, I noticed the brakes automatically kicked in as my foot left the accelerator. The Tesla and Chevy Bolt both do this. For any young driver who has a tendency to ride the brake pads, these cars automatically adjust to save the life of those pads (and money in the long run).

Because there are zero fuel costs, the base price for any EV is going to be the main expense for the vehicle. The base model of the Tesla 3 is about $60,000 while the Chevy Bolt comes in at about $38,000. The Bolt qualifies for $8,000 in rebates ($5,000 from the federal government and $3,000 from the provincial government), which are applied post-tax, says Purcell.
Related reading: New Green Labs program empowers Dal researchers to create more sustainable spaces