The Seals of Sable Island, an image taken by Frederica Jacks.


Frederica Jacks (BSc'18, Biology, MREM'20) had the opportunity of a lifetime to spend a summer conducting research on Sable Island while completing her master's degree in 2019.

Now, a stunning photo she snapped of some seals from above on a tight turn during the flight into the island has earned a place on the cover of the 2022 Science as Art calendar.

Produced each year by the Faculty of Science, the calendar features a collection of photographs and images that encourage people to recognize the beauty of science taking place in labs, field work, daily routines, and travels. The images are discovered through a photo submission contest open to students, alumni, and employees.

The Seals of Sable Island, Jacks's cover-winning photo, captures dozens of the aquatic mammals basking in the sun on the beach. Its success in the annual photo contest has Jacks thinking back to the life-changing experience.

"The whole experience was incredible," she says. "Landing a seven-seater plane on the beach, seeing the renowned wild horses, walking around in the middle of the ocean on a tiny little island. You turn around and all you see are seals. You can stand in the middle of the island and see both sides of it. The whole experience was so unique and once in a lifetime."
An inside look at an isolated environment

At the time, Jacks was completing her degree in Resource and Environmental Management at Dal. During the internship, she worked as an Ecological Field Assistant for Parks Canada — a role that offered her an inside look at the isolated and unique environment of the island.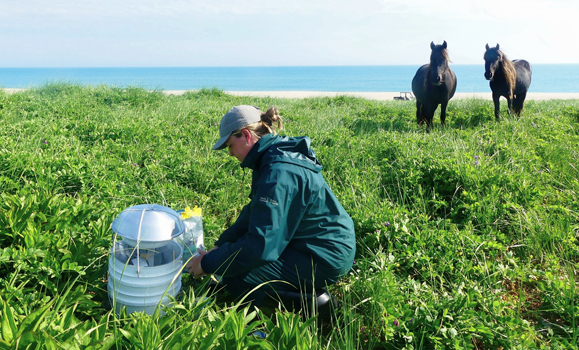 Sable Island National Park Reserve (SINPR) is a remote island about 180 kilometres off the coast of Nova Scotia. This 40-kilometre-long, crescent-shaped sandbar is home to many species, including horses, birds, invertebrates, and more than 400,000 grey seals (Halichoerus grypus).

 As a Parks Canada summer student, Jacks spent two months living and conducting research on the island. She worked closely with her advisor, Dr. Andrew Medeiros (a faculty member in Dal's College of Sustainability), while studying benthic invertebrates. This research would ultimately become the basis of her final MREM research project, which was a bioassessment of the ecological integrity of SINPR's freshwater ecosystems using aquatic macroinvertebrates.

While on the island, Jacks also regularly assisted visiting researchers with their projects. Some of her tasks included setting up UV light traps to collect moths, pinning and identifying insects, collecting species from ponds, and driving a Polaris Ranger utility vehicle along the beach. She also spent time observing the behaviour and habitat of the Sable Island Sweat Bee — an endemic species whose habitat on the island was just verified by researchers that year.
Tides and weather dominate on Sable

According to Jacks, there are typically two to 10 researchers on the island, depending on the time of year. Parks Canada has an operations coordinator who lives on the island full-time.

"Apart from learning the specific ecology of the island, learning how to live remotely was a huge learning experience. You live and work by the tides and weather. There are no rocks or trees. You can't go outside in big windstorms because the island's infrastructure can produce large debris. Everything is dependent on the weather there," Jacks says about her experience living on the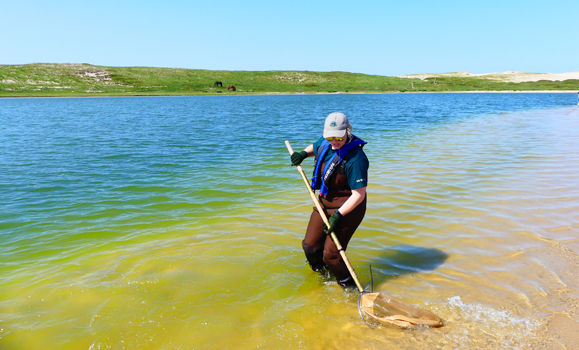 secluded island.

Currently, Jacks is using her Dalhousie degrees working as an aquatic science technician for Fisheries and Oceans Canada. Her role supports research on seagrass in Nova Scotia. In the last two years, she has worked as a communications specialist for a non-profit, and she has been a project manager. She attests that her degrees in Biology and Resource and Environmental Management provided her with invaluable experience, helping her get into science-related positions.    

"Good things came from my time at Dalhousie," Jacks says. "A lot of interdisciplinary projects helped me improve my communication and writing. My research project on Sable Island's benthic invertebrates got published last April, which was a huge accomplishment for me."

The photo contest is now accepting submissions for the 2023 calendar. Show us the beauty in your area of science; photo submissions can be made on the Faculty of Science website.

The 2022 Science as Art Calendars are available to order, it is a minimum $15 donation. All proceeds support the science student experience fund to enrich experiential learning in the faculty. Email science@dal.ca to get your copy.
Below, watch a video Jacks created about her time on Sable Island.