When an actor portrays a fictional character going through a traumatic experience, how do they keep the content from affecting them in the real world?

The answer is: with a lot of care, and the help of some cutting-edge rehearsal techniques.

This question was especially relevant for the Fountain School's production of Duncan Macmillan's "People, Places and Things," the second of four in-person shows planned this year for DalTheatre's 2021-2022 season.

All productions follow Nova Scotia provincial health guidelines, including requiring proof of vaccination for audience entry into performances.
A personal approach to addiction

Macmillan's play revolves around Emma, a gifted actor who finds herself in a rehabilitation centre after substance-use issues begin to affect her performances. Director Matthew Walker describes the story as "an expressive exploration of an actor's journey with identity, addiction and recovery."

The rehabilitation facility in the show is fictional, but its recovery model is drawn from real-world influences like Alcoholics Anonymous's 12-Steps program. According to Walker, the play does not promote one particular approach to addiction, but instead "shows a range of humans with different interpretations and beliefs who are trying to find balance between surrender and agency in their respective recovery journeys."

In other words, the play is more about the "people" than the "places" or "things".

By homing in on Emma, Walker believes the play allows both actors and audience to "look past archetypal ideas of good versus bad." Instead, the show humanizes people with substance use disorders and portrays them in all their complexities.

Though not everyone watching may be familiar with the intricacies of addiction, the play remains relatable by incorporating references to sources ranging from Anton Chekhov and "Don Quixote" to modern touchpoints like "The Exorcist" and Wile E. Coyote.

Marianne Labrie, Riley McGill, Wesley Giffen, Kegan Macivor.
Creating a safe space

When a show contains heavy subject matter like this, there is a real risk of actors being emotionally harmed. To prevent this, Walker and this production team have tried out many new approaches to inform how they work on challenging content.

The first technique they used was allowing their actors to set boundaries in their casting. The cast members were given a say in what roles they were considered for in case there were specific scenes or characters that they felt uncomfortable performing. This protected the actors from accidentally being cast in a role that would be detrimental to them.

Once the roles were cast, the team shifted their focus to making the rehearsal environment into a safe space. Sam Jeffrey, an intimacy director and coordinator from Edmonton, was brought on to provide a series of workshops for both students and staff. The workshops were based on professional techniques that are being used in the theatre, television, and film industry.

Jeffrey "offered many useful tools to help us engage in a way that encouraged ongoing communication, allowing boundaries to be updated at any point throughout the work," says Walker.

One of the tools Jeffrey introduced was 'closure' practices. They involve the actors completing certain actions or processes in order to feel that they are no longer in the scenes they were just rehearsing. As Walker explains, the practices "help us to leave the work at work and separate ourselves from the experiences of the characters".

Fourth-year student Sid Nesbit, who plays Emma, agrees that the practices were "helpful as a way to close out from rehearsal and ensure that we're not taking any heavy emotions home with us".

Of course, even when there are the best intentions, a rehearsal process is still just that: a process.

"As we try out these new methods, we're learning a lot as we go," says Walker. "The practices are designed to encourage ongoing communication and acknowledge that things can change from day to day, as we change from day to day. It's been a very meaningful evolution that requires openness to growth at every phase. It's challenging, but for very good reason."

The desire for safety extends to the audience as well. Marketing materials for the show include a QR code that links to detailed content warnings, so that audiences are informed about potential triggers.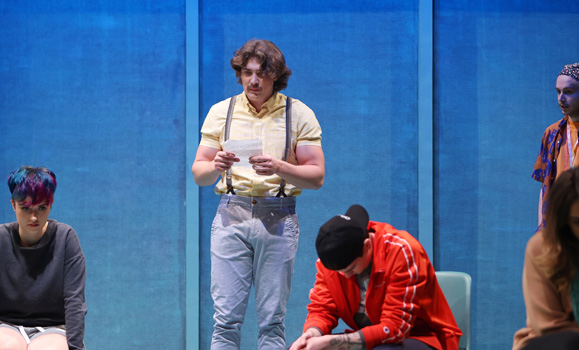 Sid Nesbit, Colin Wentzell, Kegan Macivor, Derek Birkbeck.
Bringing dark stories to light

This production may have brought a unique set of challenges, but it also brought a unique opportunity to tell a story that is usually cloaked in shame.

"The play shows a very real scenario that a lot of people go through that often goes unnoticed and unappreciated," said Nesbit. "The show acknowledges that people are people without airbrushing over their experiences."

Nesbit's assessment also rings true for Walker. "When I first read this play four or five years ago, it resonated with me quite deeply and reflected some of the stories of addiction that have impacted my life," he said. "I also appreciated how it was highly theatrical and entertaining but avoided falling into romanticism. It didn't try to wrap things up neatly with a conclusive solution, and yet there was hope in it."

The recency of the play — it was first published in 2015 — is also advantageous for truthfully representing the experience of addiction.

"The social relevance of the project's intent remains vital six years after it was written," says Walker. "In the six years since this was published, we've seen a lot of change, but the play is not old enough that it represents a snapshot of a time that we now feel removed from. Its intent remains very pertinent, even if some of the language may have dated."

Ultimately, audience members will have to assess for themselves if they can handle the show's content. However, Walker believes that the show has a lot to offer for those willing to "engage with a challenging contemporary play that is bold in how it addresses a problem that is prominent in our society."
"People, Places and Things" runs November 30-December 4 with shows at 7:30 p.m. and a 2:00 matinee on the 4th in the Sir James Dunn Theatre (6101 University Avenue). Tickets are available from the Dalhousie Arts Centre box office.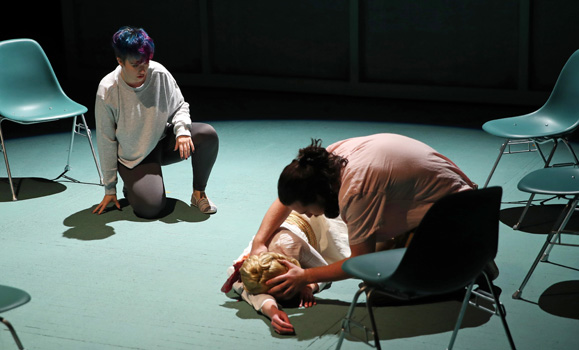 Sid Nesbit, Hermione Davis, Olivier Blais.