A group of high school students from northern Nova Scotia learned about career opportunities in the skilled trades this spring as part of a mentorship program supported by Dalhousie.

The Mentoring Plus Strategy is an initiative led by Dalhousie's Faculty of Open Learning and Career Development (Open Learning) in collaboration with community partners in three Nova Scotia towns, including New Glasgow.
That's where participants from North Nova Education Centre (NNEC) gathered in April to meet nine mentors with extensive experience in carpentry, culinary arts, plumbing, power engineering, electrical, welding, machining and mechanics.

The NNEC event is part of a four-year pilot project funded by the Government of Canada's New Horizons for Seniors Program. The strategy's benefits are two-fold: helping retirees stay involved in their communities and helping "mentees" with valuable advice to boost their careers.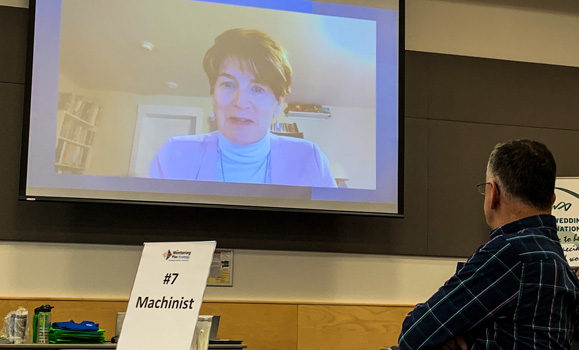 Diane Tyers, dean of Open Learning, sent video greetings to the mentors and mentees alike (shown right).

"I'm a particular fan of the trades as career choices for our youth today, so I'm super excited about this session," said Dr. Tyers.

Mentors met with students to talk about about the realities of a career in their specific field.  

"The Mentoring Plus Strategy team has been fantastic in getting these up and running and building the connections and getting everyone involved," said Dr. Tyers.

Kentville and Truro are also partners in Mentoring Plus.
Learning the ups and downs

"I thought the evening was really fun. It was great, they could tell me the ups and downs of the trade and what to focus on if I decide to pursue that trade," said Seth Prindiville, a grade 10 student who is part of NNEC's career exploration.

Seth knows he definitely wants to pursue culinary arts after talking with mentor Chef Alain Bossé who is known as "The Kilted Chef."  

"The Kilted Chef told me about a book to help me develop my palette," Seth said.

Bossé said one of the best things about the event was the chance to connect with the students and share stories.

"You don't get where we are today without amazing passionate stories," said Bossé.  "None of us would be here if we didn't care."
Mentor Mike Vienneau (shown below), a retired millwright, agreed that meeting with youth opens up a window of opportunity.  

"It was easier to talk to them, to make the connection," said Vienneau.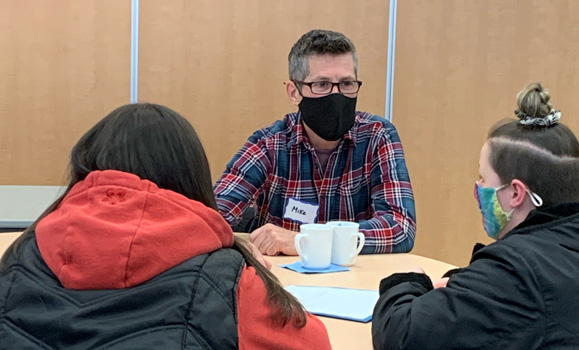 An 'amazing' opportunity

Ann Findlay, principal at NNEC, was pleased with the event, saying, "I think it's an amazing opportunity for our students to learn about the trades from people who actually do them. I hope they find something they are passionate about and my goal for tonight would be that it helps direct them on a path."

Gordon Michael, director of Mentoring Plus with Open Learning, is excited about the strategy's direction in helping students make informed decisions about what they want to do with their future.  

"We now have a working committee to look at a wide range of opportunities to look at helping students move on to the work force. We're working with the faculty on programming that would provide for a continuum of learning connected to employmen," he said. "Also, we have connected with other high schools, across the municipalities we're working in, to work toward supporting students in their decision-making process through mentoring."
See also: Open Learning and Career Development dean on her Faculty's shifting approach to higher education

Introducing the Faculty of Open Learning & Career Development