Names carry a lot of meaning, and that's certainly true in the case of Dalhousie's newly re-named Faculty of Open Learning and Career Development, formerly known as the College of Continuing Education.

For starters, you'll note the shift in name from College to Faculty — a change signifying the Faculty's steady growth in recent years and bringing it into line with other academic communities across the university. Then there's the references to open learning and career development, both key concepts underpinning the Faculty's renewed purpose to facilitate learning journeys that are easily accessible and transformative.

For more than 35 years, the Faculty of Open Learning (its new short form name) has been providing top-quality solutions for the educational and training needs of its learners. While these learning needs have changed over the years, no one could have been fully prepared for the accelerated transformation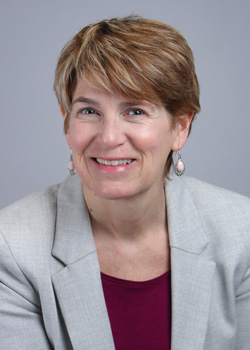 brought on by the pandemic.

"We've seen a shift in the ways people want to learn and what they hope to gain from their learning," says Dianne Tyers, dean of the Faculty (shown right). "People are looking for those durable skills that will help them get back on their feet, pivot in their job paths or keep moving forward in their careers. Our new name highlights the need for open learning, which, for us, means flexible, accessible and affordable learning that meets people where they are in their learning journeys."

In its report on Employment in 2030: Forecast of Canadian Occupational Growth, the Brookfield Institute for Innovation & Entrepreneurship explores how labour markets are changing quickly and so, too, are employable skills needed from workers. "One third of Canada's workers are currently in occupations projected to change in the next decade," the report says.

At its core, the Faculty of Open Learning & Career Development embraces evolution, offering relevant and timely courses and certificates that reflect market trends.

In the past year, the Faculty has introduced a variety of new courses in online design and delivery, ethics, leadership strategy, and made updates to courses they see as career essentials like project management, business analysis and those focused on diversity and inclusion.
Focus on wellness

The pandemic has also accentuated the need to focus on personal health and wellness as people navigate changing work and home lives. Health & Wellness is a new program area offered by the Faculty that not only offers how-tos for contending with outside stress but also helps people bring these new skills to work. Listed as one of the coolest virtual courses you can take at Canada's top schools by Refinery29.com, Mindfulness at Work, offers learners a chance to learn meditation techniques, reduce stress levels and improve productivity.

In a recent Harvard Business Review article, Matthias Birk, an adjunct professor at NYU and Columbia Business School's Executive program, wrote that, "anger, fear, and grief have always been present in our lives and affected the way we work, but rarely as much as during a global pandemic." He goes on to argue that mindfulness is, "one of the most accessible tools at our disposal to deal with these hard-to-have feelings productively."
Evolution of English as a Second Language training

Changes have also come to the Faculty of Open Learning's English-language programming. The English as a Second Languages Program within the Faculty is now known as the English Language Studies Department.

This change marks a renewed commitment to language education for learners who want to improve their English-language skills and become better prepared for the next step in their academic, personal or professional journeys.  

The new name for the English Language area of the Faculty describes the department in ways that the former name did not, reflecting that the study of English language not only opens doors to successful study in Dalhousie degree programs but also is a legitimate area of academic study.
Guided by values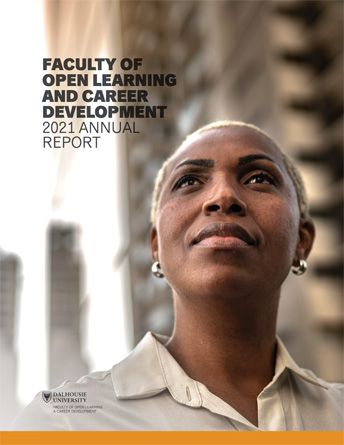 In addition to changing its name, the Faculty of Open Learning & Career Development introduced its annual report that reflects on the past year and lays out its key priorities for the year ahead. The Faculty will focus on continuing to provide superior learning experiences guided by four core values:
•    We pursue being better through constant learning
•    We work collaboratively to anticipate and respond to community needs
•    We are committed to action and hold ourselves accountable
•    We demonstrate accessibility and inclusion in everything we do
"Our strategic planning really began when the pandemic hit and we have been learning and adapting every day," says Dr. Tyers. "We have taken the time, through that period of change, to discuss and take note of what we were seeing, and it has brought us to this point of having a plan and a way forward that truly reflects all of our experiences and where we want to grow as a Faculty in the next year."

With the plan launched and the new name official, the Faculty will be laying out key projects and tactics they will be undertaking in the next year to bring the plan to life. Overlaying all of this work will be a commitment and focus on equity, diversity and inclusion.

"We serve a great diversity of communities that may encounter barriers as they look to learn with us," says Dr. Tyers. "Learning shouldn't be hard to access and our name emphasizes the increasing importance of openness."

To celebrate this milestone and the more than 35 years the Faculty has been in business, the Faculty of Open Learning is offering $350 towards its programs to 10 people. The contest will be open from April 28 to May 28 and the ten winners will be randomly chosen and notified by email by May 31st. To enter, please click here.