Marciel Gaier is on a mission to transform the global shipping industry. Even the challenges of a worldwide pandemic haven't stopped the up-and-coming entrepreneur from advancing his first-of-its-kind smart coating for ship hulls that is enabling him to do just that.  
The disruptive paint, which is the first patented technology to use nanoparticles of graphite — called graphene — to achieve a high-performance, sustainable marine coating, has earned the former Mitacs PhD researcher in Advanced Materials Science at Dal, and Graphite Innovation and Technologies (GIT) co-founder and CTO, a prestigious award from Mitacs, a national innovation organization that fosters growth by solving business challenges with research solutions from academic institutions.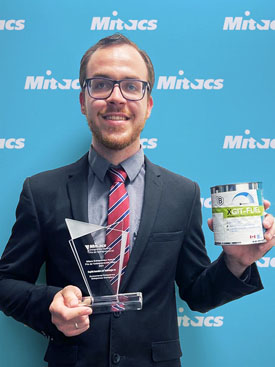 Dr. Gaier (shown left) is one of five winners of this year's Mitacs Entrepreneur Award who are being recognized for their efforts to turn their research into an innovative business that impacts the lives of Canadians. The Environmental Entrepreneur category recognizes the importance of investing in innovation in clean technology to build a greener and more sustainable future, which is a priority for Mitacs. 

"Supporting innovation is essential to help Canada rebound from the repercussions of the global pandemic, and Mitacs is extremely proud of the remarkable accomplishments achieved by our network of talented entrepreneurs," said John Hepburn, Mitacs CEO and scientific director. "We are thrilled that our continued investment in talent, research and development is translating into more and more Mitacs interns successfully turning their groundbreaking research into dynamic startups, helping to boost both Canada's economy and our country's position on the global innovation stage."

GIT, the company Dr. Gaier co-founded along with Mo AlGermozi (who is also a Dal grad), was established at Dal and has become a leading Canadian materials engineering firm focused on delivering disruptive uses for graphene and graphite ingredients. The growing company plans to create 20 jobs by 2022 and continue to hire highly-skilled personnel from Dalhousie and beyond.
"Congratulations to Dr. Gaier on receiving this wonderful recognition from Mitacs," says Alice Aiken, Dal's vice president research and innovation. "This innovative company is playing a key role in solving a significant ocean environment challenge, and we are so proud that it was able to get its start at Dalhousie University."
Reducing emissions, protecting species

The innovative coating system, developed by Dr. Gaier and AlGermozi — while Dr. Gaier was conducting his PhD under the direction of Kevin Plucknett and Zoheir Farhat, both professors of Mechanical Engineering in Dal's Faculty of Engineering — tackles the most pressing environmental challenges facing the global shipping industry, which is responsible for transporting roughly 80 per cent of the world's goods. First and foremost, on the heels of international legislation banning the use of toxic compounds in ship coatings, it provides a low-VOC, non-toxic alternative that reduces the amount of greenhouse gases emitted per journey.
The company is also working on two innovative paints: XGIT-Fuel, which reduces fuel consumption and mitigates the damaging buildup of barnacles and algae on ship hulls, and XGIT-URN, which minimizes underwater-radiated noise pollution, a very real threat to whales and other marine species. What sets both products apart in the industry is the use of nanoparticles, which have a larger surface area and yet a fraction of the weight of traditional versions of raw materials, meaning it takes a very small amount to achieve an effective coating, Dr. Gaier explains.  
"Our goal is to solve the environmental issues facing the shipping industry, but we're also helping to reduce overall costs at the same time," says Dr. Gaier, noting that a ship with a heavy coating of slime can require up to 38 per cent more energy to maintain the same speed as a vessel with a clean hull. GIT's coating creates a slippery surface so that any buildup is washed away as a ship moves through water, leading to less drag. If the vessels are not moving, the surface can be easily cleaned by modern techniques such as water pressure or mechanical brushes.
Last year, GIT was awarded a $2.4-million Transport Canada contract to pilot its prototype smart coating system on fishing boats, with a focus on reducing underwater noise and greenhouse gas emissions. The company is also leading Canada's $4.6-million Ocean Supercluster project aimed at further developing its smart protective coatings, and recently launched a pilot program to engage 10 boat owners who will experience the benefits of the technology firsthand.
Despite the challenges of finding and recruiting top talent during COVID-19, GIT has grown from two to nine employees since launching in 2017 and aims to hire an additional five employees by the end of 2021 as it works to scale its product line. "We're growing our production capacity, but for now, we continue to work on a contract-by-contract basis," says Dr. Gaier. "The more paint we produce, the more competitive our pricing and the closer we are to moving the needle and making a lasting change in the fight against climate change."