With COVID-19 cases across Nova Scotia continuing to decline and vaccination rates increasing, students, faculty, and staff are eager to return to campus in the fall. The how and when of the return to campus plan is being guided by Dalhousie's safety plan, which focuses on providing multiple layers of protection, including on-campus rapid testing.
Regular testing is an important part of stopping the spread of COVID-19 and keeping one another safe. To make access to testing even more convenient for the Dal community, the university has collaborated with Nova Scotia Public Health to offer a self-swab COVID-19 rapid screening program, which launched on June 8 as a pilot project in preparation for the fall.
Currently, the majority of on-campus activity is conducted within the Faculties of Dentistry, Health, and Medicine, which provide an onsite dentistry clinic, conduct critical research, and require in-person training. The three faculties have a long history of interprofessional collaboration, so they were the logical choice to lead the project's inception. Deans from the three Faculties convened a working group of senior leaders, and within weeks the pieces began to fall into place.
Liane Sandula, manager of facilities and safety within the Faculty of Engineering, was tapped to lead the project and seconded to be project manager. As with any pilot project, and certainly one taking place during the pandemic, there was a lot to learn.  
"The evolving nature of both the requirements and the flow of the centre made for an interesting start-up." says Sandula, "However, the enthusiasm of all stakeholders involved, along with great site leads, has resulted in a very effective test centre."
Ask an expert: Dr. Chris Richardson on pilot study that shows mixing vaccines can be highly effective in boosting immunity to COVID‑19
The importance of testing

The benefits to asymptomatic testing were elucidated in April when new variants of the virus entered the population and the third wave hit Nova Scotia hard, causing positive cases to rise dramatically. Since then, rapid testing has found at least 10 per cent of Nova Scotia's cases in its third wave.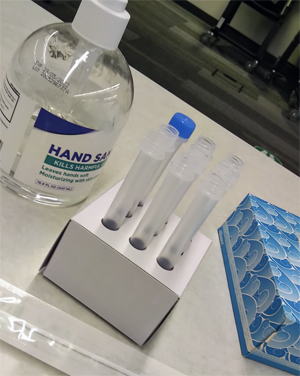 For Kim Morrissey, training coordinator with Praxes Medical Group, she sees Dalhousie's pilot clinic as the next step of protection employers can offer their employees.
"We've performed nearly 250,000 rapid tests in the province," says Morrissey. "We're taking all of that experience in the pop-up clinics and bringing that to the employer level."
An important distinction, she notes, is the types of tests that are being conducted at the Dalhousie clinic. While the Dalhousie clinic is using the rapid antigen testing method similar to the pop-up testing sites, the Dal clinic is using a self-swab model rather than having the test administered by someone else.
"This model removes the need for medical training," Morrissey adds. "The volunteers are really there to coach and encourage. I get swabbed upwards of five to six times a day. It's really not that bad, and it gets easier the more you do it!"
How to self-swab
 
See also: 'The backlog was breaking our hearts': Students and staff pitch in to keep up with third‑wave testing
A first time for everything

Dr. Robert Strang, Nova Scotia's chief medical officer of health, has encouraged Nova Scotians to make regular testing a part of their COVID routine. But for some, the idea of joining hundreds of fellow conscientious citizens in a lineup to get tested — in a time when strict gathering limits are being enforced — just hasn't felt right. Although the rapid testing clinics have been proven to be safe, Cliff Sutherland, who works in Facilities Management, shared that sentiment.
Because his partner was receiving daily tests for work, he never felt compelled to join the masses at the numerous pop-up sites across the city. In late April, things changed when his partner became fully vaccinated and daily testing was no longer a necessity. Sutherland, who has worked on campus for 33 years, has seen the ebbs and flows of regular campus activity turned upside down since the pandemic began. He was ready to do his part to bring about a sense of normalcy to campus.
"There's a charm during the holidays when the campus is quiet but there's still an energy," says Sutherland. "With the pandemic, it's more like a ghost town. There's a quality of life through the social aspect of being on campus that I miss. When I was asked by Liane to help setup the program, I thought to myself, 'this clinic is a great idea.' It was easy to book an appointment with my Dal card. It was awesome."
An avid sports fan, Sutherland compares the asymptomatic testing as a team effort toward a common goal.
"We work hard as a team and we get to share the benefits together."
See also: Dalhousie plays key role in Nova Scotia's vaccination efforts
Clinic running throughout the summer

Rapid tests are available on Tuesday mornings and Thursday afternoons in the Collaborative Health Education Building (CHEB) rooms 140 and 150. Access to the building will be available using the Summer Street entrance only.
Walk-in testing is now being offered. However, to ensure your timeslot is available, booking an appointment is recommended. Appointments can be booked up to three weeks in advance.
"The virus can spread so easily," says Sutherland. "Even though I didn't have symptoms, getting that message on my phone in less than 15 minutes set me at ease and made me feel confident that I wasn't putting anyone at risk. I completely recommend it for anyone working on campus."