This article is part of a series focusing on the grads of the Dalhousie Class of 2021. Visit our Class of 2021 virtual space to share in the excitement with our newest graduates.
Eniola Bakare had never been to the east coast when she decided to give Dalhousie a try. The collaborative volunteer opportunities, the unique science program offerings, and the opportunity to live by the ocean were just a few of the reasons she said yes to Dal Science five years ago.
It didn't take long for Eniola to get involved in the peer-mentorship program through the Bissett Student Success Centre. Eniola decided to become a peer advisor because of her want to give back to the student community of Dal.
"At any stage of university, giving back to the student community is rewarding, but for students looking to make their mark on the world, getting engaged in a cause that matters can be a defining point in your life," she says. "I really wanted to find a way to support students, be a strong part of their academic journey, and get involved in something that I could take with me in the future" she says.
Eniola hosted one on one peer advising for a number of faculties on various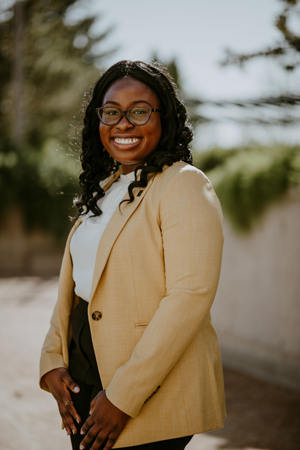 career-related topics including resume building, interview preparation, career planning, job searching, and even enhancing the quality of students' academic life.  
"We all need someone cheering for us as we advance, and being a peer advisor allowed me to have a positive impact on my fellow students. Relating with students on the same level I was once at and allowing them to feel more comfortable to ask important careers questions, led to meaningful conversations about the next steps to getting their dream job," she says.
She worked with students on their academic and job applications and says it has been fulfilling to see their growth and how they are fulfilling their goals.
"To say this program was rewarding would be an understatement," she says. "The immense pride I felt when students would come back and share their progress news was something I will take with me from Dal for forever."
Taking the right kind of risks

Not only did she advise students, but she takes away a plethora of tips and techniques to enhance session engagement, bond with colleauges, and team build.
"Taking small, controlled risks to try new things gave me a chance to build my confidence, and gain a sense of achievement, while exploring what works and what doesn't. The skills I gained from this experience have become great building blocks as I prepare to enter the workforce."
During her time at Dal, Eniola was also a part of both Howe Hall and Sheriff Hall residence student councils, the Atlantic Association of Black Aspiring Physicians, and the Dalhousie Undergraduate Mathematics and Statistics Society. She also committed herself to learning more about the African Nova Scotian community and culture through volunteering with Imhotep's Legacy Academy and Promoting Leadership in health for African Nova Scotians — something she is very grateful for.
Eniola has graduated with her science degree in statistics and has plans to use her degree to gain industry knowledge to help bridge the gap between science and industry.
"I have been accepted to several mentorship programs such as Black Professionals in Tech Network's Cultivate, the AdaPT program and the Onyx Scholar's Program. I look forward to taking my statistics degree, my unique experience as a peer mentor, and the cherished memories over the last five years with me as I take my next step," she says. "Thank you Dalhousie!"