This article is part of a series focusing on the grads of the Dalhousie Class of 2021. Visit our Class of 2021 virtual space to share in the excitement with our newest graduates.
Juliana Serroul is both a staffer and a learner at Dalhousie. By day, she's director of research in the Faculty of Health. By night (and weekends and some intensive days), she's a student in the Master of Information Management (MIM) program.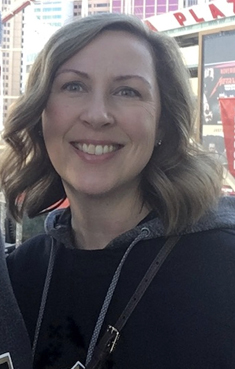 Well, she was until very recently. Now, as she graduates from the program, Serroul (shown right) has begun to get some of those after-hours back after a dedicated journey that started in back 2013.  

While she may be on campus, Serroul chose the MIM program in part because it was completely online, allowing her to continue working full time.
When she started classes, she was in a different job in Dal's Office of Research Services, overseeing the office's database and its information management processes.

Already, she could also see how the MIM program would benefit not only her current work but her continued trajectory in research administration.
Less textbook, more practicality

Serroul says she most enjoyed courses like Management of Privacy, User Experience and Knowledge Management. Even though she took her undergraduate degree in the Faculty of Management, she says the graduate-level courses featured a different presentation of material, "less textbook and more practical," with many professors bringing current expertise and experience from their work in the field.

She also really appreciated the two-day intensives where students met face to face.

"They provided all the perspectives from your peers. Sometimes it was a validation of what you were thinking, and other times it was the complete opposite. But then you'd be like, 'Oh, yeah, I hadn't thought about it that way,'" recalls Serroul, adding that her peers also expressed enthusiasm for this part of the program.

"I think most people would say that was the most valuable part of the program because it brings it all together and your fellow students are there as well."
Skills for both work and life


Serroul also appreciated the MIM's flexibility. When her job responsibilities became more intense, she put the program on pause for a couple of years and then reengaged when she moved to her new position — where, she adds, she found the program's lessons equally relevant.

"We're looking at records management currently in the research unit. And also program evaluation, we're looking at processes and working towards improving and/or changing them. That's the difference in this program—you can actually take what you learn and apply it immediately."

Serroul says she found the courses relevant even from a life perspective, particularly the discussions on topics such as privacy. "In the capstone, we did a wrap-up exercise about how we felt about the program and information management as a field. We were asked to reflect on our opinion when we started, and if that had changed over the course of the program. And it totally did," says Serroul. She notes that she and her colleagues expressed a sense that their early view of the field was fairly narrow, focused on libraries and records management, but that the program opened them up to realizing the field was much broader.

"It touches every part of your life, whether professional or personal. You're dealing with information all the time and you don't even realize it. It's just so ingrained in everything. It becomes apparent that it is a very broad field, and it's still evolving."