Dalhousie University rose in one of the year's most-anticipated university rankings, climbing 19 spots to 272 out of the 1,300 institutions ranked globally in this year's QS World University Rankings (QS WUR).
This edition of the annual ranking of the world's top universities is the largest ever published by Quacquarelli Symonds (QS) and sees Dal taking its place among the top 21 per cent worldwide.
Dalhousie held onto its position as 12th in Canada and as the top-ranking university in Atlantic Canada.
Dalhousie is now ranked among the top 300 universities globally in the three international rankings that it actively participates in: Times Higher Education World University Rankings, QS World University Rankings and ShanghaiRanking's Academic Ranking of World Universities.
Rising reputation and citations scores

Global rankings are a high-profile means of bringing Dalhousie's research and teaching excellence — already firmly established regionally and nationally in Canada — to the attention of the world.

The QS WUR have had a consistent methodology since 2015, using six metrics to evaluate participating universities: academic reputation (40%), employer reputation (10%), citations per faculty (20%), student faculty ratios (20%), proportion of international students (5%) and proportion of international faculty (5%).
Dalhousie's improvement can be attributed to an increase in both citation score and employer reputation scores.
The employer reputation score is based on almost 50,000 responses to a global employer survey that asks which institutions provide the most competent, innovative and effective graduates. This survey also informs the QS Graduate Employability Rankings, which are released annually in August. This past year, Dalhousie tied for 10th in Canada in the employability rankings.
Citation score is based on the total number of citations (an indication that the work is being used as a source of information by other research papers) received by all papers produced by a university relative to the number of its faculty members. The citations are normalized to account for the fact that different fields have different publishing cultures. This year's tabulation looked for citations from 2014-2019 using Elsevier's Scopus database — the world's largest repository of peer-reviewed academic journal data.
Cleaning up the data

These results highlight the importance of a university-wide project that's been underway since April to improve Dalhousie's citation impact via the review and cleanup of our researchers' bibliometric data (the recorded recognition of their publications).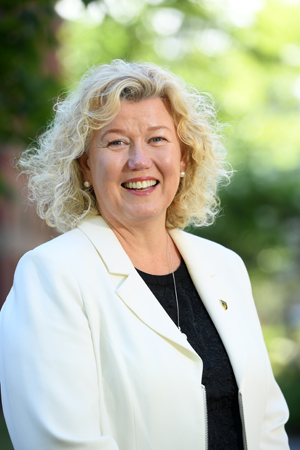 Led by Alice Aiken (shown left), Dal's vice-president research and innovation, the project has engaged graduate student research assistants (RAs) who were trained and assigned to work with researchers across all faculties of the university.
The goals of the project are to ensure that each researcher has active and properly affiliated Scopus and Google Scholar accounts and a registered ORCID ID, a digital tool that automates linkages between researchers and their professional activities. The project will also ensure publications are correctly attributed in Scopus, which is often a source for key rankings methodologies such as the QS WUR.
"Dalhousie researchers are making a global contribution as leaders in their disciplines. This project will help ensure their work is consistently and correctly captured and attributed, so our researchers get the recognition they've earned while also helping to improve and grow the university's reputation on a global scale," says Dr. Aiken.
Any researchers who haven't yet met with their assigned RA are encouraged to do so before the end of June.
Coordinated approach

The bibliographic data cleanup is one of many projects included in Dalhousie's rankings strategy that demonstrate strong potential for positive change in the university's global-ranking placement.
Directly linked to the ongoing advancement of the university's academic and research mission, the strategy helps coordinate and focus the university's efforts on key ranking factors that highlight existing institutional excellence, as well as on areas we need to improve to reach our goals in research and teaching.
The university can use the information resulting from rankings assessments such as the QS WUR to compare year-over-year performance within the university, against selected peer universities and across all universities that participate in the rankings.