This article is part of a series focusing on the grads of the Dalhousie Class of 2021. Visit our Class of 2021 virtual space to share in the excitement with our newest graduates.
Five years ago, a conversation with a student who was back home visiting friends and family in Lagos, Nigeria put Ogo-oluwa Sobukola and Emmanuel Solomon on a life-changing path.

Their mutual friend, who was studying architecture at Dalhousie University, knew of their interests in studying music abroad, and encouraged them to apply by telling them more about her experiences at Dalhousie, its scholarship opportunities, and the incredible performances she saw by students of the Fountain School of Performing Arts.

Emmanuel, who says his passion for opera was ignited several years earlier when he heard a tenor perform the aria "Every Valley" at a concert at his local church, hoped to pursue advanced training in tenor operatic performance. Ogo-oluwa had his sights set on professional training in flute performance.

Together, they took their friend's encouragement and ran with it. They both applied, submitted video auditions, and received significant entrance scholarships, but they say it was the communication and assistance they received from the Fountain School and Dalhousie that confirmed their decisions to come to Canada and to Dal over the other universities that also offered them admission and scholarships.

"The assistance I got from emailing back and forth with [Fountain School] administrator, Lesley Brechin, was unparalleled and that made me choose Dal," explains Emmanuel. "Her human relation made me look forward to studying at Dalhousie and as much as I was excited to go start my academics abroad, I was equally excited and honestly looking forward to meeting her."

Ogo-oluwa adds that his decision to study in the Fountain School grew after he began reading about its music programs and landed on flute instructor Patricia Creighton's biography.

"I chose to come to Dalhousie because I wanted to study with Patty, I was given more scholarships and I had always dreamed of studying and living in Canada," he says.
Overcoming obstacles

Emmanuel and Ogo-oluwa both faced many obstacles to study music in Canada. In addition to visa fees and a lot of paperwork to complete, Emmanuel explains that the drop in value of the Nigerian currency makes it challenging for them to study overseas or to find a sponsor. Ogo-oluwa adds that he knew at an early stage that his parents would not be able to fund his international study ambitions, so he worked very hard on his flute skills to be ready for any scholarship opportunity to study abroad.

Though they found supporters in Nigeria to help them with their travel costs and organized fundraising concerts, it would not cover the tuition. Through the assistance of Fountain School staff and faculty members and other individuals at Dalhousie, they managed to apply for and be granted entrance scholarships.

Once they got to Dal, they both diligently studied and continued to improve their music performance skills to be named to the Dean's List each year and qualify for in-course scholarships as well as bursaries provided through the International Centre and Dalhousie Student Union. Additionally, they organized GoFundMe campaigns and fundraising concerts, worked part-time and summer jobs, busked together during the summer months, and received generous support through donations from people in the community who had heard their story.
Making memories

Ogo-oluwa says that though he has had many favourable moments of his time at Dal, ones that stand out in his mind are performing as a soloist with the Dalhousie Symphony Orchestra, with Symphony Nova Scotia and as principal flautist with the Nova Scotia Youth Orchestra.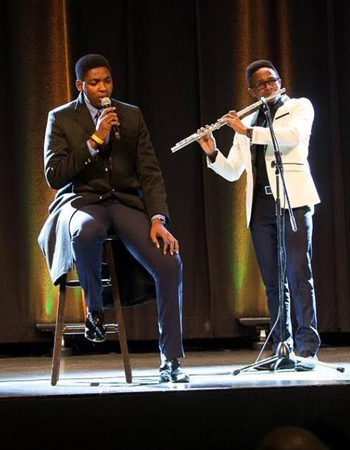 Emmanuel's fondest moments — aside from his performance memories that include masterclasses and opera productions — include performing at the Schubertiade concert at then-Dal President Richard Florizone's home during the Dal 200 celebrations in 2018 and giving public performances at the local shopping centres and farmers' markets with fellow students and faculty members. Other memorable moments were performing at the Portia White Memorial Concert at the Maritime Conservatory of Performing Arts, where he gave the opening performance for Grammy-award winning soprano, Harolyn Blackwell. The performance allowed him the opportunity to meet the Lieutenant Governor of Nova Scotia and his wife, which subsequently led to him performing a full recital at their house during Black History Month last year.

Ogo-oluwa and Emmanuel both plan to remain in Halifax after graduating with their Bachelor of Music degrees this spring. Ogo-oluwa will take a year to work and get his permanent residence before he goes on to pursue a master's degree in flute performance. Emmanuel will return to Dalhousie in the fall to begin his Master's in Musicology, focusing his research on the Nigerian Yoruba style and repertory of art song, a decision he made with the support of his voice instructor, Betty Allison.

"I want it to be signatory of my performance style when I become an established performer," says Emmanuel, adding that he is grateful to have received scholarships that will fund this ambition.
'Closer than a brother'

Both Emmanuel and Ogo-oluwa, who lived as roommates during their first few years in Halifax, have not been back home to Nigeria to see their families since before they first came to Dalhousie. They miss their families very much, but they are grateful for their friendship and to continue to live in the same city.

"Emmanuel is a friend who sticks closer than a brother," says Ogo-oluwa. "We met in 2014 at the Musical Society of Nigeria where we both graduated with a diploma in music. We arrived in Canada the same week, and we've been very supportive of each other ever since."

Emmanuel agrees, adding "Ogo-oluwa is a selfless person who cares for others. We share emotions and rub minds together."

Ogo-oluwa hopes his future holds mastering the flute and performing as a soloist as well as having a seat in a professional orchestra. He says that his time at Dalhousie is unforgettable and aside from his in-class learning, he has learned a lot from colleagues and from the motivation and challenges that kept him pushing.

"The music program has prepared me for a successful music career and for many opportunities or challenges out there that I might face after graduation," he says. "It is quite possibly my biggest achievement in life, at this time.  I see it as the end of one and the beginning of another."

Emmanuel says that he plans to use his degree, voice, and artistry to be an ambassador for the performing arts, with the intention of educating the masses and the government on the need for the arts to be fostered and more institutionalised into society.

"I can now use my voice and artistry to advocate for change in the classical music world," he says. "I now have a responsibility to influence and propagate classical music."