Dalhousie announced a new scholarship program this week that offers generous financial support, mentorship and more to incoming undergraduate students of Black and African descent.

The Sankofa Scholarships were created as an act of reparative justice to help address systemic barriers faced by students from these backgrounds, and, in particular, those from Black communities in the Caribbean, Canada and Nova Scotia.

The Sankofa program, which launches with its inaugural cohort later this year for the 2021-2022 academic year, includes three separate scholarships:
One international student award worth $48,000 over four years ($12,000 renewable annually) for a Black student from the Caribbean.
 
Two domestic student awards worth $32,000 each ($8,000 renewable annually), one for a Black Canadian student with Caribbean heritage and another for an African Nova Scotian student.

In addition to financial support, recipients of the Sankofa awards — named after the Akan concept meaning to look back to move forward — will also be offered access to academic advising, financial planning and career preparation as well as opportunities for mentorship from Black faculty, staff and alumni.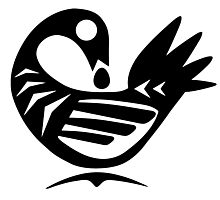 A symbolic Sankofa bird is shown right.

The creation of the scholarships is another milestone in Dalhousie's continuing work to support students of African descent in alignment with its on-going African Nova Scotian strategy and the recommendations of The Report on Lord Dalhousie's History of Slavery and Race (2019) and earlier reports including Breaking Barriers (1989) and Report from the Committee on Aboriginal and Black/African Canadian Student Access and Retention (2015, also known as the Bombay-Hewitt report after its co-authors, faculty members Amy Bombay and Kevin Hewitt).

"Students of African descent, particularly those whose histories tie back to the Caribbean and the trans-Atlantic slave trade, have had to rise above the legacies of these injustices," says Deep Saini, Dalhousie's president and vice-chancellor.

"Our Sankofa Scholarship program has been designed to help address the impacts this history has had on the ability of individuals from these communities to access post-secondary education."
Answering the call

The Lord Dalhousie Scholarly Panel on Slavery and Race, established in 2016 and reporting in 2019, examined "entanglements" between Dalhousie's founder George Ramsay and the early history of the university with the institution and legacy of slavery. Among its 13 recommendations were calls to provide more resources to support African Nova Scotian students and to build stronger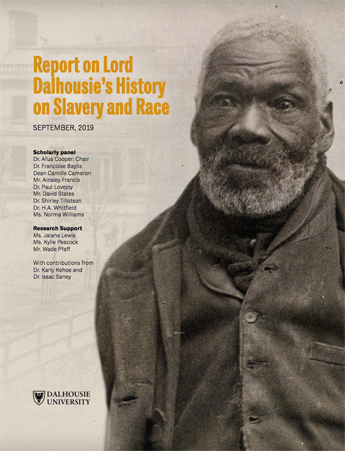 relationships with the African Nova Scotian community.
Left: Cover of the Lord Dalhousie report.

The Sankofa program supports these recommendations while expanding the report's calls-to-action to also include students with ties to the Caribbean region and Caribbean communities in Canada.

This broadening of eligibility signifies a coming together of recommendations from the Lord Dal report and past reports. Breaking Barriers, in particular, advocated that the university establish a number of renewable scholarships for Blacks and Mi'kmaq, which led to the creation of the First Nations and Indigenous Black (FNIB) Scholarships. By expanding eligibility, the Sankofa Scholarships fulfills that report's mandate to support "Blacks" and fulfills several recommendations from the Bombay-Hewitt report as well.
Further reading: Unravelling a legacy: Inside the Lord Dalhousie Panel's report

To be eligible for a Sankofa award, students must self-identify as being Black, be entering into an undergraduate degree program and show a demonstrated commitment to leadership, community involvement and service to others. Preference is given to students in financial need and those who are first in their family to attend a post-secondary institution.

"Allocating resources to underrepresented students is key to breaking barriers and a positive response to the recommendations of various reports," says Theresa Rajack-Talley, Dal's vice-provost of equity and inclusion.

"While we continue to implement the other recommendations, these scholarships are a real indication that Dalhousie is committed to decolonizing the institution."

This year's inaugural scholars have already been chosen and will be announced later this year.

Funding for the Sankofa Scholarships comes from the Dalhousie Student Assistance program, which is administered by the Registrar's Office. Students apply to be considered through the university's general entrance award program, which typically has a March 1 deadline.

The selection committee includes a staff member from the Registrar's Office as well as three to four other individuals that may include representatives from the Lord Dalhousie scholarly panel, the Black Student Advising Centre, the Director for African Nova Scotian Community Engagement/and or a representative from the African Nova Scotia Working Group and the Black Faculty and Staff Caucus.
Making a difference through mentorship and 'wraparound' supports

While the scholarship program's financial rewards offer the most immediate and tangible support to recipients, the mentorship opportunities could prove just as, or even more, valuable over the longer term.

"Mentorship is absolutely crucial to anyone, but especially those who face isolation as a member of an underrepresented group or who are first in their family to navigate the post-secondary environment," says Physics Professor Kevin Hewitt, current chair of Dalhousie Senate and co-author of the Bombay-Hewitt report.

In that report, Drs. Hewitt and Bombay, an associate professor in the School of Nursing, also made a case for the additional wraparound supports and activities geared towards improving retention of individuals from these groups, particularly those first-in-family students. The Sankofa Scholarships will include career advising, community-service/involvement opportunities, and hands-on help applying for external awards.

"By linking scholarships with programming that supports student success and retention through these additional pathways, it is expected that students will feel more at home and better supported by Dalhousie, which is expected to translate into better academic outcomes and improved retention," says Dr. Hewitt.

Dr. Hewitt, who is leaving his Senate role this spring after years of service, has stepped up to offer his support as a mentor in the program and hopes others will do so as well.

By building a cohort of scholars, community-based intellectual circles can be realized in which the targeted students support and encourage one another to greater achievement and reach back to help bring others into the university.
A dedication

In recognition of Dr. Hewitt's service to Dalhousie over the years, the university is naming the scholarship for international Caribbean students the Joan and Dr. Kevin Hewitt Sankofa Scholarship. Dr. Hewitt asked that his mother's name be added to the title as well.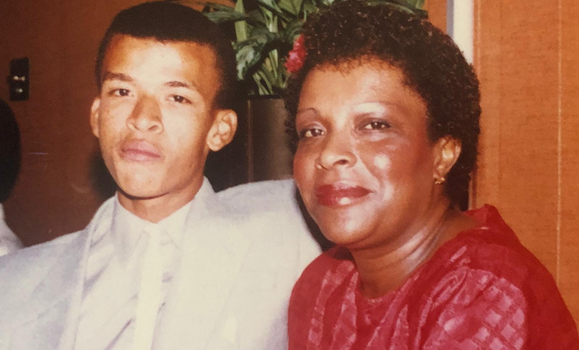 Dr. Hewitt is pictured here in 1985 with his mother.

"My mother embraced five elements of progress for the Black community — family, community building, discipline, hard work and education," he says, noting his own commitment to passing on the principles embodied by his mother to his own "thoughtful, brilliant, and beautiful children," Anika, Lishan, Zeré and Sanea.  

Dr. Hewitt wholly credits his own success to his mother, who he says taught him to "always defend your principles — courageously."