When Afua Cooper agreed to serve as chair of the Dal-commissioned Scholarly Panel to Examine Lord Dalhousie's History on Slavery and Race back in late 2016, she didn't expect it to become a nearly three-year project.

"But looking back, I think it was the right chunk of time for that research and this report," says Dr. Cooper, a faculty member in the Departments of History and Sociology & Social Anthropology and former James R. Johnston Chair in Black Canadian Studies.

"And that's because our report is based in history, and founded in historical research — research that took place locally, nationally and internationally. And that takes time."

The result of that time and effort by Dr. Cooper and a scholarly panel of experts was released this week and formally received by the university at a reception Thursday evening (September 5). At more than 130 pages and roughly 50,000 words, the Panel's report offers a thorough accounting of the various intersections — "entanglements," as the report calls them — between George Ramsay (shown below), the Ninth Earl of Dalhousie who commissioned the founding of Dalhousie University in 1818 while serving as Lieutenant Governor of Nova Scotia, and the institution and legacy of slavery.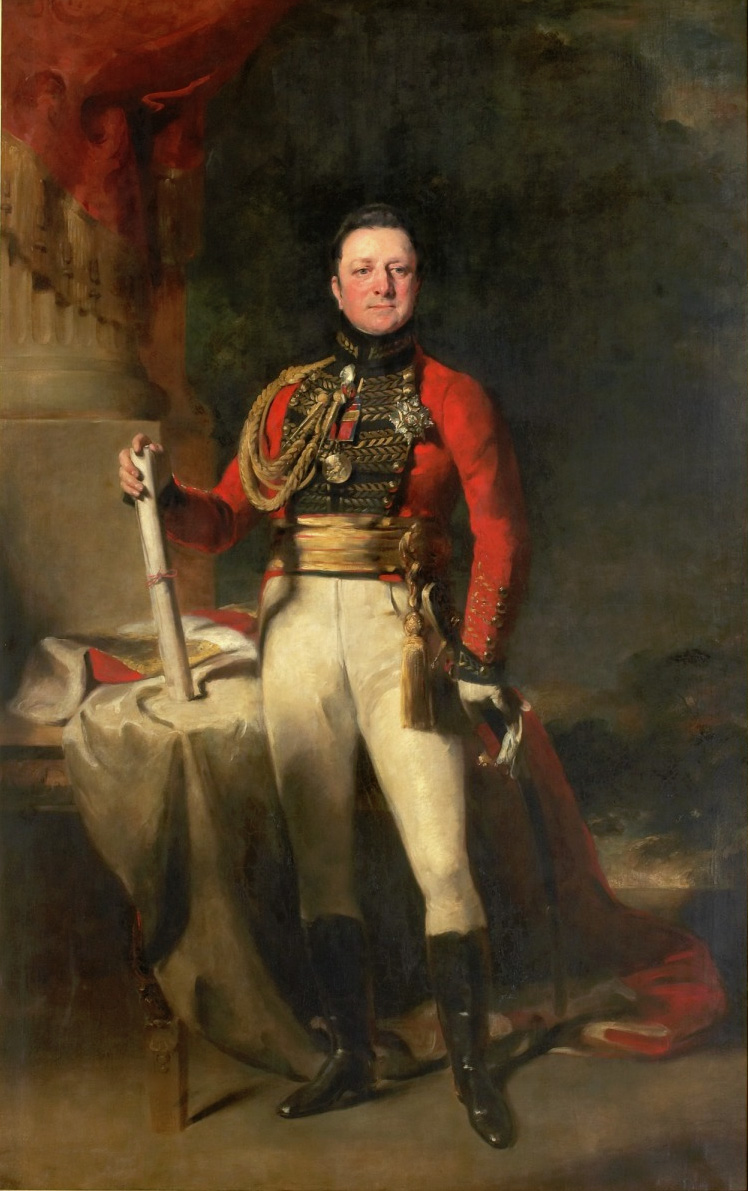 The report's story is focused on the experience Black Refugees from the War of 1812, who fled slavery for freedom in Nova Scotia and formed the largest immigration group of what would become the province's African Nova Scotian communities. It tells how the views and policies of colonial leaders of the time towards the Black Refugees helped institutionalize anti-Black racism and created systemic barriers with legacies that still resonate more than 200 years later. And though there were no slaves in Nova Scotia at the time, the report shows how deeply intertwined the province's economy and ruling class still were to the global slave trade, and how these connections are inextricable from an understanding the history of 19th century Nova Scotia — including Dalhousie University's earliest years.

At Thursday's event, Interim President Teri Balser delivered a joint response to the report, a response co-signed by Senate Chair Kevin Hewitt and Board Chair Candace Thomas. She thanked the panel for its work, apologized on behalf of the university for the views and actions of Ramsay and their impact, and pledged to work towards addressing the panel's recommendations.

"Today, on behalf of Dalhousie University, I apologize to the People of African Descent in our community," said Dr. Balser. "We regret the actions and views of George Ramsay, the ninth Earl of Dalhousie, and the consequences and impact they have had in our collective history as a university, as a province, and as a region. Further, we acknowledge our dual responsibility to address the legacies of anti-Black racism and slavery, while continuing to stand against anti-Black racism today.

"The recommendations from the Scholarly Panel are important and they, along with our upcoming African Nova Scotian strategy, will be critical in informing our path forward."

Read also: Forging a path forward: Dal welcomes Lord Dalhousie Panel report

Dr. Hewitt, who commissioned the Panel in 2016 together with then-President Richard Florizone, calls it a "historic document."

"This is a body of work that will inform the work of scholars and activists for generations to come," he says. "It allows us to move forward with the difficult but important conversations and work that will tell us what kind of people we are, what reconciliation looks like, and what world we want to live in — hopefully creating a more welcoming, just and equitable place for all."
From letters to scholarship

"Slaves by habit & education… their idea of freedom is idleness and they are therefore quite incapable of industry."

Those words about the Black Refugees from the War of 1812 come from a letter written by Lord Dalhousie to Colonial Secretary Lord Bathurst in December 1816, less than a year into his tenure as Lieutenant Governor of the British colony of Nova Scotia.

More than any other historical document, that letter — available online from the Nova Scotian Archives — is what sparked the mandate of the Scholarly Panel. For many in the African Nova Scotian community aware of the letter, those words have long stood out as a shadow on Nova Scotia and Dalhousie University's history. It's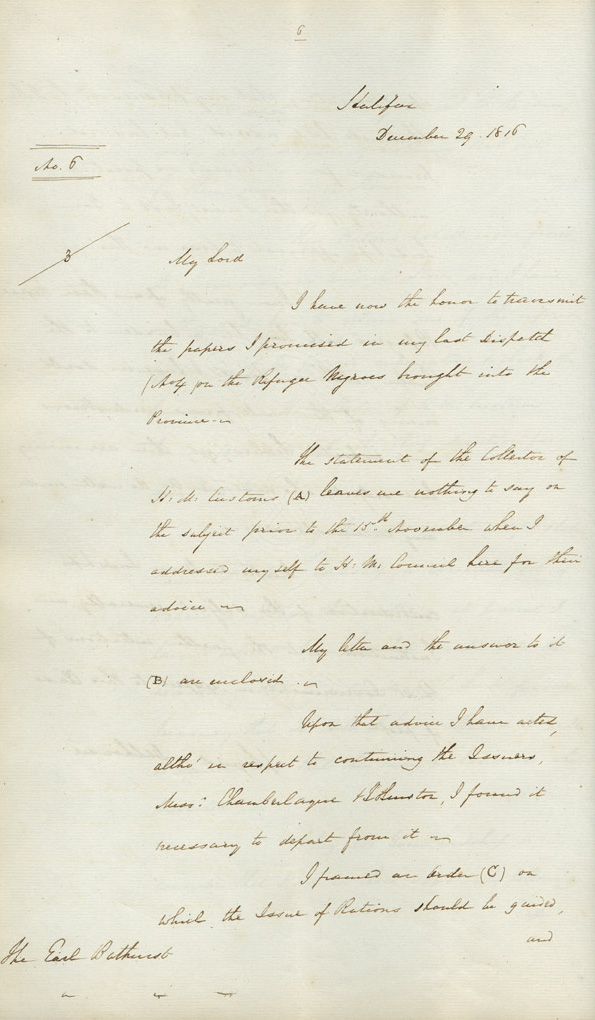 those words that the Black Faculty and Staff Caucus brought to Dr. Florizone's attention when they met with him in 2016, and which eventually led to the idea of applying scholarly rigour to a full accounting of the relationship between Lord Dalhousie and the institution of slavery.

"At Dalhousie, we should tackle this complex discussion in the same way we would address any complicated issue: through scholarly inquiry and community engagement," wrote Dr. Florizone and Dr. Hewitt in the Panel's terms of reference. "Our history makes this an area for considered inquiry, conversation, and respectful dialogue in exploring how we can better support a diverse and inclusive community on campus."

(Image right of the first page of a letter from Lord Dalhousie to Lord Bathurst on 29 December, 1816/Courtesy of the Nova Scotia Archives)
To complete their work, Dr. Cooper and the research team on the panel crossed the Atlantic to comb through relevant archives in both Canada and the United Kingdom. They examined letters, formal proclamations, immigration reports and accounting documents to better understand Ramsay and his views.

"When we looked at George Ramsay, and his writings and letters, we realized that it was part of a larger story, part of a larger context," says Dr. Cooper. "From that phrase — 'slaves by habit and education' — we discovered these entanglements that Dalhousie University and George Ramsay had with slaves and slavery and anti-Blackness."
Full document: Report on Lord Dalhousie's History on Slavery and Race
Combing through the entanglements

In choosing "entanglement" to describe the intersections between George Ramsay, Dalhousie University and slavery, the Panel's report is noting how complex this history is — that even though slaves weren't present in early 19th-century Nova Scotia, and there's no evidence that Ramsay himself was ever a slaveowner, there are still a multitude of connections and links that can be made (economic, political, social and cultural), directly and indirectly, to slavery and its legacies.

"I think of it as yarn of wool that gets tangled up," says Dr. Cooper. "We couldn't divorce the Refugees of the War of 1812 from the larger story of British imperial history and the history of American slavery."

The first of these entanglements, and the one most directly tied to Lord Dalhousie personally, is the one illuminated by the letter to Lord Bathurst: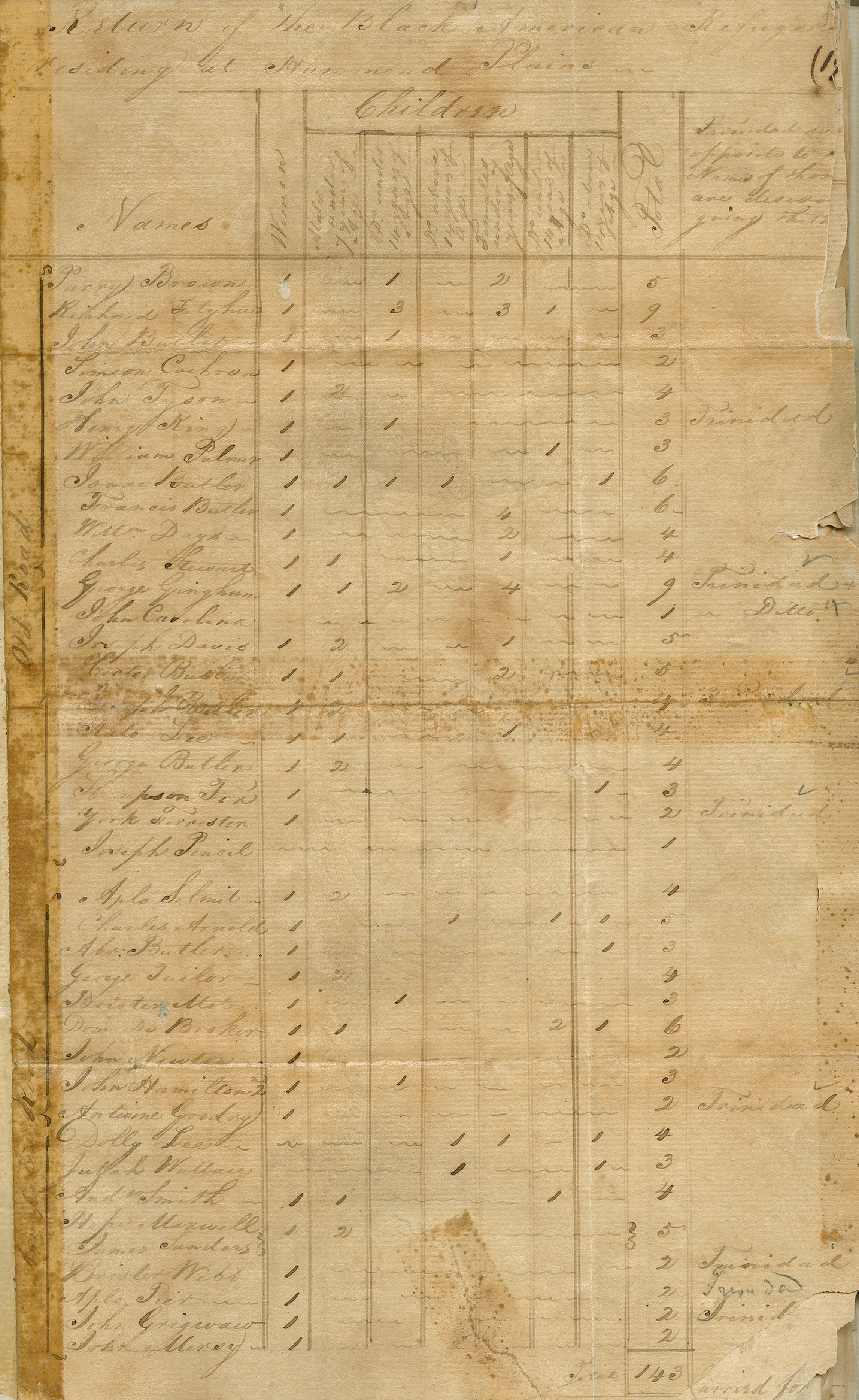 that along with other Lieutenant Governors of Nova Scotia, Lord Dalhousie expressed views and enacted policies that explicitly and intentionally marginalized the Black Refugees of the War of 1812. These constraints, such as providing insufficient farmland and, at one point, considering deporting the settlers to former slave masters in the United States, essentially treated Black settlers as unwelcome second-class citizens.

"Dalhousie, like Sir Sherbrook before him and Kemp after, embarked on policies, laws and regulations that marginalized the Black Refugee community for the next 200 years," says Dr. Cooper.
(Image left of a document on the return of Black American Refugees residing at Hammonds Plains/Courtesy of the Nova Scotia Archives)

The second entanglement is Lord Dalhousie's participation in the Franco-British wars, where he enacted orders that helped return enslaved rebels to their masters following the overthrow of a revolutionary government on the Caribbean island of Martinique. "This experience of conquest and re-enslavement," says the report, "helped influence [Lord Dalhousie's] subsequent views and perceptions about African peoples."

The remaining three entanglements are less about Lord Dalhousie, personally, and more about the broader society in which Dalhousie University was initially founded: that much of the economy and wealth in 19th-century Nova Scotia was dependent on the West India trade routes, leveraging resources harvested from continued slavery; that prominent Halifax families with links to Dalhousie University's earliest years received financial compensation when the British government ended slavery in the Caribbean; and that some of the university's early leaders expressed racist ideas: Inaugural President Thomas McCulloch, though a staunch abolitionist, used racist ideas at times in his satirical writing, while Hugo Reid, who served as principal of Dalhousie College during a brief period in the 1850s, wrote a tract against abolitionism.
Recommendations for responsibility, recognition and repair

The Scholarly Panel that set about considering this broad, interwoven story was a mix of scholars of various backgrounds: law, ethics, sociology and, of course, history. They were tasked not only with identifying the historical facts and placing them in context, but with making recommendations for Dalhousie University to address this legacy.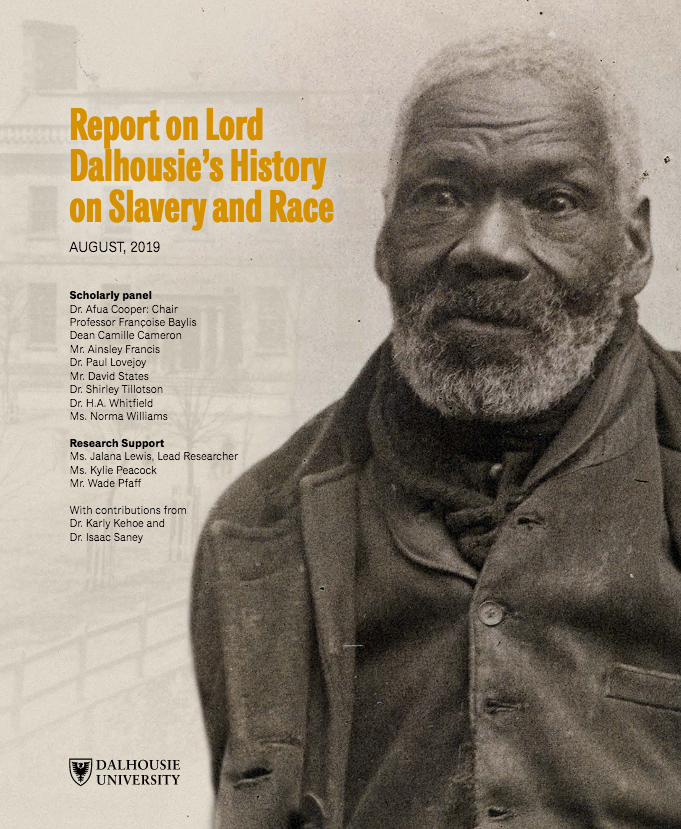 Those 13 recommendations fall under three broad categories: expressing regret and responsibility for the institution's and its founder's connections to slavery and to anti-Black racism; showing recognition for the historical realities of Black people's lives in Nova Scotia and the valuable contributions they have made; and embarking on repair, taking concrete steps to address the legacy of slavery, particularly through teaching and research. The recommendations include encouraging renaming of campus and community spaces in honour of individuals of African descent; enhancing expanding and supporting teaching and research of Black Studies; and strengthening Dal's relationships with the African Nova Scotian community and building stronger educational links to the Caribbean.

"I think it's important for the readers to know that the committee doesn't want this to be another report that goes on the shelf and gathers dust," says Dr. Cooper. "One of the objectives of this report, in a way, is to help right this broader wrong, and enacting these recommendations would be a major step in repair."
The power of history

Dr. Cooper says she hopes the report helps people understand how the issues of today are built on legacies of yesterday.

''The world we see now didn't just happen by an act of magic — something came before, and often times that something that came before was wrong to certain communities, to certain to individuals. And that led to systemic barriers that continue through today," she says, referring the recent report on police street checks in Halifax as one contemporary example of anti-Black racism's continued impact.

But she also hopes the report celebrates what Dalhousie University can be: that rather than an admonishment for what happened 200 years ago, that the report shows how Dal —through its efforts in teaching, research and community engagement — can make a big difference in helping right the wrongs of the past.

"Dalhousie is a major influencer the Atlantic Provinces. Universities can, and do, make a difference in the lives of individuals and in communities. You don't necessary have to be a student in that institution for that institution to make a difference in your life, and our recommendations focus on the positive difference Dalhousie can make."
Scholarly Panel membership

Dr. Afua Cooper: Chair
Dr. Paul Lovejoy
Mr. David States
Dr. H.A. Whitfield
Ms. Jalana Lewis
Ms. Norma Williams
Ms. Kylie Peacock
Mr. Ainsley Francis
Dr. Shirley Tillotson
Prof. Françoise Baylis
Dean Camille Cameron
With contributions from Dr. Isaac Saney and Dr. Karly Kehoe