Dalhousie University apologized for its namesake's views and actions on slavery and race and the impact those have had on its community after formally receiving a scholarly panel's report on the subject Thursday.
In an event held on campus last evening (Sept. 5), Interim President Teri Balser expressed gratitude to the Scholarly Panel to Examine Lord Dalhousie's History on Slavery and Race for its impressive contribution to Nova Scotian history and pledged to work towards incorporating recommendations from the report.
The Panel's report — commissioned in 2016 by Dalhousie Senate Chair Kevin Hewitt and then-President Richard Florizone — offers an extensive historical accounting of the early "entanglements" between George Ramsay, the ninth Earl of Dalhousie, and the institution and legacy of slavery.
The report details how the views and actions of colonial administrators, including Lord Dalhousie (as Ramsay was called), have left a legacy of anti-Black racism that continues more than 200 years later. Its recommendations focus on how the university can address this legacy.
"Today, on behalf of Dalhousie University, I apologize to the People of African Descent in our community. We regret the actions and views of George Ramsay, the ninth Earl of Dalhousie, and the consequences and impact they have had in our collective history as a university, as a province, and as a region. Further, we acknowledge our dual responsibility to address the legacies of anti-Black racism and slavery, while continuing to stand against anti-Black racism today," said Dr. Balser at the event, delivering aloud a joint response to the report co-singed by Dr. Hewitt and Board Chair Candace Thomas.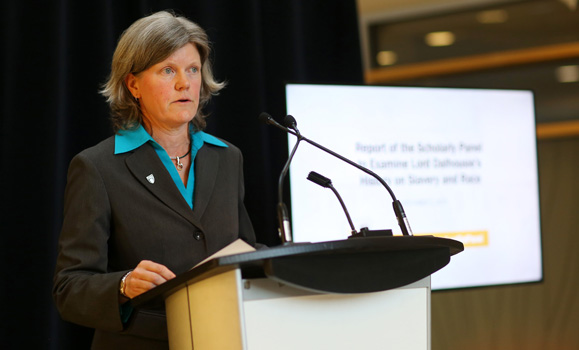 Interim President Teri Balser.

The university's statement acknowledges that the report "bears witness to views and practices that should feel profoundly wrong to all of us," framing it as an historically important document that will serve as a springboard for future change.
Continuing the response, Dr. Balser said the panel's recommendations, along with the university's upcoming African Nova Scotian strategy, would be critical to informing the university's path forward and be embedded in its forthcoming strategic plan. 

In-depth: Unravelling a legacy: Inside the Lord Dalhousie Panel's report
Full document: Report on Lord Dalhousie's History on Slavery and Race
"The work ahead will take time, as systemic change does not happen overnight," she said. "Nor, though, is it work that is just beginning today. It builds on past efforts and actions, informed by response to calls from our community."
Dal's Transition Year Program, the law school's Indigenous Black & Mi'kmaq Initiative, the James R. Johnston Chair in Black Canadian Studies, and Imhotep's Legacy Academy were all mentioned as examples of how individuals and groups within the university have worked already to live up to the university's obligations to African Nova Scotian communities.
"We cannot change the history detailed by this Scholarly Panel, nor change how it has informed our present — but we do get to decide how it shapes our future," said Dr. Balser, nearing the end of the statement address.
Exercising courage

Members of the Dalhousie, African Nova Scotian and African Canadian community attended the reception held in the atrium of the Life Sciences Research Institute, including former Lieutenant-Governor of Nova Scotia Mayann Francis, pictured below, and Atlantic School of Theology scholar and Reverend Marjorie Lewis.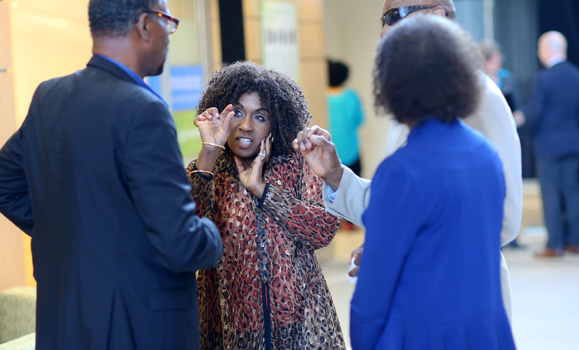 Dr. Lewis, who is a past president of the United Theological College of the West Indies and past moderator of the United Church in Jamaica, provided a series of inter-faith meditations as part of the evening's program, which also included music from the Uphome Drummers.
Dr. Hewitt opened the evening's reception by lauding Dalhousie for taking a leadership role among Canadian post-secondary institutions in examining the university's entanglements with slavery. He said in agreeing to launch the Panel, Dr. Florizone demonstrated an openness to the idea of "white privilege" and a commitment to reconciling the past to help build a stronger university going forward.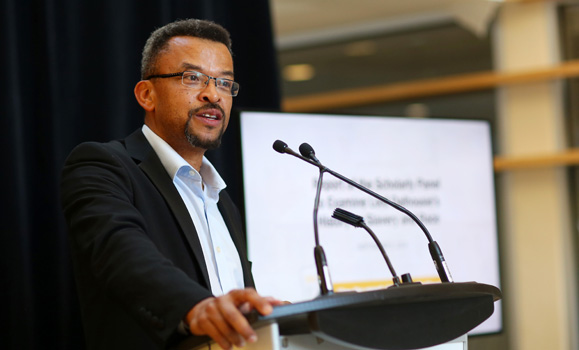 Senate Chair Kevin Hewitt.

Striking a tone of optimism, he spoke about "inflection points" in history when thought leaders, community activists and academics act with integrity in pursuit of fairness and justice and "exercise courage in the face of the privileged views of the time."
Continuing, he posed a challenge to attendees: "How courageous can you be in whatever role you find yourself in?"
Dr. Hewitt also shared a moving story about his own family history, explaining that the parents of his great grandmother's father, Joseph Williams, were enslaved by the British in Grenada.
"Imagine the exploitation of these human beings, of Joseph Williams, the goods he produced with his unpaid and coerced labour and how it enriched others both near and far," he said. "What could possibly compensate them for their treatment as moveable chattel — property listed in wills, sale ads, and estate records alongside furniture and farm animals?"
After looking back, Dr. Hewitt turned his thoughts to the future.
"We are now beginning the difficult but important conversations and work that will tell us what kind of people we are, what reconciliation looks like, and what world we want to live in," he said.
Sharing findings, giving thanks


Panel Chair Afua Cooper, a faculty member in the Department of History and the Department of Sociology and Social Anthropology, provided an overview of some of the report's key findings as well as a series of photographs and other visual artifacts gathered during the three-year, trans-Atlantic research project.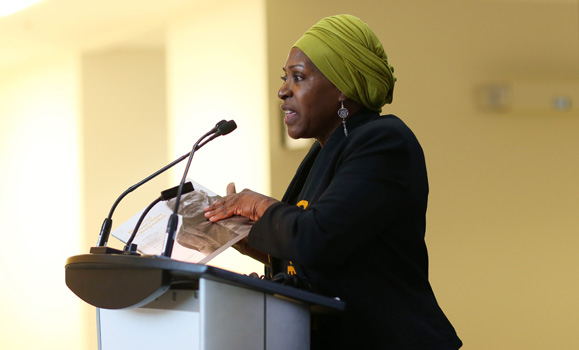 She told the story of Gabriel Hall, a Black Refugee of the War of 1812 who was just a child when he was one of nearly 3,000 Black Refugees to emigrate to the colony of Nova Scotia. Hall petitioned the government at an older age for failing to provide sufficient farmland to refugees. She also spoke of Lord Dalhousie's attempts once in charge of the region by 1816 to rid it of these refugees as he felt it should be a "white man's colony." And she noted how Nova Scotia's economy at the time was highly dependent on West Indies trade routes still entangled in slavery.
Dr. Cooper introduced and called to the podium members of the Panel who were present, and spoke about those who were not able to make it.
Without the work of the Panel, she said, this important historical work would not have happened.
"When you had the kind of talent we had on the panel and the brains the people who were committed to the project, you know you are going to have a stellar document," she said.
Writing Dalhousie's next chapter

Board Chair Thomas thanked Dr. Cooper and the Panel, Dr. Hewitt, and all those who helped "say yes to this important work," including Dr. Florizone as well as Dal's Senate and Board.
"This evening, as a native of East Preston, I stand here as a descendent of those early African Nova Scotian settlers this institution's founder described as idle and incapable of industry and as a proud Dalhousie alum and as chair of Dalhousie's Board of Governors," said Thomas, a partner at the law firm Stewart McKelvey.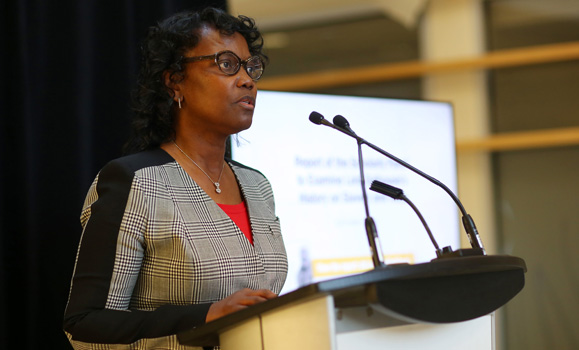 She called it a "moral obligation" to consider this history and those that were part of Dalhousie's story through the years of racial injustice and slavery and beyond.
"We also have a responsibility to ensure that as we write our next chapter, that we embrace the values of inclusion and diversity that will make future generations proud of what we've accomplished and proud to be a part of this community."