Lisa Barrett's taste for scientific inquiry took hold in a small hospital at the far end of a Newfoundland peninsula that stretches out into the North Atlantic.

As a little girl, Dr. Barrett would often have to tag along with her mom or dad as they headed to work at the Old Perlican cottage hospital. Unable to find childcare, they would leave their oldest daughter playing with the cooks in the hospital kitchen or watching her father in his lab.

The early glimpse into the world of medical exploration nurtured Dr. Barrett's interest in science and helped set her on a course that has led to the centre of the fight against COVID-19 as one of Canada's leading voices on infectious-disease mitigation.

"My dad was a lab tech and my mom the hospital administrator, so off hours I would get to play with the machine that gets you a complete blood count and see the health leadership things — probably all things that would get you fired these days!" Dr. Barrett, an infectious disease expert in Dalhousie's Department of Medicine, says with a laugh.

"It's the environment I grew up in, and I always had a science bent to me. I was the kid who loved the science part of things."

When the family left Old Perlican — one of the province's oldest fishing villages and home to about 670 people — and moved to St. John's for Dr. Barrett's final year of high school, she enrolled in a co-op program that paired her with an immunologist at the local university. She would spend two afternoons a week with the doctor, who exposed her to the fundamentals of immunology and experiments that involved sending electricity through chicken red blood cells to figure out how to make monoclonal antibodies.

"That was my Grade 12!" she says. "It was my real introduction into scientific inquiry, and the doctor I worked with was a very big part of early key immunology findings around the way we match tissues for organ donation. He helped discover that whole sort of thing. And here he was in Newfoundland in the '70s to help set up the medical school! He was such a mentor."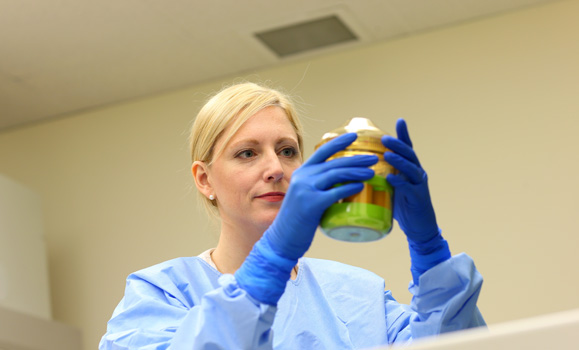 Seeing the big picture

Dr. Barrett graduated and went on to do her undergraduate degree in biology and immunology at Memorial University. She says that it was while doing an honours project on HIV that it became clear where her passions lay.

"That was it -- I was like, 'I love chronic viral infections, I never want to leave chronic viral infections clinically and immunologically.'"

She became torn, however, when she got into medical school but didn't want to give up her scientific work. Not seeing an option to study both, she created one with the help of her PhD supervisor Dr. Michael Grant. Dr. Barrett helped draft the necessary paperwork for a MD-PhD program, which ultimately led to the creation of the first formal MD/PhD program at Memorial.

Dr. Barrett's studies took her to the University of Toronto, Dalhousie and then to the National Institute of Allergy and Infectious Diseases in Maryland, where she would be able to focus on her research around hepatitis C and T cell immunology. Supervising her would be Dr. Anthony Fauci, a member of the White House's coronavirus taskforce and arguably the world's best-known infectious disease expert.

Dr. Barrett, who would meet with her supervisor every few weeks to go over her work, gleaned from him a lesson that she carries with her today.

"He was always literally, 'OK, what's the 35,000-foot view here?'" she says. "He very much solidified that and I hope I do that most days and bring it back home to what's the big picture here — are we doing the right thing at a big-picture level? I think that's very important."
Further reading: Ask an expert — Lisa Barrett on why it's more important than ever to get the flu shot
A pandemic emerges

It's an ethos that has influenced her COVID-19 approach, which evolved over time after first hearing of a mysterious pneumonia that was circulating in China. Dr. Barrett didn't think much of it at the time, figuring it was just one of the many viral infections listed in reports from around the world that often don't raise grave health concerns.

That changed when her phone rang while she was attending a Canadian hepatitis C meeting in Montreal. It was a national TV outlet asking her to comment on a pathogen that appeared to be spreading quickly around the world and had the early hallmarks of a pandemic.

"That was March 7. It was such a stark day. It was the first piece of national media I did on the potential pandemic," she says, now having done dozens of such interviews. "None of us quite expected that we would be dealing with a pandemic."

Soon after the World Health Organization deemed it a pandemic, Dr. Barrett and her small group of infectious disease colleagues at Dal kicked into gear, with much of the push after the first wave around what Dr. Barrett saw as a dire need for widespread testing. She recognized that COVID-19 posed a distinct danger because people could be shedding the virus without realizing they are infected.

"That's a recipe for disaster, but it was really tough to get people to understand. They would say, 'Well we don't have any cases,' but I was like, 'Well you don't really know because we're not testing people who don't have any symptoms,'" she says.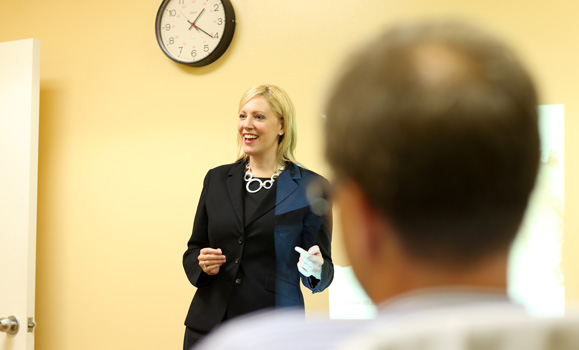 Testing as the new normal

One way she saw to do that was through pop-up testing sites, with the nasal swab tests being done by non-health-care professionals. It was an uncomfortable proposition for some, but one that Dr. Barrett had long been pushing for with her work in HIV and hepatitis C. She argued that physicians could train members of the public to perform the rapid test in places like bars, sports centres and university campuses and hopefully capture those unwittingly spreading the virus. The results could also provide an early warning of potential outbreaks.

Dr. Barrett, 45, also saw it as a way to demystify testing and make it part of life's new normal.

"It was a way of de-medicalizing things and giving people control over their own health and testing," she says, adding that she faced skepticism, resistance and cautions that it could backfire.

Further reading: Pop‑up for the greater good: Dal doctor spearheads COVID rapid‑testing site on campus 

"A co-worker said, 'You know, this is going to either get you into a whole lot of trouble or it will work,' and I was like, 'Yep, that's pretty much my life most days.' Not everything is as popular or as well received, even if it works, but along with Public Health and Dr. Todd Hatchette, we've done it and it's a work in progress. I think there are going to be bigger implications to this because it's one of the first times that as a province people have truly looked at testing as not having to be done by health professionals and that engaging people to run their own affairs own their COVID testing is hugely beneficial."
Shouldering burdens, together

Despite the frustrations and unrelenting pace, it has been an enriching experience for the specialist who has come up against doubters before and has had to contend with tired attitudes over the years that have seen her referred to as "that pretty East Coast doctor."

Dr. Barrett says she doesn't let such comments rattle her and uses the occasions to direct attention to her work, taking heart too from a "devoted, innovative and supportive team" of infectious disease doctors that has carried on the clinical work while shouldering the burden of the pandemic.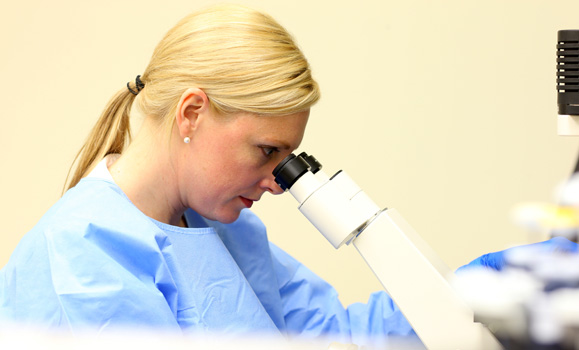 "We have so much respect for and confidence in each other — it's been such a gift to work with each other," she says.

She can also draw on her roots and a unique brand of Newfoundland humility when she needs grounding.

"My grandmother, who passed four years ago, would tell me, 'We're just happy you have a job, dear,'" she says, laughing. "The rest of the world thinks I'm doing OK, but my grandmother is just happy I have a job and security!"