At a time of year when people are usually lining up outside stores offering big Black Friday deals, hundreds are instead queuing for a more community-minded reason: to get tested for COVID-19.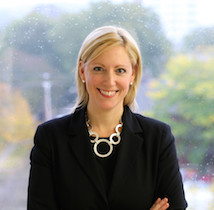 Dr. Lisa Barrett, an infectious diseases specialist with the Faculty of Medicine, organized a pop-up testing site at Dalhousie this week along with colleague Dr. Todd Hatchette that attracted long lines and generated media headlines. With space provided by the university on its downtown Sexton Campus, the clinic drew hundreds of young people — many of them students — in for free, rapid virus testing amid a growing second wave of cases in Halifax that health officials say is being driven predominantly by people aged 18-35.

The pop-up site — which facilitated tests Tuesday, Wednesday and Thursday — was distinct from the Nova Scotia Health Authority's regular COVID-19 assessment centres in that it was not for people showing symptoms of the virus. Nor was it for people directed by Public Health to seek testing due to potential exposure (either through close contacts or exposure advisories). It was meant for people who are asymptomatic — a way to identify cases that might not be captured through standard testing protocols.

"This is testing for people who do not have symptoms. Basically, the reason we are doing that is to get a sense of how many people are out there who don't know that they're actually infected and who need to know so that they can take precautions for themselves and their family and friends," Dr. Barrett told CBC News in an interview Thursday.

The pop-up approach followed on the heels of a similar clinic Dr. Barrett helped facilitate at a bar in downtown Halifax last weekend. And on Friday, she transported her rapid-testing set-up to Alderney Gate Public Library in Dartmouth.
Rapid action for rapid testing

This week's on-campus clinic was organized very quickly, with Dr. Barrett reaching out to Dalhousie leadership and staff on Monday to help her identify and access a safe place to conduct the tests this week. Even with the short notice, word got around: lineups from the testing site at Dal's Richard Murray Design Building on Morris Street were so long they snaked along city sidewalks and through a large portion of Sexton Campus all the way to Spring Garden Road, despite the chilly temperatures on Tuesday and Wednesday.

Thanks to clinic staff and volunteers, lines moved quickly each day, leading to 604 tests completed on Tuesday, 856 on Wednesday, and another 1,142 on Thursday.

Because results from the rapid tests are processed far more quickly than standard COVID tests — usually within 15-20 minutes as opposed to the one to three days — Dr. Barrett and her team were able to identify COVID-19 cases without symptoms, both for the benefit of the individuals themselves and to contribute to the broader understanding of how COVID-19 is spreading in Halifax. (Those who test positive in the rapid test must then take the standard one and, if confirmed, self-isolate.)
"People were just very grateful to be getting tested," added Dr. Barrett, "and they felt that this was part of the COVID response. They felt that they were contributing to understanding and controlling COVID in their province."
Earlier this week, Nova Scotia Public Health directed anyone who had been at a restaurant or bar past 10 p.m. over the past two weeks to get tested whether they are showing symptoms or not. Dr. Robert Strang, Nova Scotia's chief medical officer, noted in a press conference Friday afternoon that those individuals should do the online self-assessment process for a standard test, not the rapid testing.
A collaborative effort

Between last weekend's pop-up at a local bar and three days of testing on Sexton Campus, 10 cases have been found among the more than 2,700 people tested.

Other new Public Health measures this week like closing gyms (including Dalplex) and bars and restaurants in Halifax for in-person service are also intended to send a strong message and help curb the virus' spread.

Alice Aiken, vice-president research and innovation, and Verity Turpin, acting vice-provost of student affairs, commended those across the university who helped make the pop-up site a reality this week.
"We'd like to send an enormous thank you to the Dalhousie team from Student Affairs, Environmental Health and Safety, Security Services, Facilities Management, the Faculty of Engineering and any others who worked together to find a safe location for this pop-up and got it set up in record time," they said.
"Dalhousie is committed to supporting our broader community, especially during tough times like these."