Two recent Dalhousie graduates are being celebrated for their work in helping shape the future direction of their communities with environment and sustainability top of mind.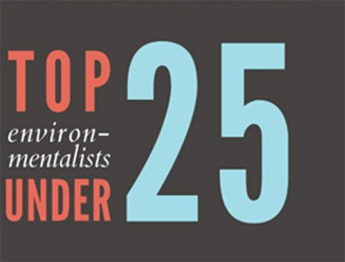 Siobhan Takala and Isaac Greenberg were chosen by advocacy organization The Starfish Canada for inclusion on their annual list of influential young environmentalists.

Released in December, Starfish Canada's Top 25 Environmentalists under 25 list for 2020 includes individuals from across Canada contributing in significant ways to the environmentalism movement in their respective communities.

Sprouting up

Takala (BSc'19) co-founded Let's Sprout with Kelsey Brasil and Sarah Aspinall in April 2016. The Halifax-based organization, which Takala is co-director of with Brasil, creates spaces for youth to learn and grow, with a special focus on important issues within society, such as the environment and gender.

"There's not a lot of spaces that meaningfully engage with youth and make them feel like their voices matter," says Takala.

She says that while growing up in Saskatoon, Saskatchewan, much of her attention was focused on social justice issues. While travelling at the age of 18, she learned about the intersection between environmental and social justice issues. Her desire to better understand the world around her led her to take classes in environmental science and sustainability during her first year at Dal.

She says her experience at university helped open her eyes to important environmental issues. She completed a combined honours thesis on Asset-Based Community Development where she conducted research with the Halifax Refugee Clinic.

For Takala, many of these challenges in today's world are interconnected.

Takala credits her community with helping create the organization, including Dal's College of Sustainability where she received the RBC Sustainability Leadership Certificate. COLAB, a local team of facilitators, process designers and evaluators who work to help organizations solve problems, also mentors Let's Sprout.

Through Let's Sprout, Takala works directly with youth to help address these issues. The organization runs a variety of workshops and programs throughout the year that provide a space for youth to build relationships, ask meaningful questions and propose solutions. Takala says that she is looking forward to their upcoming project of hosting mindfulness workshops for youth with climate anxiety and grief.
Changing the way government sees its work

Isaac Greenberg (BA'18) now works for the Province of Nova Scotia addressing challenges in government processes. He is a founding member of the Nova Scotia Outpost for Public Sector Innovation.

One project he's working on is procuring a rural transportation dispatch program that hopes to improve the service offered by rural transportation providers in Nova Scotia.

Greenberg says his work focuses on "leveraging behavioral science to develop programs and policies that are informed by how people actually act rather than how we think they act."

Growing up on an organic farm in Nova Scotia, Greenberg learned the importance of food and how we are connected to our environment, but he says his academic and experiential learning at Dalhousie expanded that understanding.

He's also working to help share data from an analysis on quality of life in Nova Scotia across government.

"That's an area I'm very excited to work on because that's really redefining what we make decisions on, how we define what's actually important," Greenberg said.

As Nova Scotians confronts important challenges in its communities, Greenberg and Takala will certainly be at the forefront.