Several recent high-profile cases of Black and Indigenous individuals killed by police in Canada and the United States have heightened scrutiny on law enforcement agencies and their tactics. Protests in response to these incidents and in support of Black Lives Matter and other movements cast a critical eye on everything from training requirements to the use of force and beyond, calling out systemic racism and its impacts on policing in diverse communities.
Timothy Bryan is an assistant professor in the Department of Sociology and Social Anthropology who researches the policing of hate crime, race and racism as well as and criminal justice in Canada. We spoke to him to learn more about the protest movement, possibilities for police reform and whether this could be a watershed moment for change in police-community relations.
When people are in trouble or under threat, sometimes the only means of redress is seeking police assistance. But how can individuals from diverse communities feel secure in doing so when police are sometimes a source of problems as well?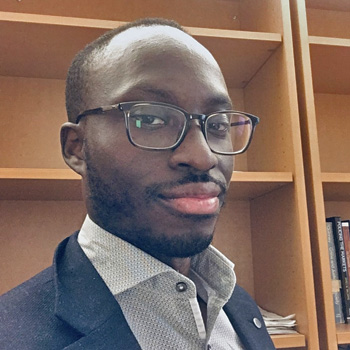 I think policing is double edged for communities of colour because, on the one hand, they are quite aware of what can (and often does) happen when people of colour call police but, at the same time, find themselves in situations where police intervention is required. In the context of this reality, I think the truth of the matter for many people of colour is that they call the police out of necessity not out of a sense of security. And this is certainly not to say that all people of colour mistrust police, but that what hovers over any possible encounter with police is that you can be defined as the problem and police violence can be redirected toward you. So, there is a stark contrast I think between the way some feel emboldened by police presence to the point where they might threaten to call police, and the way many people of colour feel toward police involvement.

What tangible steps have been taken or are getting underway in Canada in recent weeks when it comes to police reform?

It's a bit early to assess changes, but I do think there is a growing conversation here in Canada about what reform might look like and what needs to be reformed. I think there are different sets of questions that are now on the table and are being taken seriously in a way that they weren't before. I think many of the conversations in the past about police reform have taken the policing container for granted. They've assumed policing and the policing structure and model and sought to make changes to make it more transparent or accountable. We see that in some of the conversation around body-worn cameras, or we see that in terms of police training. In other words, we start with police and we try to make policing better. Again, this is the preliminary stages, but I think there are some conversations happening that are broader than that — bigger conversations about what does public safety look like? Is policing as currently structured the best model for ensuring public safety? Maybe that can be done completely differently.

I also do think there is the potential for a shift in how policing organizations see themselves. What we've seen in this moment, which is different from the past, is a lot more openness on the part of some police officers to talk about this moment. In the previous protests, police have been quite reticent and reluctant to speak out about anything. "Things are under investigation, no rush to judgments." But I think this is a different moment where police, individual officers and police organizations are much more vocal and are speaking out much more quickly than before. Now, I don't know what that means. Maybe that means police view this as a potential public relations problem, so you get ahead of the story by speaking out. But I do think there is a potential for a significant shift in the mentality of police — this mentality of keeping things behind closed doors. I think that is starting to shift in a way that we haven't seen before.

Why are these protests gaining more traction than others have in recent years?

That's a really good question and it's a question I and some of my colleagues are currently having an impromptu roundtable on, where we check in regularly. We're trying to think about what makes this moment so significant. There have been similar kinds of high-profile violence in the past that haven't manifested in this way so much or haven't perhaps generated the kind of government or institutional response. I think that's perhaps what the biggest difference is: governments and institutions seem to be responding in a way that they didn't before. The community activism has always been there. There were mass protests in Ferguson in 2014, but the response is significantly different this time around.

I wonder if the context of the pandemic changes things a little bit. I don't know if I have a concrete answer, but it's a good question to ask because it might speak to the kind of possibilities that might exist for further institutional change in the future. Maybe this says something about the possibilities of movements. Maybe movements are actually much more significant than we think. Maybe this time is only possible because of the last set of protests in 2015. Maybe this is the result of that. Maybe we have to think about the genealogy of the moment, not just the moment itself — tracking it back to these histories. Perhaps there's been a new conversation about anti-Black racism about things like institutional violence that has been going on for a while in different settings.. Perhaps it's been laying the groundwork for a kind of resonance that we are seeing today. The kind of talk about anti-Black racism is resonating today in a way that didn't happen before. Maybe that's because it required the raising of that conversation in years past to be at a last where we can now actually understand it more fully.

Read more: Commitment and action on anti‑Black racism: Work moves forward on new academic and research programs
'It's just heavy': Dal‑hosted forum explores burdens of anti‑Black racism