Madison Gateman, a MA student in the Department of History in the Faculty of Arts and Social Sciences, has placed in the country's top 25 finalists of the Social Sciences and Humanities Research Council (SSHRC) Storytellers competition.
She is the only student from an Atlantic Canadian university to make the list of 25 finalists in SSHRC's annual competition this year, which challenges SSHRC-funded postsecondary student researchers to share how their work is making a difference in the lives of Canadians.
"Placing as one of the finalists in the Storytellers competition felt like the really rewarding culmination of my graduate studies at Dalhousie," says Madison. "The purpose of the Storytellers competition is to showcase Social Sciences and Humanities research in a way that is accessible, engaging and relevant. These qualities have been high priorities for me throughout my academic career, and for SSHRC to recognize that effort and deem my project worthy of sharing with others was a real honour."
To take part in the competition, students can record a video or audio clip (up to three minutes or less), or create a 300-word text or infographic that explains their research to a non-specialized audience.
Madison chose the three-minute video option because it felt like the best choice for her project, which includes some visual sources. She says she welcomed the challenge to hone her communications skills, especially given how difficult it can be to avoid specialized language and create something for a broader audience when you're so deep into a particular research project.
"It forced me to really return to my driving research question and check back in with the 'why' of the project. Why did I become interested in this research in the first place? Why is it important to share with others right now?"
Refugee narratives and public discourse

The 2020 Top 25 Storytellers represent 19 postsecondary institutions across Canada. Their research stories include topics as broad as climate change, the situation for refugees, the stigma of mental illness, gun violence and Indigenous communities.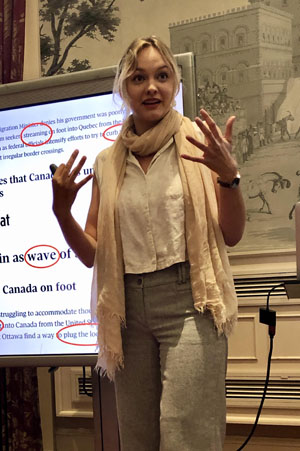 Madison's thesis research is concerned with how narratives of Canadian generosity towards refugees are constructed in the public sphere. While her research focuses on the period between 1979 and 1980, it was a project sparked by the public attention given to the 2015 Syrian refugee crisis.
"One thing that I noticed within this coverage was the repeated comparison between the resettlement of Syrian refugees in Canada with the resettlement of 'Boat People' refugees in Canada in the 1970s," she explains. "The underlying logic of these comparisons was that Canada is naturally and traditionally a generous host nation for refugees, which ignores the many occasions when Canada has responded to the arrival of migrants with suspicion and hostility.
"This observation developed into a research interest that examines the reiterative and performative nature of Canadian generosity, as well as the larger consequences of misrepresenting the past in service to the present."
Each finalist receives $3,000 and the opportunity to compete in the Storytellers Showcase, which takes place at the Congress of the Humanities and Social Sciences. Given that this year's Congress at Western University has been cancelled due to the COVID-19 pandemic, Madison will present her work at the 2021 Congress at the University of Alberta.
"The Faculty of Arts and Social Sciences is particularly proud that the only finalist of the 25 from outside of the much larger provinces of Ontario, Quebec, Alberta, and British Columbia is a student from Dalhousie," adds Jennifer Bain, FASS Associate Dean, Research.
A natural storyteller

Madison admits that she was pretty disappointed that Congress was cancelled this year, primarily because it was set to take place in London, Ontario where she grew up and where her family still resides, and this would have allowed her the rare opportunity to share her work with family locally. Understanding that public health is the number one priority right now and the necessity to cancel this year's event, Madison is choosing to look on the bright side.
"Attending Congress in the spring of 2021 grants me the opportunity to re-consider my master's work one year after I finish it. It will be an interesting vantage point to speak from, and I'll have gained some temporal perspective on the project that I otherwise would not have had. So that should be fun."
Ajay Parasram, assistant professor in the departments of History and International Development Studies, has been Madison's supervisor and mentor throughout her MA degree. He comments that in the two years they've worked together, Madison received SSHRC research funding, placed as a finalist in the Storytellers competition, won the $4,000 Mushkat Memorial Essay Prize (as part of the 2019 FASS Essay Competition), contributed to pedagogical design of one of his seminars and worked with him as a research assistant.
"Madison writes with a scholarly precision well beyond her level of study," says Ajay. "And sharing intellectual space with her over the last few years has been tremendously rewarding."
Onwards to law school

Madison is set to defend her thesis in mid-May and, in September, is set to attend Osgoode Hall Law School in Toronto.
"While I'm sad to be leaving Dalhousie and Nova Scotia in general, making the leap to focus more on the legal side of Canadian refugee policy is exciting for me, and I think my graduate studies at Dal prepared me well for the rigours of the law program."
Those who worked with her at Dal are excited to see what she does next. "During her time at Dal and in Halifax, Madison immersed herself in the history and politics of refugee and migration in Canada," says Dr. Parasram. "I have no doubt that she will continue her reign of excellence in the legal profession, and I look forward to following her career as it blossoms."