Ask any of the 6,000-plus faculty and staff within the Dalhousie community about their "compensation," and the first thing they'll probably think of is their pay.
Fair enough: a pay stub is the most obvious indicator of the compensation Dal employees receive. But there's more to it than that — and it's the role of Ken MacDermid and his team to look at how the bigger picture of "total compensation" fits together for the people who work at the university.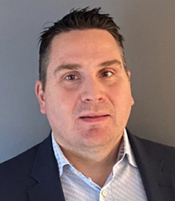 "It's every aspect of what you earn as an employee," says MacDermid, director of total compensation with Human Resources. "It's salary, benefits, pension, vacation time and a lot more."
MacDermid's portfolio covers Payroll & Benefits, Pension, Compensation and Data and Systems Management. With a combined staff of 22, the team works to support the Dalhousie community and help deliver on some of the core features of the university's commitment to its people. "We have excellent staff on our team, who know the benefits and pension industry very well and are very responsive to the inquiries that come in," says MacDermid, who joined Dal two years ago after managing payroll and accounts payable for the Nova Scotia Health Authority.
"It takes a lot of work to make sure the pay people receive is on-time and accurate — it's one of those times where the only time other people think about it is when something goes wrong. But it's so important: whether it's the maintenance worker in Facilities or the professor that's teaching, if they are focused on whether or not their pay went through, then their attention's not on the important things they do at the university."
We sat down with MacDermid to discuss some highlights on total compensation at Dal: a look at some of the core features of the university's salaries, benefits and pension.
"We want to pay people fairly, give them a good work environment while they're here and help ensure they have a good retirement income through the pension plan and CPP when they retire."
Salary

Collective agreements: Most of Dal's salary levels and scales are established through collective bargaining with its employee groups, and outlined in collective agreements. (exceptions are Dalhousie Professional and Managerial Group (DPMG), Grant-Paid employees, and Confidential, Clerical and Secretarial (CCS), which are non-unionized.) That means a big part of what the Compensation team does is ensure those agreements are executed on behalf of the university from a salary perspective.
December holiday break: For employees who come to Dalhousie from outside academia, this is a particularly attractive aspect of their vacation package: the time between the statutory holidays of Christmas and New Year's is granted to employees as days off separate from their standard vacation allotment. That typically means 2.5-3 days of extra vacation for non-essential service employees.
Benefits

A collaborative approach: The terms of Dal's group benefits package are considered through the Dalhousie University Employee Benefits Committee. It features representatives from all unions and the DPMG, as well as the Senate and the Board. The committee considers all matters relating to benefit programs for faculty and staff, and works together to bring forward common changes.
Health Spending Accounts: Creating a common benefits plan for a large, complex organization like Dalhousie isn't simple: changes to the plan have to be approved by all employee groups and, on both an individual and a collective level, different employees can often want different things. That's why the university has worked to expand access to Health Spending Accounts (HSA) to benefits-eligible employees as a way to balance out areas where the plan isn't as strong and provide more support to individuals where they need it most. The HSA provides $750-1000 annually to eligible employees for health and dental expenses not reimbursed by the plan, with unused allotments carried over for one year. "The employees get to self-direct how those funds are used," says MacDermid. "It allows them to customize the plan, to a certain extent."
Health and wellness: In many organizations, individuals have to accumulate sick days through service time. At Dalhousie, most employees have access to 125 days (after six months), with some employees accumulating sick time through service and others with a short probationary period in which they bank sick time. There's also the benefit of having discounted membership at Dalplex in Halifax: a 50% cost savings versus a regular community member. Over the course of a full year, that's a savings of $364.92 for an individual member.
Tuition & tuition assistance: As an institution of higher learning, it only makes sense that Dal prioritizes educational opportunities for its employees. Full-time staff can take two full credits in one academic year free of tuition charges. And dependents of full-time staff receive 50% off tuition.
Pension

A defined benefit plan: A plan like Dalhousie's is one of the most sought-after pension plans out there. "Defined benefit" means the amount employees receive after retirement is determined by a set formula, rather than being directly related amount of contributions they make (which is the norm in many organizations). At Dal, this formula for is 2% of the number of years in the plan multiplied by the average of your three best earning years. For example, if an employee's best three years of salary averaged $50,000, and they were in the pension plan for 25 years, they'd receive $25,000 annually.
Learn more about pension: Pension Plan website
Dollars and cents: As compared to where it was after the financial crash in the late 2000s, MacDermid says the pension plan is doing "ok," with an eye towards a couple of areas of emphasis for the future. It's funded to nearly 100% on a going-concern basis (meeting its year-to-year obligations), but on a solvency basis — in the highly implausible event the university were to shut down operations, could the plan pay out all its commitments? — it's only at about 83%. There's also the fact that the plan is actually made up of two funds — one employees pay into while they work, and one that pays out to retirees. This unusual two fund structure is not good for the health of the plan. These are examples of the longer-term issues being looked at by the Pension Advisory Committee.
A shared commitment: Like with the benefits plan, the pension plan is a partnership between the university and employees: the Pension Advisory Committee with representation from all employee groups and the Board oversees the plan, and both the university and employees pay into it. What you might not know, though, is that Dal typically pays more: in 2018, the university paid more than $25M (plus $2.7M in special payments) into the plan, compared to just under $20M from employees. "It's something we have an obligation to do and the impact on the operating budget can be unpredictable,"  says MacDermid.
On March 5, Ken MacDermid will host a Canadian Pension Plan (CPP) information session for faculty and staff to provide an overview on the CPP enhancements introduced by the Federal Government in 2019. Details here.
For more details on total compensation, visit the HR website.