The release of a ground-breaking report last September examining early "entanglements" between George Ramsay, the ninth Earl of Dalhousie, and the institution and legacy of slavery uncovered a valuable new layer in the history of Dalhousie University and Nova Scotia.
Read also: Forging a path forward: Dal receives Lord Dalhousie Panel report (Sept 2019)

It also provided a compass for Dalhousie University's response to this legacy. That response began the day the university received the report, with a public apology issued for its namesake's views and actions on race and slavery and a scholarship launched honouring contributions to the community made by individuals of African descent. Firm institutional support and guidance continue now under the oversight of Theresa Rajack-Talley, Dal's vice-provost, equity and inclusion.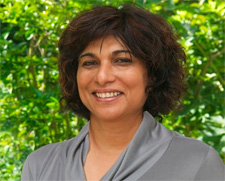 "I am committed to unwavering efforts to steward progress long sought by the community that rests on a foundation laid by many," says Dr. Rajack-Talley (pictured), who in her capacity as vice-provost also leads Dal's Human Rights and Equity Services (HRES) office.

The panel's work was commissioned by Dalhousie University in 2016, extending from the university's institutional commitment to diversity and inclusiveness with the goal of helping to reconcile with elements of Dalhousie and Nova Scotia's past to build a stronger future. The panel and its report and recommendations have been a key milestone in this larger journey.

Looking to the future

The Lord Dalhousie report's recommendations fall into four key categories: regret and responsibility; recognition; repair; and implementation. Each section contains recommendations, a carefully constructed list — both specific and broad in their mandates.
Read the full report: Lord Dalhousie Scholarly Panel on Slavery and Race

To answer recommendations around recognition, for instance, Dalhousie is working with the University of King's College on planning a joint academic conference that will expand upon the work of the Lord Dal Panel by inviting scholars and historians of slavery to campus. The conference, currently expected to take place in 2021, would be one of the first of its kind in Canada. Dr. Rajack-Talley says student and community voices are essential to the conference's success, as is the proposed engagement with other U.S. institutions that have walked this journey and can help inform effective measures to enact the report's recommendations.  

Leading up to the conference, Afua Cooper, chair of the scholarly panel will present the report's findings to Dal's community, the African Nova Scotian community as well as to the wider Halifax region.

Also related to recognition is the recent acquisition of Richard Rudnick's iconic painting Freedom Halifax 1824 — one of the few artworks that depict the arrival of Black refugees to Nova Scotia from the United States — by Dal's Faculty of Arts and Social Sciences on an indefinite loan. It will be displayed in the Marion McCain Building. And the naming of Da Costa Row on the Sexton Campus — in honour of Mathieu da Costa, the first recorded person of African descent to arrive on nearby shores — took place last fall.  

The Lord Dal Panel recommended curricular review and updates to reflect its findings. To that end, faculty members from a wide range of disciplines are currently working on expanding Dal's current Black Studies minor into a major — one that would feature new courses in local and national Black history.

Dr. Rajack-Talley says Dal will soon be looking to develop memorandums of understandings with historically Black universities and colleges in the U.S., universities in the Caribbean and elsewhere so as to grow Black studies programs and research avenues — proposed in the report.
Since June 2018, Dalhousie's African Nova Scotian Strategy has been in development. The office of the vice-provost, equity and inclusion will hire a director, African Nova Scotian community engagement. This position was developed as part of the African Nova Scotian Strategy, and the director will work with the Strategy Chair and interim African Nova Scotian Advisory Council to finalize the strategy to strengthen and better serve African Nova Scotian communities.
Collaborating across the university

To ensure the best outcomes possible, Dr. Rajack-Talley is in the process of setting up a number of university-wide committees centred around areas reflected in the Lord Dal report's recommendations and past Strategic Direction pillars. Some, such as a committee on student access and success, will address questions about how to provide more resources to support African Nova Scotian and other underrepresented student populations to study at Dal. Another will tackle improvements to recruitment and retention of underrepresented groups of faculty and staff, including those from the African Nova Scotian community.

Elsewhere, an HRES-led committee is leading the development of a set of guidelines and/or policies around racialized violence. Once created, the document will be used in orientations and other student, staff and faculty workshops as a way to reflect the history uncovered by the panel and raise awareness regarding the prevalence of anti-Black racism today.

Dr. Rajack-Talley is also helping ensure the work to address the Lord Dal recommendations is incorporated within the broader institutional action plan she's developing for equity, diversity and inclusion (EDI) for the university.

"A number of the recommendations will be integrated into what is happening with this office more generally," she says.  Moreover, "while we are taking action to implement certain  recommendations immediately, the goal is to establish structures and systems that can institutionalize EDI so that negative aspects of our history, some of which were highlighted in the Lord Dal Report, are rectified and do not repeat themselves."

Dr. Rajack-Talley, who began her role at Dal just six months ago, says she is cautious of not moving too quickly or too slowly. Do the former, and you risk that the structures are not in place to sustain the initiatives, she says. But move too slowly and there's a risk of losing momentum and community support.  

"I'm dedicated to making a lasting contribution to EDI here at Dalhousie and to creating the systems that ensure it's fully embedded in all that we do."