We live surrounded as we are by social media accounts, breaking news and instant connections to everyone we know. What are our brains doing with all that? How do we, as a society, process so much information?

Caryl Churchill's Love and Information is a poignant commentary about the wall of information we face today. The format resembles scrolling through a newsfeed on a cellphone. Every scene in the play — which kicks off the Fountain School's 2019-20 season this week — is jarringly different, with varied content and tone.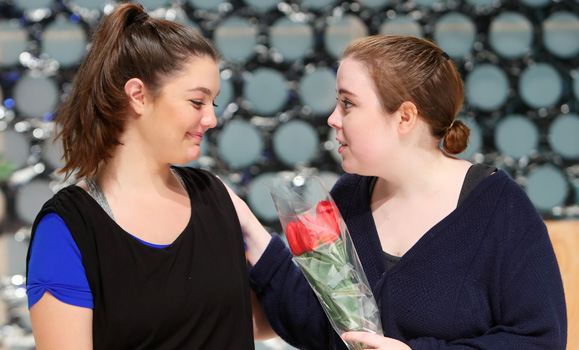 Frances Howlett and Devon McCarron
The play has seven sections with a number of scenes that can be arranged in any order within those sections, and a few bonus scenes that can be inserted anywhere throughout the show. With a cast of characters that has no specified gender, age, or name, Love and Information leaves a lot up to interpretation.
Up to a challenge

Ready to take on that task is director Laura Vingoe-Cram.

"I think ultimately the show is about connection, human connection, and trying to find ways of communicating," she says. "I don't think it has any easy answers though."

Vingoe-Cram is back to her beginnings at Dalhousie after completing a master's degree in Theatre Directing at the Royal Scottish Academy of Music and Dramatic Arts and going on to professional work. A King's College alum, her undergraduate degree is in Theatre and Early Modern studies.

"I got my start directing at King's doing stuff in the pit with the Kings Theatre Society. That's where I really got my feet wet, and I just caught the bug and I haven't stopped."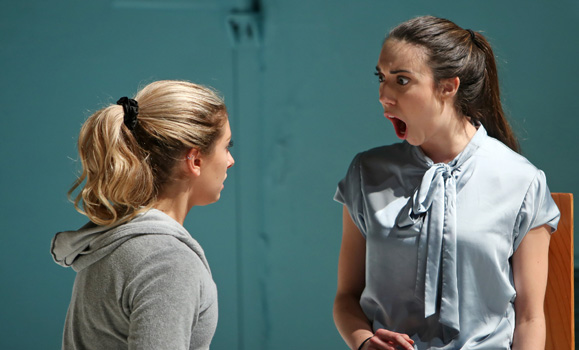 Tori Devine and Danielle Toner
Being the driving force behind this production means that Vingoe-Cram has a lot of responsibility in deciding how to handle these scenes. Does this information do more than just inform us? Does it change the way we process things? We are not always equipped to handle the information given to us, as seen in the fragment "Earthquake": as one character reacts empathetically by crying at footage of a natural disaster, another merely comments on how cool all the little cars in the giant wave looked.

The show offers a close-to-home commentary about how we have become different in a world fueled by technology. However, the outlook is not necessarily grim, because the play could be about learning to adapt.

"That last scene, it's one of my favourites," says Vingoe-Cram. "They're just asking questions to each other — and all the facts are wrong, by the way — and in the middle of these inaccurate facts she asks "Do you love me?", and in the middle of answering another question he says "Yes." I think ultimately what it's about is connection and love still surviving in the age of information."

Distraction is key

When stepping into the David Mack. Murray Studio at the moment, you are instantly met with a wall of bright teal. Reflective material lines the walls and hangs from the ceiling, with various boxes containing clutter, like memories in a brain.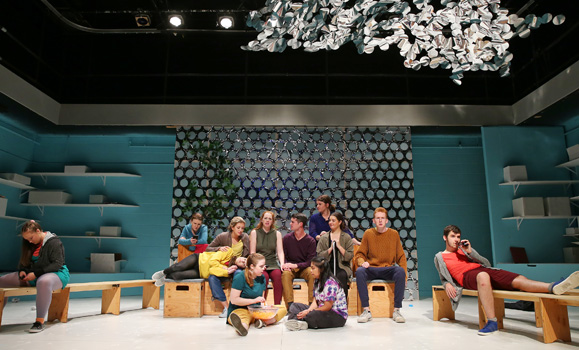 The full cast (minus Kit Bump): Maja Packer, Regan Bennett, Tori Devine, Danielle Toner, Devon McCarron, Sarah Nearing, Jacob Hemphill, Lyn Estuye, Vanessa Allen, Frances Howlett, James Temple, Jeremy Dimitri.

"We wanted to adapt to any number of things, but not really perfect for anything," says set designer Katrin Whitehead. "We also wanted more reflection, more distraction and more interruption, in the way that living in the information age is."

Moving from scene to scene, titles are projected above so the audience knows the context of what fragment they are about to watch. The set choice is a bold one, considering most productions have used a black box theatre, or have squares or lines evenly dividing the space. However, when filled with actors, it is easy for the audience to imagine the setting of each scene.
 
This imagination is aided by that massive teal wall which is reminiscent of Twitter blue. It is a constant reminder that these scenes are what we see on our devices, minute to minute, and the audience cannot escape the playwright's commentary.

Strong choices

This being the first of three productions the fourth-year acting students will be putting on this year, Love and Information offers an equal playing field in terms of roles. This allows the students to put the knowledge they have accumulated into creating approximately ten nameless characters each.
With so little text and so many scenes, creating a character is a unique process, but all are excited for the challenge.

"With the help of our director it's just mining the text and seeing what you can pull out of it, what's the strongest choice," says actor Jacob Hemphill.
In a show where the actors have to play characters who are young, old, or even chickens, huge importance is given to the relationship between cast and directing team.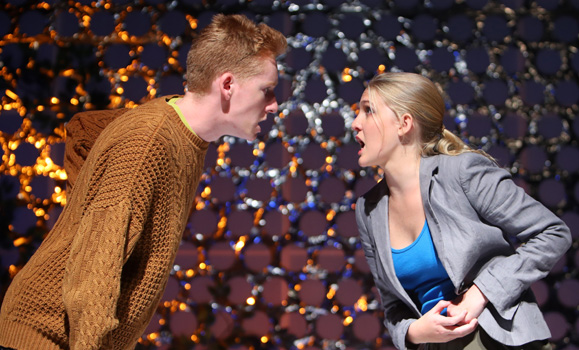 James Temple and Kit Bump
Actor James Temple credits Vingoe- Cram for her innovative style and the organic characterization. "It's certainly different than playing one role and researching that. You have to divide it up, and the text itself gives a lot of room for free interpretation and for you to create your own world. Our director Laura was very helpful with that. A lot of the time you would get to bring your own ideas into it and we would both work to find something that worked for the both of us."

Reaching for connection

This show is an hour and a half of hurt faces, accusatory remarks, philosophical arguments and the entire range of human emotion. As the play goes on props get dropped and scattered across the floor and set gets more and more cluttered — like our brains as we jump from screen to screen, person to person. Finding people we love through that clutter is the silver lining of the hazy information cloud we wade through every day, to get that sought after connection.

Love and Information runs from Wednesday Oct. 9 to Saturday Oct. 12 in the David Mack. Murray Studio in the Dalhousie Arts Centre, with performances starting at 7:30 pm nightly and a 2 p.m. matinee on Saturday. Tickets available at the Dalhousie Arts Centre box office.