New academic staff gathered this week for a two-day orientation event designed to bring them up to speed on various aspects of what they need to know as they begin their new career at Dalhousie.

Organized by Dal's Centre for Learning and Teaching, the annual gathering offers new faculty members a window into how Dal works and opportunities to engage directly with administrators in the know.

This year's conference featured presentations and workshops on a wide range of topics, including evidence-based teaching methods, technology and e-learning, health and wellness supports, and managing research projects.
Supporting student success

Front and centre at this year's conference — held in the Kenneth C. Rowe Management Building — were a variety of sessions on how to foster effective relationships with students and support them for success.

Ivan Joseph, vice-provost of student affairs at Dal, shared some insights on the topic gleaned from his own experiences as a teacher, athletics coach and university administrator.

He spoke about the importance of first impressions in setting tone and expectations for students in the classroom, illustrating his own preference for incorporating humour into the mix by engaging attendees in an amusing round of the famous children's game Simon Says at the start of his presentation.    

"We often forget about that. We come in and we're ready and ... we forget about how we can create spaces for students to be themselves, to unwind and be themselves – to unwind and be vulnerable," he said during the Wednesday morning session.

Dr. Joseph encouraged faculty members to look inward as a way to guide better performance in the classroom. Attendees were asked to break off into small groups for a discussion exercise designed to help individuals identify the values that motivate them the most.  

His talk also touched on how inherent bias can hinder student success and encouraged faculty to think hard about the expectations they set for their students, whether that might be discipline, level of respect or academic performance. Understanding why students fail is also key, he said, noting that it's usually some mix of reasons linked to academics, financial issues and levels of engagement.

"You might say, 'well, we're only the academic piece.' But we play a role in the engagement piece as well," he said. "We play a role in the early alert system. I want you to think of the people we are leading. Students need to feel like they matter. They need to feel like they belong."
Seeking new approaches in the classroom

Dozens of new faculty members turned out for the conference, including Scott Kehler, who just started a job as an assistant professor in the Faculty of Health's School of Physiotherapy.

Dr. Kehler has been focused primarily on a number of research projects since first arriving at Dal as a post-doc last year, but this year will be delivering a course on exercise physiology and doing some teaching on cardiac rehabilitation — his own area of expertise.

"I didn't know about the resources that are available to teachers, so I'm looking forward to exploring those," he said. "And we talked about mental health and how faculty should be equipped with evidence-informed practices on how to help students manage their mental health problems."

For Heather Cray, an instructor here on a limited-term appointment with the Department of Earth and Environmental Sciences, the conference was an opportunity to meet some new colleagues and learn more about how curriculum fits together. As a member of regular community of teaching practice meetings at Dal, Dr. Cray said she appreciated Dr. Joseph's discussion of intentions and softer skills in the curriculum.

"What things are we not putting in our syllabus but that are quiet learning outcomes, like resiliency, and making it obvious to the students why we are doing what we're doing. That we are trying to equip them with things that maybe aren't just our course's intended learning outcomes and there's more to this than the take-home facts," she said.
A future with flexibility

Teri Balser, Dal's interim president and vice-chancellor (shown below), set the stage for the conference Wednesday morning by welcoming the new faculty members to Dal and highlighting some of the topics and trends shaping post-secondary education today.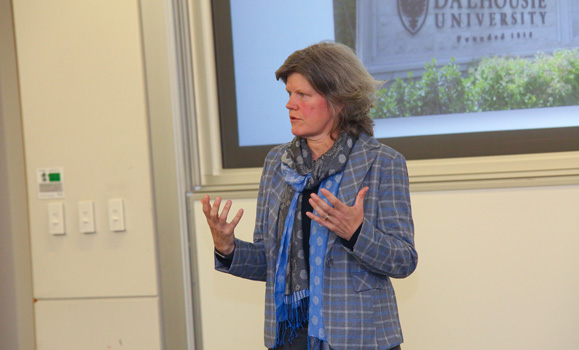 "We're moving toward a need to adjust to things that aren't necessarily four-year bachelor's degree programs, where we may have unbundled curriculum," she said. "It may be that students want to come to us for a year, go away, work and then come back."

Dr. Balser said most universities, including Dal, are not currently very well set up to manage that kind of world, but that it's crucial to think about how to handle those new demands.

She also emphasized the need to recognize that everyone has a different approach to teaching and that it is important to make sure faculty feel like they can explore different styles in the classroom.

"When it comes to tenure and promotion, we need to make sure we're not being penalized for having a style that's not exactly like somebody else's," she said. "That's really key."

Later on Wednesday, attendees heard from key administrators at Dal on some of the university's many policies and scenarios in which they might be applied and were treated to stories about what other teachers wished they had known when they started out. The conference continued Thursday with a full slate of topics and speakers.

Please visit the Centre for Learning and Teaching for more information on supports available to faculty members at Dal.