Michelle Mahoney spent 10 years working in the oldest building on Dal's Carleton Campus — which as someone born with arthrogryposis, a condition that involves lack of muscle in various joints, was at times very challenging.
Now, as part of the Centre for Collaborative Clinical Learning and Research, she works in the newest building on Carleton Campus: the Collaborative Health Education Building, or "CHEB," which serves as an interprofessional hub for students across Dal's Faculties of Health, Medicine and Dentistry.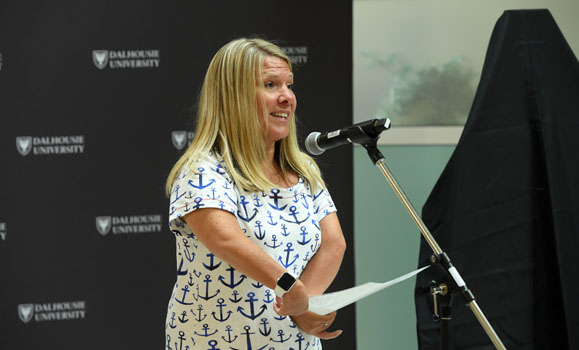 Michelle Mahoney
"As someone who lives with a disability, I witness how inaccessible most of the world is every single day," said Mahoney. "The CHEB has some really great features that make it more accessible than most buildings."
Some of the examples she mentioned include sensor-based lighting, large gender-neutral washrooms and hearing-assisted technology in many classrooms. The building also has elevators with visual and audible signals, entrances accessible by people with mobility impairments, and various seating options and an accessible reception desk at the Kellogg Library.
Those features were front-and-centre at a ceremony Wednesday morning (June 19) celebrating the building as the first east of Ontario to receive the Rick Hansen Foundation Accessibility Certification (RHFAC). Organized by the Rick Hansen Foundation, the rating system evaluates the meaningful access of commercial, institutional, and multi-unit residential buildings and sites in Canada.
The Honourable Kevin Murphy — MLA for Eastern Shore, Speaker of the Nova Scotia House of Assembly and a spinal cord injured quadriplegic since the age of 15 — spoke at the event, calling it "a major milestone" in the Province of Nova Scotia's goal to become fully accessible by 2030.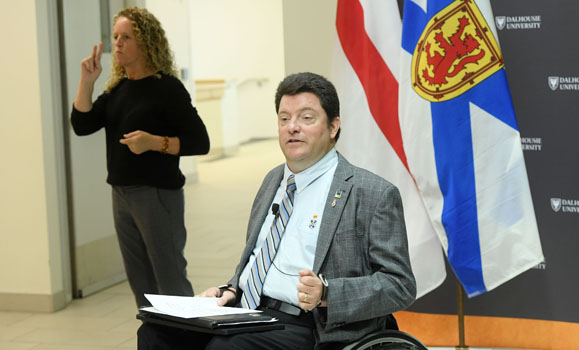 The Honourable Kevin Murphy.

"This building is a shining example of the role infrastructure can play in enabling our population — in this case, to enable students to come and access post-secondary education, so that those students can then be in a position to shape the path forward for all Nova Scotians," said Speaker Murphy.
Improving accessibility across campus

Opened in 2015, the CHEB offers students in Dal's health programs an integrated learning experience with a hospital setting in mind.
"This five story, 117,000-square-foot facility was created with a focus on the health of individuals, our Nova Scotian communities and our populations in mind," said Cheryl Kozey, acting dean of the Faculty of Health. "Offering students from a variety of professions and disciplines the opportunity to learn from and with each other is vitally important, and these experiences really help them for learning in real-world situations."
The CHEB's new certification came about as Dalhousie's Department of Facilities Management prepares to comply with Nova Scotia's Accessibility Act, which aims to make the province more accessible for those with disabilities by 2030.
Under direction of the Facilities Management's space planning team, students are currently auditing the university's 162 buildings, totaling 5.8 million square feet, using a tool created by Accessibility Planning Specialist Siobhan Evans, a recent graduate of Dal's School of Planning.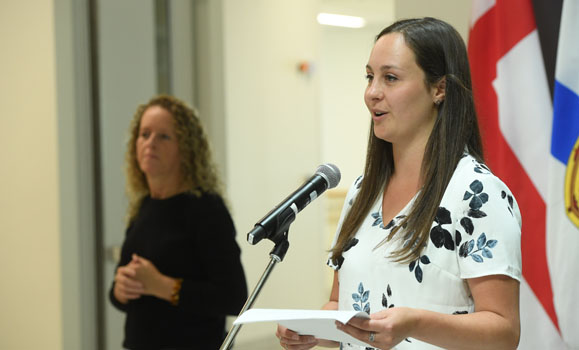 Accessibility Planning Specialist Siobhan Evans
"I've always believed that everyone should be able to participate fully in society regardless of ability," said Evans. "Having an accessible built environment is a necessity to ensure meaningful participation."
The audit not only considers physical accessibility for people in wheelchairs, but also those impacted by hearing issues, learning and developmental disabilities, mental and psychological challenges, memory problems, and blindness and low vision.
Read also: Taking action on accessibility (Dal News, Nov. 2018)
It was through that process that the team discovered the CHEB was eligible for certification from the Rick Hansen Foundation, and on Wednesday that certification was announced with the unveiling of a new plaque that will be installed in the building.
"We're extremely proud of this award," said Teri Balser, Dalhousie provost and vice-president academic. "We also acknowledge that accessibility is more than just infrastructure, and includes addressing the attitudes and perceptions, and that is also a critical part of our planning work in creating a welcoming, respectful, inclusive culture here at Dal."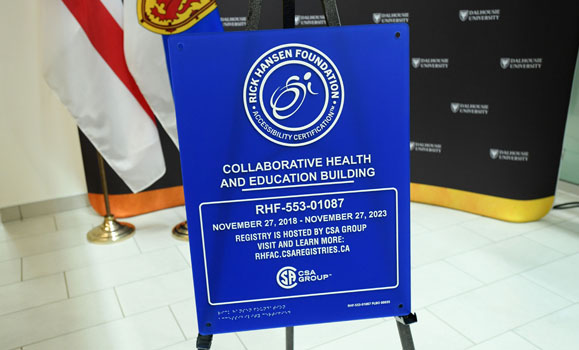 The Rick Hansen Accessibility Certification plaque.

An ongoing process

Dalhousie completed nearly half of the accessibility audit in 2018 and expects to complete the remaining work on it this summer. The data will then be used to determine accessibility priorities as 2030 approaches.
The audit tool, created by Evans and the Facilities Management team, is being acknowledged as industry leading in Nova Scotia and is now being shared with experts within the provincial government as an example of best practice.
Although Rick Hansen himself was not present at the event on Wednesday, his presence was certainly felt. Evans talked about how inspiring it was to meet him on campus last year when he was here for the Dal 200 Belong Forums, and how valuable it was to have the opportunity to be part of the first group of Nova Scotians to be trained in the Rick Hansen Foundation Accessibility Certification Program. And Speaker Murphy spoke about meeting Hansen on his original Man in Motion tour, not long after his own injury, and the impression that made on him.
Hansen's example clearly serves as an inspiration to push forward and continue the hard work towards a more accessible future.
"We know it's an ongoing process, and are absolutely committed to doing everything we can to ensure that this kind of accessibility is spread across all of our campuses," said Provost Balser.
That was emphasized by Mahoney, who noted areas that even the CHEB could improve on (such as power buttons on some of the heavier interior doors).
"The certification is an important milestone for Dalhousie and a promising sign of things to come on campus," she said. "There is a lot of work to be done for Nova Scotia to become a more accessible province. The CHEB is an example of the kind of progress I hope we see going forward. I would really like to be part of that movement, and excited to see what the future holds."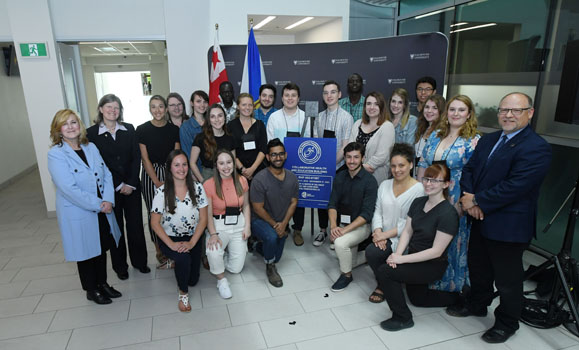 The Dalhosuie Accessibility Audit team.