One mentors students to become empowered in their research around infectious diseases. Another champions and supports international students from both near and far. And another helps undergraduates studying science as they carve out potential career paths.

They are the recipients of the 2019 Rosemary Gill Awards, presented by Ivan Joseph, Dal's vice-provost of student affairs, at a reception Tuesday afternoon in Shirreff Hall.

"It's a great day, and we're having a chance to celebrate some amazing people," said Dr. Joseph, in opening remarks at the event.

The award — established in 1995 in honour of the late Dr. Rosemary Gill, the celebrated former director of Student Health Services at Dal — recognizes individuals for outstanding service, other than teaching, to the university's students. It's about celebrating the commitment and impact that help keep Dal a relevant, connected and vibrant place for the thousands of students who choose to study at the university.  

Meet this year's recipients:
Terrence (Terry) Gallivan
Associate Director of International Admissions — Registrar's Office
During his nearly 40-year career at Dal, Terry Gallivan has worked in roles across the academic and student affairs spectrum, from a lecturer in the Faculty of Science to leadership positions in housing, conference and ancillary services. But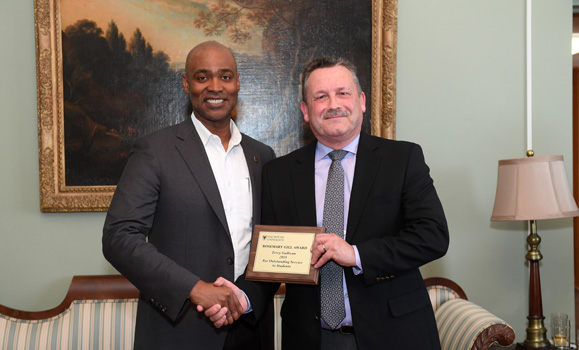 perhaps his biggest impact at the university has been as a member of the Registrar's Office team over the past 15 years, particularly his recent work as associate director of international admissions.

Dal has increased its international student population substantially in recent years under Gallivan's leadership. International students now make up roughly 20 per cent of the student body at Dal, and this year, the university had its highest number of international applications yet.

Gallivan is well-known for the personalized approach he brings to his work in international admissions, with many international students and their families stating that he had a large influence on their decision to choose Dal. A strong advocate for the power of a globalized community, Gallivan takes time to get to know individuals' strengths, interests and goals, building rapport with students and staying connected throughout their time at Dal.

The mother of one Dal alumni from Ecuador described Gallivan as having a "life-changing, positive impact" on her daughter, who is now a Canadian resident and an award-winning software developer.

Gallivan retires later this month.

"It's just been a remarkable 39 years," he said. "I couldn't have asked for anything better. I thank so many of you in the room who through your efforts made it look like I was accomplishing things, and I do appreciate that. And I would be remiss if I didn't take a moment to thank my family who supported me every step of the way, including those long trips away from home and the Sunday mornings moving files."
Elizabeth Welsh
University Teaching Fellow — Department of Biology
Lecturer and lab instructor, curriculum development committee chair and student advisor, senator and community outreach volunteer. There are so many different ways to describe Elizabeth Welsh's work and contributions to the Dal community. The common thread that runs through all them has been a deep commitment to supporting students on their journey at Dal and beyond.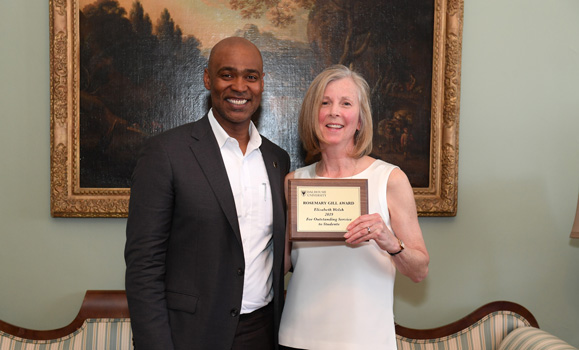 Since first arriving at Dal in 1991, Welsh has developed a reputation as a devoted mentor and advisor to every student she works with. She is known for bringing compassion and empathy to all of her roles, whether in the classroom, lab or as an advisor to students in the biology and marine biology programs.

Hearing concerns, she works to bring about change when needed. Noticing struggles some students were having registering for marine biology classes, she initiated an annual student registration survey that clearly showed the issues students were dealing with. With those students' interests in mind, the faculty decided to create more courses and increased spaces in the existing programs.

As one former student says, "she was a respectful and judgement-free listener who took to heart each of my concerns and who acted for those who did not have a voice. She was and continues to be an advocate for all students and a true inspiration."

Welsh has also inspired her teaching assistants, always providing constructive feedback on how they can improve their role in supporting and encouraging students during difficult times. Her positive influence is known to last beyond students' undergraduate years. She provides moral support and guidance as they apply to graduate programs and look to transition to other non-academic careers.

"I really enjoy working with students," Welsh says. "They give you a lot of energy and they are committed to so many different things and doing so many different interesting projects outside academia. It's wonderful to hear those stories."
Craig McCormick
Professor — Department of Microbiology & Immunology
Craig McCormick arrived at Dalhousie in 2006 to set up an independent research program in the Faculty of Medicine's Department of Microbiology and Immunology, returning to Canada after postdoctoral work in the U.S. motivated to train the next generation of scientists.

Dr. McCormick pushes students to achieve their full potential, helping them foster their talents both in the lab and in the community. He makes a point of giving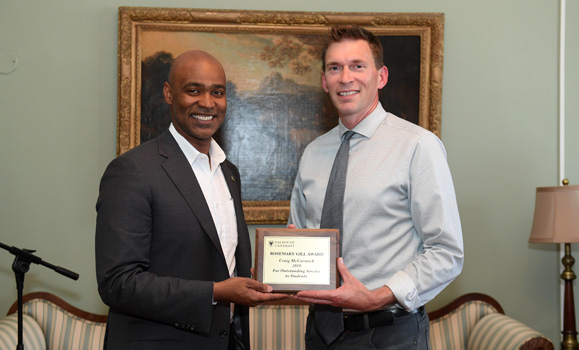 undergraduate students opportunities that are often reserved for graduate students, encouraging them to present work at conferences, helps them get papers published and uses his professional network to open doors.

As one former undergraduate student writes, "Instead of telling me my theories were flawed, he helped me figure out where I had gone wrong and then steered me in the right direction. He taught me to think more critically about my ideas, while still encouraging me to keep dreaming them up — a difficult balance for a mentor to achieve."

Dr. McCormick is also a big supporter of students' co-curricular initiatives. As team leader for students on Dal's International Genetically Engineered Machine (iGEM) competition team in 2017, he managed to raise $43,000 in funds — enough so that the 2018 cohort could focus more on research and public engagement and less on raising money. The focus led to a bronze medal in the 2018 iGEM competition in Boston. He is also co-founder and lead editor on student-led outreach blog Think of the PLoSibilities and helped students organize the first Soapbox Science event in Halifax, which featured an all-female list of scientists speaking on the waterfront for 700 attendees.

"I've had the privilege to work with many outstanding students. I look forward to continuing this work for the remainder of my career," he said after receiving his award. "One of the great gifts of being a professor is getting to be around enthusiastic twentysomethings who are on their way to something amazing and helping them get over hurdles and open doors for them."