For Dan Shirvani, it was the prospect of graduating without a large line of credit to repay. Ryan Tilley liked the idea of "not being a poor student". For Emily Burke, the generous maternity leave was the draw.

All three dentistry students applied to join the Canadian military for pragmatic reasons. What they learned along the way is that they are proud to serve their country and to be part of "something bigger than yourself."

Each year, the Canadian Armed Forces recruits a handful of students from across Canada into the Royal Canadian Dental Corps. Potential recruits write the CFAT, an aptitude test that assesses verbal skills, spatial ability, and problem solving. They must also demonstrate teamwork and leadership potential during the interview process.

All Dental Officer Training Program (DOTP) recruits start off as second lieutenants. When they receive their dental licence, they are promoted to captain — the highest-ranking junior officer. Military dentists can attain the rank of major or higher through knowledge, experience and dedication, as well as through clincial and military leadership and excellence.
The decision to apply

Thanks to having family members in the military, Ryan Tilley was familiar with how it works. He decided to apply in his first year of dentistry school. "I liked the prospect of not being hundreds of thousands of dollars in debt when I finished studying. But there was more to it than that. It was also a chance to develop my skills, with opportunities for travel as well."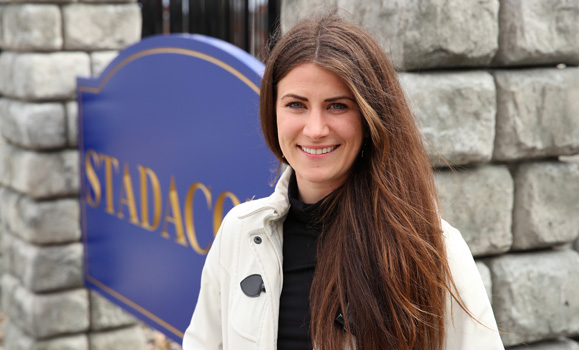 Emily Burke and Danial Shirvani applied after the recruiter came to the Faculty of Dentistry and were enrolled at the beginning of their second year. "It was one of the best decisions I've ever made," says Dan. "I have guaranteed employment, great support, competitive pay, and opportunities to specialize in the future. We are well looked after."

Emily likes that she has a job right away. "I don't have to worry about building a patient family like I would in private practice and I can spend some time honing my skills."

They all say that juggling their lives as dentistry students and members of the military was not difficult. "Being a student comes first," says Ryan. "The military really wants you to focus on your studies and do your best at school."

"The University Liaison Office works to minimize stress for us," adds Dan. "The military is investing in us and our education is their priority."
The truth about basic training

Basic training takes place during the summer. Because he signed up a year earlier, Ryan has completed both parts of basic training, which is usually split into a seven and an eight-week course. Dan and Emily have the first part under their belts and will complete the second course this summer at the Canadian Forces Leadership and Recruit School in Saint-Jean-sur-Richelieu, Quebec.

Emily, Dan, and Ryan claim that basic training is not as grueling as it is portrayed in the movies. It's a mixture of classroom work, physical training, outdoor activities, and leadership training.

"You learn about rules and policies, attention to detail, how to take apart and use a rifle, and how to address your superiors," explains Dan. "It's a mixture of classroom work, exams, drills and physical fitness — running and circuit training. You make lots of friends who will become your patients."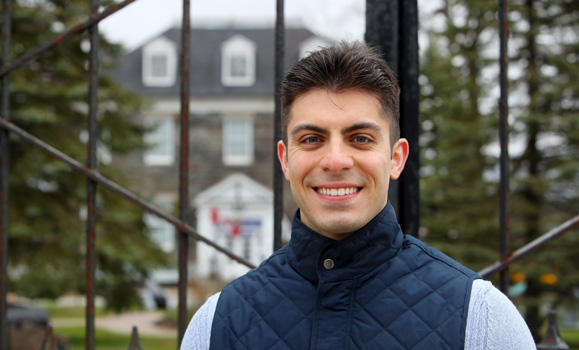 "You don't have to be the strongest or the tallest to get through it," says Ryan. "Anyone can do it with the right attitude. The thing to remember is that basic training is not what the rest of your military career will be."

After basic training, the remainder of the summer was spent in the Dental Detachment of the Stadacona base in Halifax doing on-the-job training. "It's like a normal summer job," says Ryan.

Dan, Emily, and Ryan agree that the military promotes good work-life balance, with a sense of community in the clinics. There are opportunities for group activities, sports, and fitness.

Dan believes that his military training helped him to be a better dentistry student. "The military really trains you to be organized and to pay attention to detail. It helped me to stay on top of my work and to pay attention to the little things that can turn into big things. I learned to pay more attention to punctuality and scheduling, to set reminders in my calendar, and waste less time. It helped to improve my efficiency."
First postings: The work begins

In April, they received their first postings. Dan will head to the dental detachment at the National Defence Headquarters in Ottawa, and Ryan and Emily will remain in Halifax at Stadacona. They all received their first choice and, while there are no guarantees, they will likely remain in this first posting for around three or four years before being receiving a new posting. Deployment to a war zone is a possibility for the future, but dental officers are well trained and prepared to provide a wide rang of oral health care services to the military population.

Now that they are qualified, work at their respective bases starts pretty much straight away. They will spend their time in clinics working with dental specialists, technicians, and dental hygienists to provide care to their colleagues. New recruits might join up needing remedial work, while other members on the base may need prosthetic care or restorative work. They will provide the full range of dental care.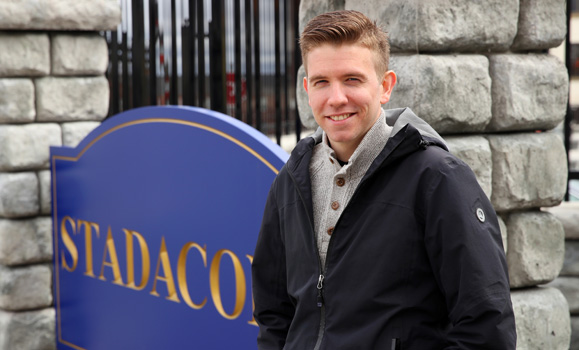 There are opportunities for career development, to learn from people on the job, and to undergo specialist training. There is even the option to spend time in private practice to ease the transition out of the military, should they choose to do so.
Future plans

After being in university for eight to nine years, Emily and Ryan don't plan to leap into further studies right away and will concentrate on general dentistry for now. Dan is pretty sure he wants to specialize and will likely opt for an Advanced General Dentistry qualification.

DOTP recruits are obliged to serve between three and four years with the military, depending on how many years of study have been covered. But neither Emily, Dan, nor Ryan are planning to jump ship as soon as their time is up.

"I don't have a pre-conceived notion of what I'll do," says Ryan. "I've enjoyed my time on the base so far. It's a nice work environment."

"I'm keeping all the doors open," says Emily. Dan is "98 per cent sure" he will stay.

For all of them, there is a sense of achievement in being able to serve. "It's easy to take for granted what we have here in Canada," says Ryan. "Our freedom and equality are something to cherish. We can help by being military dentists."