The path to success isn't always smooth sailing, especially when you're competing for Olympic glory or working to complete your engineering degree.

Jacob Chaplin-Saunders has accomplished both.

On Wednesday morning, the Dalhousie Industrial Engineering graduate crossed the stage of the Rebecca Cohn Auditorium and accepted his Engineering degree.

"It's certainly been a long road to getting my degree. Especially after deciding to leave school and go to the Olympics," he says. "But I came back, and once I got back into the groove of school and started enjoying my classes I knew I had made the right decision to finish my degree. Now that I've done it, I'm so glad I came back to Dal."
Going where the wind blows

Jacob's journey at Dalhousie University began in 2010.

A sailor growing up in Chester, Nova Scotia, he and his brother, Graeme Chaplin-Saunders, had a love and passion for the sea that would one day lead them to the 2016 Summer Olympics in Rio de Janeiro, Brazil.

"We were one of those odd ball sailing families where our parents didn't actually sail," recalls Jacob. "But my brother and I got really into it and started competing right away and took it from there."

By the age of fifteen, Jacob had already competed at the Youth World Championships and in 2009 teamed up with his brother to sail together. The duo later qualified for Canada's National sailing team in 2013. Their next step: the Olympics.

"At the time I was totally focused on sailing and school was a second priority. It was constantly nagging at me that I wasn't doing as well as I liked and I wasn't able to fully apply myself to sailing," says Jacob.

"I was finding it difficult to juggle both and decided I wanted to focus on sailing, so I started studying part-time instead," he says.

But from South Africa to Europe, Argentina, Israel and Brazil, Jacob says his sport involved a lot of travel, training and competition. Although he had already moved to part-time status as a student, he still found his studies overwhelming. Then in 2014, it was time to make a decision.

"My brother graduated from Dal with his Commerce degree, and I completed my diploma in engineering, so at that point we decided it was time to pursue the 2016 Olympics," he says. "We knew that if we wanted to pursue the Olympics we wouldn't be able to split our time between that and anything else."

And so Jacob left Dal.

The next year, the duo qualified for Rio 2016 in the men's two-person 470 race on a boat they named "Chester."
Living an Olympic dream

"Rio was pretty phenomenal. It was definitely a once in a lifetime experience and it was really inspiring," recalls Jacob.

As he took part in the Opening Ceremonies, he says he was struck by the level of patriotism he felt as he watched each country enter the stadium.

"All the people that we met were so good at what they do. You're surrounded by excellence," he says. "Seeing people who dedicate their lives to their sport really pushed us to be as good as we could be."

Decked in red and weight gear, Jacob and his brother boarded their two-person boat and prepared for their first race.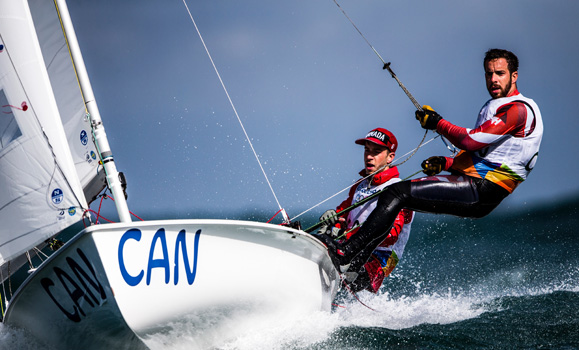 "The racing was tough. We put a lot of pressure on ourselves. The level is so high, and every little mistake costs you so much."

The team placed 22nd overall, in the end, coming in where they had initially been ranked. But for Jacob, bringing home an Olympic medal came second to the experience of living an Olympic dream.

Two short weeks later, he was sitting in a classroom on Sexton Campus determined to complete his engineering degree.
Sailing back to reality

"After the games finished, I had mixed feelings about coming back to school. The lifestyle of competing was exhausting but also very rewarding," he says. "After I walked away from the sport that had been putting so much pressure on me for so long, it was sort of a relief to go back to reality."

Although he loved sailing, Jacob said he also had to consider his future and how he planned to spend the rest of his life.

"It was an interesting shift where I think it's really important for people to go and travel and see the world in their 20s, and I did that to the extreme," he says. "Then at some point, the more I travelled the more I realized that I really liked living in Nova Scotia and I wanted to build a career where I could sustain myself and live here."

Drawing from his experience at the Olympics, Jacob says he no longer found his studies challenging when he returned back to his engineering degree. Instead, he took pleasure in attending class each day, earning top marks as a student and graduating as a Sexton Scholar.

"I came back to engineering, and really applied myself to the degree. I definitely learned a lot of discipline and time management from the Olympic campaign," he says. "I can now apply myself in the professional world knowing I have solid credentials behind me, and I have confidence in my abilities as an engineer."

Although Jacob has stepped away from professional sailing, he says the sport has changed him in a way that never would have been possible without the experience he gained at the Olympics.

Now beginning a new chapter in life, Saunders will be working as a Project Manager with Mosher Engineering Ltd. In Halifax.

"I'm relieved to find that I enjoy work even more than school," he says. "I'm learning so much every day and look forward to building my career."