Gerald Petrash was in his late forties when he found himself questioning the direction of his life-long career path — all while living more than half a world away from home.

Born in Winnipeg but raised in Truro, Gerald explains that his early upbringing guided him on a path that led him to pursue the arts. In the late '80s, he graduated from Dalhousie with a degree in French Literature. Not long after, his love of language, culture, travel, and education would lead him to make a permanent move to Japan.

There, his career and personal life flourished. He married, started a family, and opened a school teaching English as a second language. As his business grew, so too did the nature of his clients — large organizations that would have him set-up his classroom within their workplaces. Not only did Gerald instruct his students (of varied professions including business people, doctors, scientists, hotel staff, and engineers), but he also wrote and developed individual lesson plans tailored to each student's occupation.

With each new client and lesson plan, he found himself gravitating towards teaching science-based professions, taking extra interest in the development of those lesson plans and learning a lot at the same time.
Starting over

Through teaching, Gerald unearthed a passion for science and engineering. He continued to teach, staving-off his desire for a change for some time until life presented him the opportunity to make his move. Family obligations at home in Nova Scotia and new fears surrounding his family's safety following the aftermath of the 2011 Fukushima nuclear accident would set the wheels in motion that would have him give up an established career and uproot his wife and kids from the only life they'd ever known.

Moving back to Canada presented the fresh start he'd been craving. "I wasn't interested in continuing on the same path. I wanted to reinvent myself," he says.

"However, I couldn't just enter the engineering program cold," says Gerald, whose arts background meant that he'd have to complete a whole host of prerequisite courses, which he accomplished while still living and working in Japan.

Once back in Canada, Gerald and his family moved to Truro to be closer to his mom, using the town as their initial landing pad where he enrolled in the Diploma of Engineering program at the Dalhousie Agricultural Campus. It was the perfect option that allowed him to support his mother, transition his family to Canada, and begin his new studies.
More than he bargained for

"I felt swamped," says Gerald, describing his first term as a full-time engineering student. "The workload was much heavier than I had expected."

He admits he was a bit naive about what he was getting himself into when he decided to take up engineering at the age of 47. His prerequisite course experience had been so enjoyable — and manageable — when he was taking just one course at a time. But diving into the full-time engineering course work proved to be much more difficult than he could have ever anticipated.

The transition between full-time business owner of 23 years to full-time engineering student was nothing short of overwhelming. "It was just class, class, lunch, class, class … for 60-hour work weeks. It was very challenging to find a healthy balance of classes, assignments, exams and home life."

As a mature student, the stresses of family responsibilities, a new home, and a new normal had taken their toll, both physically and mentally. "I knew something was going to break."

To change the trajectory of his own life's path was one thing, but the bigger risk came at the expense of the impact on his family. "At first, I believed that my situation was unique, but I soon realized that it was not any harder than that of my classmates. Every student has unique hardships. However, what differentiated my personal student experience is that I had uprooted my family. You could say it was selfish, really. And I felt very responsible for this. The stakes were high for me to succeed," he says.

"But somehow, I made it."

With the support of his family, friends, and tutors, Gerald made the decision to extend his diploma program from two years to three, breaking-up the intensity of the course load. A difficult decision, but one that allowed him to do better in his courses and enjoy the experience much more. It also meant having the time to take a position as a research assistant at a professor's lab — his first engineering job — and the ability to envision the possibility of his future career in engineering.
Getting the experience

After graduating with distinction from the Diploma of Engineering program, Gerald moved his family again. This time to Halifax, where it was time to transition into the final three years of the Bachelor of Engineering program at Dal's Sexton Campus. When it came time to decide whether to choose co-op, Gerald says the decision was a "no-brainer."

With the rigorous course load that comes with the engineering program, he admits that having a 'break' to work between study terms was a really appealing selling feature of co-op. Not only that, but he knew the 'real world' engineering experience would provide a much-needed confidence boost for his career transition, and he couldn't help but feel like the co-op program would be beneficial in re-introducing himself to the job competition.

As it turned out, however, the co-op job search proved to be a rude awakening for which he'd not been fully prepared.

"I had an expectation that my status as a mature student and my decades of work and life experience would make it possible for me to get hired easily, but I was mistaken."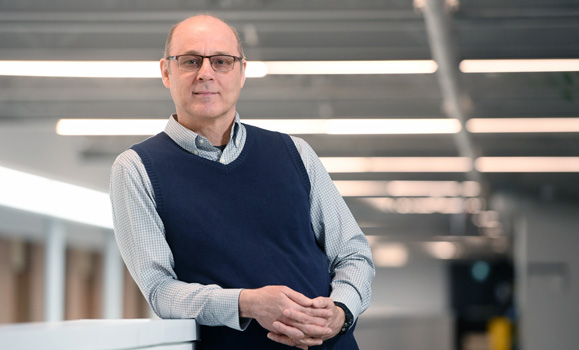 During his very first work term search, Gerald says he submitted 30 different job applications. With the work term scheduled to begin in January, four months of intensive searching and eight interviews had netted exactly zero job offers. Understandably, the rejection had him questioning his life decisions — and his hireability. Despite his years of experience, he was ultimately competing for jobs with his much-younger peers for positions traditionally considered for youth.

"Most of the time I was the oldest person in the room," he says of his interviews. He began to wonder whether his age was actually a disadvantage. After all, he didn't exactly fit the standard of an entry-level student. "Co-op employers have their expectations of who they're about to interview, and they're expecting a 21-year-old, not a 50-year-old."
Reaching out for help

He knew that something had to change, and quickly.

Tapping into a whole lot of humility and vulnerability, Gerald finally had an 'a-ha' moment after making the decision to connect with the co-op office to ask for one-on-one help.

After a heart-to-heart conversation with his co-op coordinator, Gerald realized the key to his ongoing success would be to get self-critical and put in even more work. He met consistently with his co-op coordinator, running through practice interviews in advance of every interview he secured (and the ones he missed out on). Making audio and video recordings of his interviews, he'd painstakingly analyze his body language, mannerisms, and speaking habits, asking his co-op advisor to "be ruthless" in her feedback on his cover letters and resumes.

"Everyone has a bias. This goes for me too. Initially, I thought that my resume was well-constructed, that I knew how to write a great cover letter and that my background would speak for itself during a job interview. But I had to learn how to take constructive criticism." The process of self-reflection helped him understand how to make the necessary changes that would allow him to adjust and improve every step of the way.

On the very last week of the first term's job search, his hard work paid off. He received three separate job offers and accepted a position with Dal's Facilities Management. The following two work term searches were no easier, but the formula to success was there. Gerald returned to Dalhousie Facilities Management for his second work term, and was hired by J.D. Irving to work at the Halifax Shipyard for his third and final co-op role.

Now that he can sit back and reflect on his three completed work terms, Gerald says he learned lots of important takeaways that helped him improve his application and interview skills, but that didn't mean the process was any easier.

"The most challenging part was getting hired," he says. Though once he got the job, the advantages of his age and experience began to prove themselves — was also a double-edged sword at times. He would often be tasked with challenging projects while given full autonomy in his work, but would be frequently mistaken for more senior colleagues, rather than the experience-seeking co-op student and engineer-in-training for which he was.
Engineering his future

Not much unlike the beginning of his engineering journey, Gerald finds himself dealing with a new change in identity. His role as a full-time student has been a big part of his life over the past six years, and the direction of his post-graduation life is the beginning of a brand new and exciting chapter.

But the change has also allowed him to take a step back and catch his breath. With a few 'irons in the fire,' Gerald's been asked to stay on in a consulting role by his Capstone Project client for a project he pitched this past winter. He's also finding joy in his temporary in-between state. "I didn't have much time for my family [as a student], but it's paying off now in unexpected ways," he says, describing how he now feels fully qualified to tutor his children and to coach his daughter throughout her high school co-op program.
And he also has more time to help out his mother when she needs him. Having completed an engineering degree and three co-op work terms, he says that helping his family navigate life's twists and turns has felt relatively easier.

"I'm very happy with my decision to go back to school — and the co-op program was integral to my success. I've always been in awe of the engineering profession and I wanted to know what goes into the making of a professional engineer. That's a part of me now."