William (Liam) Clarke came from Toronto to Halifax to study at Dalhousie in the Faculty of Arts and Social Sciences because he wanted the opportunity to study both International Development Studies (IDS) and Music, and he found that no other university could offer both at such a high level.

But even though he was studying the two subjects he was most passionate about, it wasn't until his final year at Dal that he was able to find a way to bring them together.

"As a double major in International Development Studies and Music, there was a disparity throughout my four years between the two fields," says Liam. "I was always trying to find a way to connect the two subjects together. It was not until the fall semester of 2018 during Professor John Cameron's Representations of Development course that the idea came to me."

Liam explains that this course taught students to critically analyze mediums in which development was represented (e.g. pictures, videos, text, etc.).

"As a Music major, I am consistently analyzing music. When the section of the class was focusing on charitable videos, it seems I was more interested in the musical choices used than the visuals."
Music and an emotional response

Liam's project focused on the use of music in global development videos. He noticed that there has been significant research critically analyzing the use of images in which global development is represented to the public in fundraising videos, but no research on the music utilized in these videos.

Liam conducted an analysis of 14 fundraising commercials created by various Canadian non-governmental organizations (NGOs) to address what effect music has in fundraising videos shown to the public. Some examples of these videos included commercials for World Vision, Plan International Canada, and Doctors Without Borders. His findings concluded that despite the vast musical differences within each musical piece, an emotional response of optimism or sympathy were utilized throughout each video. He adds that half of the fundraising videos analyzed implement both emotions within the musical pieces to create a feeling of sympathy for said development issues and optimism towards the NGO.

"While working with John Cameron, we agreed that there were many musical commonalities present in a variety of NGO videos," explains Liam. "It was almost as though they used a similar formula. Instead of selected videos that supported the conclusion, John gave me a list of fifty of the top revenue earning NGOs in Canada. From there I created a strict methodological framework section in order to eliminate any bias. As one follows the steps, one is brought to the YouTube page of the NGO and is led to their top charitable commercial."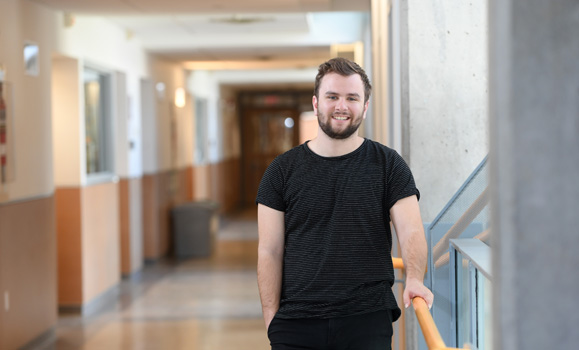 Liam's paper explains how different aspects of music theory (melody, harmony, etc.) are used to evoke emotional reactions from viewers/listeners with the goal of engaging them as donors, volunteers, activists, etc.

Liam adds that the literature review of his paper discusses works related to this study such as representations of development, the use of music in film, the strategies of music in commercials, and emotions – in particular, music's effect on emotions. The theoretical framework section of his paper serves as an 'Introduction to Music Theory', to define and explain the emotional response of terms.

Liam completed this project in the winter 2019 semester under the supervision of Dr. Cameron as a Directed Studies IDS course.

"This was really original research that reflected the interdisciplinarity of FASS, bridging Liam's two majors of IDS and music," says Dr. Cameron. "His research is really path-breaking. There is lots of research that critically analyses how NGOs represent global poverty and development in text, video and images, but no published research at all on the representation of development issues in music. It is a great example of innovative, interdisciplinary undergraduate research in FASS."
A penchant for performance
 
As a music student, Liam majored in guitar. He has played in many jazz shows and in shows under his stage name Roscoe Williams. One of his most notable on campus performances was at the farewell reception for Dalhousie's past-president, Dr. Richard Florizone.

Liam was also a part of the Dalhousie Chorus, Dalhousie Guitar Ensemble, and the Dalhousie University Rugby Football Club and other intramural teams.

"The most consistent thing that will be with me post-convocation is of course music," says Liam. "I will continue to play the guitar, write songs, and play as many shows as possible."

Liam's next steps for life after Dal include spending the summer working at his cottage on the Georgian Bay in Ontario doing landscaping. Come September, he will move to northern Quebec to work as a Performing Arts Coordinator for a program called Youth Fusion – a program which partners with schools in Indigenous Communities and creates ties between them in order to lower dropout rates by providing at-risk youth with innovative and meaningful educational projects that contribute to their learning, their qualifications, and their social integration.