A game of cards in his first year led student Elliott Darbyshire to a different degree program and a world of opportunities in computer science.

"I initially started in a different program at Dalhousie," Elliott explains. "I was playing a match of Magic with a friend who was in Computer Science, from speaking to him it seemed that I might have the right type of brain for it, so I decided to give it a go.

I hadn't previously considered Computer Science as I had no experience in it prior to university."

Two GPA awards and an exchange to South Korea later, he's confident it was a wise choice.
Overcoming challenges

As he graduates with a Bachelor of Computer Science, Elliott reflects on how he turned an initially difficult period into an enriching university experience.

"After a tough start, it was reassuring to move into Computer Science and get a GPA award in my first year," says Elliott. "Initially my experience at university wasn't what I had hoped for. I struggled a lot with motivation throughout high school and this was exacerbated when I came to university and was living on my own. I became disconnected from the real world, wasn't taking care of myself, and didn't even attend my exams."

At the end of his first year, Elliott decided to look for help and realized he wasn't alone.

"I decided to reach out to the health services and counselling at school and admit to my family what had been happening. It was the single hardest thing I've done in my life," Elliott says. "Over the summer I was diagnosed with ADHD and depression. The services at Dal helped me a lot when getting back on my feet – it turns out I wasn't nearly as alone as I thought.

Winning an academic award, a year after almost failing was my proudest moment. I strongly encourage anyone struggling at school or in any aspect of life to reach out and talk to someone. It's not easy but you don't have to go through everything alone."
Staying engaged

Elliott was awarded a Bronze GPA award in his first year and Gold GPA award back in November 2018 at the annual Computer Science Society Snowball.  GPA awards are given to the students with the highest academic performance in the previous year.

He puts his accolades down to "a lot of hard work" and personal learnings.
"It's hard sometimes to avoid procrastinating when studying, but I've learnt how to have good time management," says Elliott. "For me, having a wall calendar in first year really helped in going from school to university.

My other recommendations are use the Learning Centre in the Faculty of Computer Science. I didn't take enough advantage of it, but all students need to be aware of its existence. Additionally, I recommend going to lectures even if you feel like you're not learning anything new or if the information is posted online – just showing up and staying engaged really helps when it comes to doing the work."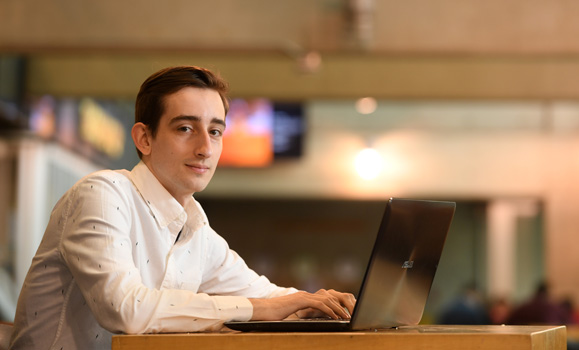 Experiencing a new culture

No stranger to new cultures having moved from Leeds, United Kingdom to Ontario when he was eleven, Elliott found himself at Yonsei University in Seoul, South Korea for an exchange in his third year.

"I opted to do my exchange for a semester instead of doing co-op," says Elliott. "There are a lot of amazing opportunities at university and I would advise everyone to explore their options. There's no 'right way' to do a degree."

Cultural differences in and out of university life struck Elliott as notable takeaways from his experience of studying overseas.

"I flew to Seoul on a thirteen-hour flight and was immediately eating pigs' trotters," Elliott reflects. "Going from Halifax to Seoul was different in terms of the cities themselves, it was nice to have a change of scenery.

The culture was in many ways very different when it comes to studying too, there is a very intense attitude to education. A lot of extra-curricular opportunities came with this. For example, I joined a club to exchange language with local students."

Elliott also found some of the academic similarities between South Korea and Canada striking.

"The learning environment was different in many respects but the concepts in computer science are the same around the world. It was cool to learn about algorithms and logic from a different perspective and it made the language barrier much less daunting."
Moving on

As Elliott draws to the end of his studies, he isn't sure what's in store for him next, but he's positive about how far he's come.

"I went from having absolutely no idea what I wanted to do a few years ago to narrowing that down to a field," Elliott says. "I'm good at learning on the fly and I'm willing to try out different things."

As for his biggest piece of advice for other students?

"Try really hard to do the best you can in the time you've got."