The French playwright Molière built his career on his gift for wit and satire in the French courts. A favourite of Louis XIV, Molière is renowned for theatrical masterpieces such as Tartuffe and The Misanthrope. But like any master of the pen, many of Molière's lesser-known works are just as brilliant as his most famous, and offer modern-day audiences a rare glimpse into the minds of the aristocracy for whom Molière was writing.

The Ridiculed Romantics and The Forced Marriage, the two comedies presented by the Fountain School of Performing Arts in its final production of the year, "explore and ridicule people's obsessions about love, status, money, appearance, and societal roles, among other things," says director Gabrielle Houle.

The new translations by Justin A. Blum reinforce how pertinent these plays remain to audiences, including anachronistic references to Jane Austen and Winston Churchill, which, in the words of Houle, "build bridges between Molière's texts and our audience."

Bridging traditions

Houle is an expert in making classical theatre relevant to contemporary audiences. She has her doctorate in Drama, Theatre, and Performance Studies from the University of Toronto, and is Canada's leading expert on commedia dell'arte — a theatre form based around physical comedy and improvisation which originated in Italy but was popular throughout Western Europe, especially in the court of the Sun King.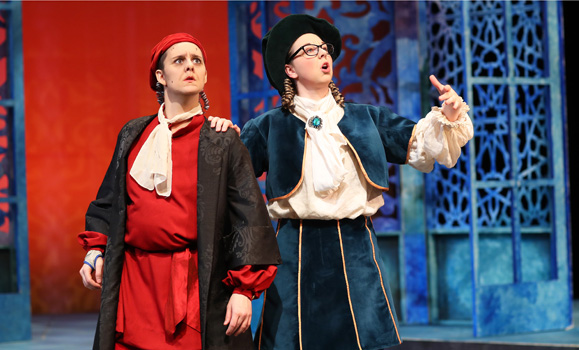 Molière's plays draw heavily from the commedia dell'arte tradition, making Houle singularly qualified to direct such an ambitious undertaking by the Fountain School. Her brilliant direction, the stunning costume design by Karyn McCallum, the kaleidoscopic set design by John Pennoyer, and the ambitious performances by the fourth-year Acting students all combine to create an extravaganza of humour and satire which hints at the existential crises which grip our species.

The Ridiculed Romantics centres around two cousins, Magdelon (Stephanie Mah) and Cathos (Katie Graham) who have come to Paris from the country in search of romance and wit. Gorgibus (Andrew Chen), Magdelon's father and Cathos's uncle, has determined that they shall marry two gentlemen of esteem (Logan Robins and Zilong Chen). However, Magdelon and Cathos tell Gorgibus that they do not want to marry two men who seem, to their minds, both unfashionable and inept at witty, eloquent conversation. What ensues is a cruel trick played by two bachelors: they send their footmen (John Gilchrist and Ky Fleming), dressed in their fashionable clothing, to the house in the guise of noblemen who then attempt to woo the ladies.

The Forced Marriage follows Sganerelle (Kaylin Dean), an aging bachelor, as he agonizes over his decision to marry Dorimène (Linda Meian), a much younger woman. Sganarelle consults a number of characters who only succeed in confusing him further, and a series of shenanigans follows as Sganerelle tries to decide whether or not he has made the right decision. The Forced Marriage is a masterpiece of verbal comedy, whose pacing is reminiscent of comedic operas such as L'Etoile or The Marriage of Figaro.

Sly subversion

As a result of the time period in which they were written, the two plays do contain some ostensibly sexist undertones. But Blum's translations, Houle's direction, and the stellar performances put forth by all of actors help to subvert the gender dynamics of the age.


Although the play certainly pokes fun at the frivolity Magdelon and Cathos deem so necessary to their happiness in The Ridiculed Romantics, through Houle's direction Mah and Graham's characters become well-rounded women who (although perhaps a little too obsessed with elevated speech and fashion) are making the best of their situations in a time period which restricted their rights and freedoms. The comical performances put forth by Chen, Gilchrist, Fleming, Robins, and Chen all emphasize the equal silliness of the male characters, and therefore help to empower Magdelon and Cathos. The Forced Marriage further subverts many of the gender stereotypes of the 17th century by making caricatures of all of the characters, regardless of gender presentation. Both plays are, at their core, ridiculous and over-the-top — but they still ring with the honesty universal to great theatre.

"The stories told in [the] plays are extreme but human experiences, for the most part," says Dean. "In the case of Molière, what happens on stage will most likely never happen to anyone watching the show, but it is wholesome and entertaining to watch these zany characters do the 'tough living' for us an remind us that we could always do with raising the stakes, and adding a touch of whimsy."

A touch of whimsy

Both shows have more than a "touch of whimsy" when it comes to the set and costume design. The court of Louis XIV was renowned for its opulence, and McCallum and Pennoyer have outdone themselves in their efforts to remain true to this extravagance. "One of my favourite aspects of these shows is the costumes," says Meian, adding that they are both "drop-dead gorgeous and rich in detail."

Costume designer McCallum says that, "Designing for a production like this is fantastic because it allows the designer to experience the work of a team of cutters and stitchers from amongst Costume Studies department with skills that parallel the artisanal trades of the French Baroque period." McCallum sees costume design "as being part of the storytelling which is fun regardless as to whether it is a period piece or a play set in contemporary times.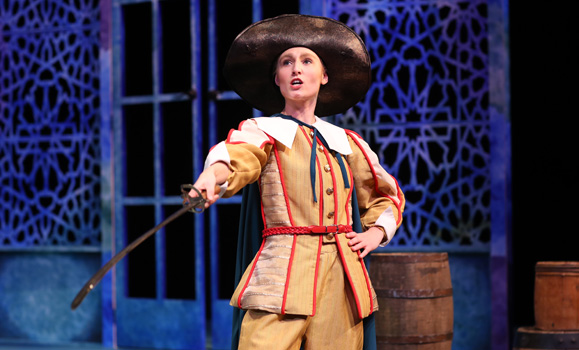 It is, however, especially rewarding to design in this historical period because it was a time when dress held so much importance in defining character. In the 1660s dress was seen to elevate the wearer, dress described a person's social status as well as indicating taste and sophistication." Meian's performance has been profoundly impacted by McCallum's costumes, stating that "[the costumes] are such a big deciding factor in how we move on stage." For his part, Gilchrist believes that the costumes and set design are so spectacular that they "are worth the price of admission on their own.:

As with much classical theatre, Molière may seem intimidating to casual theatre-goers. But as Gregory Dimitri Mansour (who plays Porter 2 in The Ridiculed Romantics and Géronimo in The Forced Marriage) puts it, classical theatre "can be funny and exciting, just like any other form of entertainment," and director Houle believes that "the show has something for everyone."

A final bow

A Night of Molière One Acts will be the final Fountain School performance for many of the fourth-year actors, and likely last time they will have the chance to all perform together. They have all spent the better part of the last four years together, and so the stakes of this performance are particularly high — after four years, it's clear to any casual observer that the actors have become like family to one another.

"It hasn't fully hit me yet," says Meian in response to how she feels going into her last Fountain School show.

"I haven't put together too many thoughts yet, but emotions of excitement and sadness are going back and forth in my head," muses Gilchrist. "I cannot wait to see my classmates perform after spending the better part of the last four years in constant company with them."

This fondness for one another comes across in performance and is nearly impossible to rebuild in professional companies who often only rehearse for a few weeks before opening. Watching a group of actors who play so well off of each other perform is truly spell-binding, and to see it happen in two lesser-known Molière masterpieces is an incredible opportunity.

An Evening of Molière One Acts runs from March 26-30 in the Dalhousie Arts Centre's Sir James Dunn Theatre, with nightly performances at 7:30 p.m. and a 2 p.m. sensory friendly matinee on Saturday. Tickets are available from the Dalhousie Arts Centre box office.