A once under-the-radar workshop between the Steele Ocean Sciences Building and the Life Sciences Centre has been transformed into a student space where big ideas about science and innovation will thrive.
On Tuesday (January 8), the Government of Nova Scotia joined students, faculty, staff and industry partners on campus to officially announce the opening of Dalhousie's newest innovation sandbox: SURGE.
Short for Science Unleashed: Research Growing the Economy, SURGE joins nine other sandboxes in Nova Scotia all working to foster talent development in and economic growth in the region. The new sandbox finds its home nestled between two core facilities in the Faculty of Science, making it a natural fit to pipeline talent into provincial science-based sectors such as oceans, clean technology, and life sciences.
Ben Jessome, ministerial assistant for youth and MLA for Hammonds Plains-Lucasville, greeted a jam-packed room on behalf of Labi Kousoulis, minister of Labour and Advanced Education, to announce government support of $1.05 million for SURGE.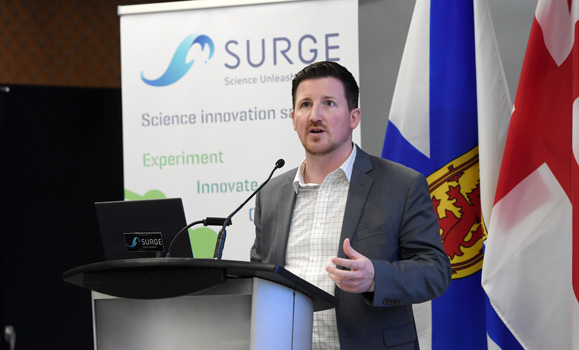 MLA Ben Jessome.
"Innovation and entrepreneurship are necessary to move our province forward," said Jessome. "Nova Scotia's network of sandboxes helps us build capacity for innovation and foster a spirit of entrepreneurship among the next generation."
Progress starts with an idea

Sandboxes are collaborative spaces that bring together multidisciplinary teams to develop ideas and innovative solutions that tackle important local and global problems. SURGE is now the fourth sandbox to launch at Dalhousie. Others include ShiftKey Labs (Faculty of Computer Science), IDEA Sandbox (Faculty of Engineering) and Cultiv8 (Faculty of Agriculture). A fifth sandbox in health innovation is underway.
"We're pleased to partner with fellow educators, industry partners and the provincial government to grow the innovation ecosystem in our region," said Alice Aiken, Dalhousie's vice-president, research and innovation.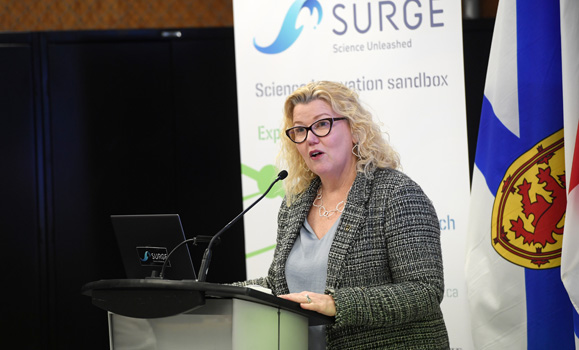 Dr. Alice Aiken, vice-president research and innovation at Dalhousie.

"This is about supporting students who want to innovate. Sandboxes give them a place that sparks creativity while working together to brainstorm, test and fine-tune ideas, then move those ideas through to the next phase of innovation."
Each year SURGE will offer a range of courses, workshops and events for both undergrads and graduate students, as well as faculty members and industry partners. Programming begins this month with a new innovation course for fourth-year students (SCIE 4705:  Science Innovation, Commercialization, and Entrepreneurship). The course is taught by Aaron Newman, a professor of psychology and neuroscience and the new director of SURGE, who passionately delivered a snippet of the course in a mini-lecture following the announcement.
"We aim to train students on how to identify and work through the world's big problems — those where solutions rooted in science present opportunities for commercialization and entrepreneurship," said Dr. Newman.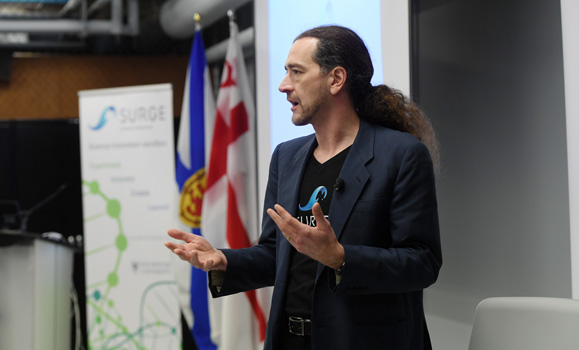 Dr. Aaron Newman, director of SURGE.

"Students will get hands-on experience building solutions based on their own ideas and backed by science. They're the next generation of leaders and sandbox initiatives help these students turn lessons learned in classrooms and labs into companies and products that can benefit society."
Sharing the sandbox impact

The SURGE opening also featured a panel discussion so that guests could hear first-hand how the Nova Scotia Innovation Sandbox project has already helped Nova Scotian students in their quests to ideate, create and deliver on solutions.
The panel's participants included Catherine Rutledge, a first-year student in the integrated Environmental Management program who benefits from Cultiv8 sandbox programming.
"It was empowering to work with students coming from all different programs, ages and backgrounds with one common goal: to create solutions for real issues in our local community," said Rutledge, who worked with vendors at the Truro Farmer's Market to prototype a regulated online platform that aimed to help them reach more customers outside of market walls. "Cultiv8 provided a creative learning environment where we could freely ask questions, try new things and build creative confidence."
Charles Milton, a student at NSCC taking Applied Data Analytics, emphasized the importance of gaining a professional network through his participation in The Spark Zone sandbox — a partnership between the province, Saint Mary's University, NSCAD University, Mount Saint Vincent University, Nova Scotia Community College, the University of King's College and the Atlantic School of Theology.
"I'm looking around right now and I'm seeing just how big my network is. These people are just an email or a phone call away," said Milton. "They're mentors, influencers, and some have even become friends over time. These are all people who really help in moving projects forward."
Ramping up in 2019

SURGE already has its first few "Deep Dive" events scheduled, beginning with a hackathon that will explore science-focused augmented (AR) and virtual reality (VR) applications, similar to how Dal's Ocean School uses VR to teach junior high students about ocean science in classrooms across Canada.
Dr. Newman describes these events as immersive sessions that span days, sometimes weeks, that focus on a single theme. In a way, they lead up to the annual Innovation Bootcamp challenge, which takes place each summer and involves all provincial sandboxes.
Read also: NS Sandboxes bootcamp fosters creativity, innovation for entrepreneurs
In the future, SURGE will also host a residency program designed to support promising teams of students as the move to turn their innovative ideas into reality through refining their business model, developing prototypes, validating hypotheses, and seeking initial funding and traction with investors.
SURGE website: surgeinnovation.ca