Andreas Hart is comfortable in an engineering lab, but it's on the waves where he feels most at home.

Born and raised in Dartmouth, Hart has been surfing since the age of 13. During his time at Dal, he could often be found at the beach when he needed a break from his Mechanical Engineering studies. Last year, during the final year of his degree, he found a way to link those two parts of his life together.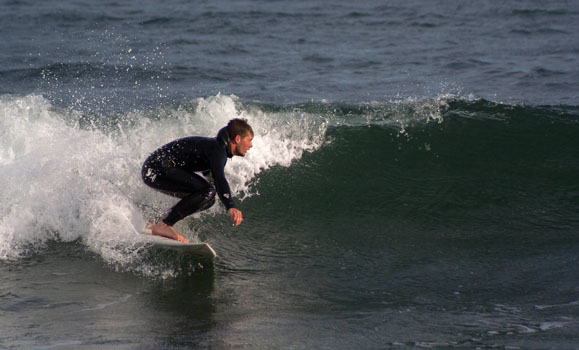 "I've always wanted to make surfboards and then, through Dalhousie Engineering, I was able to make this with some of my classmates," he says, pointing at the CNC surfboard router now assembled in a lab on Sexton Campus. "So my friends and I decided to start a lifestyle company, with a full team that includes surf lessons, a web presence and surfboard design."

It's the "design" part of their emerging business, the Hart Surf Company, that the CNC surfboard router is built for. The device links Hart's surfing expertise together with his education in fluid dynamics and the power of computer-aided design (CAD). The result allows him to more efficiently mould and sculpt test surfboards out of Styrofoam.

"We're at prototype phase, mostly CAD models at the moment," explains Hart, who graduated with his BEng in May. "I'm eager, now that we have this all set up, to have this space where we can cut some of [the board prototypes], try them out."
A sandbox approach

Hart's work has been one of the early projects supported by Dal's new IDEA Sandbox, officially announced Tuesday by Nova Scotia Premier Stephen McNeil. The Government of Nova Scotia is investing $250,000 in the IDEA Sandbox — "IDEA" standing for "Innovative Design and Entrepreneurship Academy" — a collaboration between Dal's Faculty of Engineering, its Rowe School of Business and NSCAD University.

Like the Dal-hosted ICT and Agricultural Sandboxes announced in March (see "Sandboxes update" below), the IDEA Sandbox will be a space where students and entrepreneurs can come together to develop start-up companies, explore innovative ideas and tap into mentorship and expertise from across various disciplines.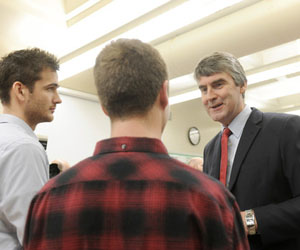 "Our universities are a key piece in growing our economy, and through collaboration we have the capacity the produce the next generation of innovators and successful entrepreneurs," said Premier McNeil, celebrating the IDEA Sandbox as a place that, "will welcome innovative students and allow them to experiment, test and improve their ideas."

Clifton Johnston, Dal's NSERC Chair in Design Engineering, will play a leadership role in the new sandbox, together with David Roach, assistant professor in the Rowe School of Business, and Glen Hougan, associate professor at NSCAD. Speaking at the announcement event in Sexton Campus' 'A' Building, Dr. Johnston described how the IDEA Sandbox will provide programming and space for students, faculty and businesses to work together to create start-up companies focused on tangible products.

In addition to allowing students to connect with expertise in various fields, ranging from design and marketing to finance and engineering, the sandbox will also offer design and prototyping space with state-of-the-art engineering software and 3-D printing.

"The IDEA Sandbox will be a catalyst to take our students' inspiration and product ideas and cultivate them into new Nova Scotia companies," said Dr. Johnston.
Creativity, innovation, entrepreneurship

Dal President Richard Florizone, also speaking at the event, noted Dal's commitment to contributing to cultural and economic vitality both locally and globally, as noted in the university's new Strategic Direction, Inspiration and Impact. He explained how sandboxes such as the IDEA Sandbox are a key part of Dal's efforts to foster creativity, innovation and entrepreneurship among both students and the community.

"No one sector owns 'innovation,'" he said, describing an innovation ecosystem that combines university expertise with small- and medium-sized enterprise, government partners and other collaborators. "To really capitalize on the R&D at Dalhousie, and at universities across the province, it requires all of us, working together, to collaborate, to partner and to support one another."
--
Sandboxes update

As noted above, the IDEA Sandbox is the university's third sandbox funded by the Province of Nova Scotia. The ICT Sandbox and the Nova Scotia Agricultural Sandbox, also partnerships between multiple institutions, were announced back in March. (Read: "Sandboxes: A playground for student entrepreneurs") Here's a quick update about what's been happening recently on those projects:

The ICT Sandbox is a collaboration between Dalhousie, Saint Mary's, NSCAD and non-profit Volta focused on supporting student start-ups in information and communications technology. The sandbox's team has been working with Dal's Starting Lean initiative and members of its partner institutions to develop its student experience and have started set-up of its physical space in the Goldberg Computer Science Building. The sandbox has even welcomed its first project: International Technate, working on a targeted advertising business / information kiosk for a public transportation system. As well, students in the Faculty of Management's Management Without Borders (MWB) course are generating a communication and outreach strategy for the sandbox.

The Nova Scotia Agricultural Sandbox brings together Dalhousie and Acadia, two universities with campuses connected to rural communities, each with a focus on supporting and growing the agricultural economy of Nova Scotia. The sandbox will be established upon a strong base of successful existing programming and entrepreneurial resources at both universities. The sandbox recently hired its first coordinator, Jolene MacEachern, who be taking a leave of absence from her current position with the Department of Extended Learning on the Agricultural Campus to support the sandbox's launch. It has also identified its facilitation space, which will be located in the MacRae Library.