When medical student Sarah Nersesian needs a break from studying, she goes to work.

"For me, being productive and doing things that make me happy are my form of self-care," she says. "It seems as though my schedule is very full all the time but those things that are filling my schedule are things that are fulfilling to me. And so, I don't need to take breaks from my life, rather the things that fill my life are like breaks."

It actually does make sense. Sarah seems to have three main passions: research, art and helping others and while they all overlap in most of her endeavours, taking the time to immerse herself in each provides her with a refreshing change of pace.

Designs that "Cell"

It all began when Sarah chose science over art school. She earned an undergraduate degree in Biomedical Sciences and a master's degree in Biochemistry and Cell Biology before turning her eyes to medical school. But art never left her.

That's where her business comes in.

"I realized it's a very valuable combination that not everybody has. You get people who are visually talented or very scientifically minded but that doesn't always cross over," she observes. "A lot of scientists aren't artists so, when they're trying to convey their research, they have trouble. So, I came up with Designs that Cell."

Today, Designs that Cell is a growing business that creates scientific figures and illustrations for research articles and publications, grants, information sheets and online courses.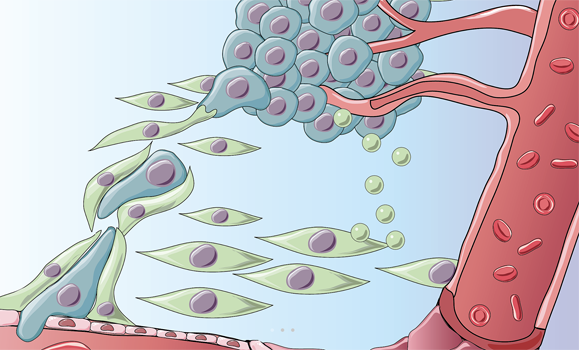 One of Designs that Cell's images.

"I work through different design principles to make sure the idea is represented aesthetically and then scientific principles to make sure it's accurate and understandable," explains Sarah. "But this isn't just me. There are other illustrators with the company who are also amazing — trained in research as well as really talented in graphic design."

Designing that saves

Though Sarah is still actively involved in the business, right now she's focusing on her goal of becoming a clinician oncologist. Eventually, she'd like to design and develop clinical trials for cancer treatment. She chose Dalhousie Medical School because of its reputation for hands-on experience and student research.

"Dal does a really good job of getting you in a clinical setting really early and I'm really excited about that," she says. "But the Research In Medicine program is something I'm very passionate about. I'm this year's RIM rep and I was excited to get that position to foster that interest in other students so hopefully they get excited about research and realized the value in it."

As if running a business while in medical school isn't enough to keep her busy, Sarah is also still involved with the Indigo Girls Group, an organization she helped found that now has five locations across Ontario.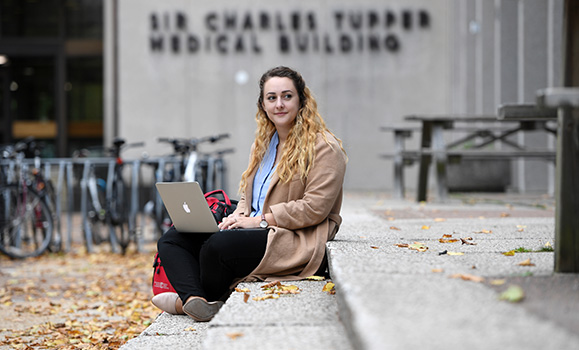 "It's run exclusively by young women, everyone is under the age of 29 and it's all volunteer run. Not a single person is getting paid to do what they do. It's pretty amazing," she says. "And now we're also getting into research, which is a happy tie in for me."

Drawing on a network of support

Though all of her varied activities are fulfilling to her, Sarah is aware she needs to watch out for burnout. Fortunately, she has a solid group of friends and colleagues she can rely on.

"There are going to be times, I'm sure, when I'm overwhelmed with work," she concedes. "It's going to get busy but I have support in all those aspects and the people I'm working with are happy to take on a bit more work when those times do come up."

And she says she's been pleasantly surprised by the amount of camaraderie she's encountered so far from her fellow medical students.
 
"There's not a single person who wouldn't drop the rest of their day to have a conversation with you," she reports. "Everyone is very caring. Which is nice because coming from very competitive backgrounds you assume that characteristic will follow them into medical school but it really hasn't. They're very open to sharing notes, to studying together, to asking how they can help. It's really nice to be here."