An honorary degree is the highest tribute a university can bestow. Beyond that fact, the packed crowd gathered Thursday night at Dal's McInnes Room in the Student Union Building, to see Rick Hansen receive his honorary doctorate during Dalhousie University's 200th year, could sense this would be a particularly uplifting event.

Hansen's address was part of the Belong Forum series, in which internationally recognized thinkers, trailblazers and change-makers wrestle the question: "What would it take to create a world where we all feel we truly belong?"
An honour to honour you

In his introductory remarks Dr. Richard Florizone, Dalhousie's president, spoke about the particular challenges involved with managing a "200-year-old campus where physical accessibility isn't always as good as it should be. We have a lot of old buildings, many of them sorely inadequate."

The university is now conducting a campus-wide accessibility audit to identify with the community the greatest barriers, areas for improvement and a comprehensive plan for campus accessibility that will conform with the province's new accessibility act.
 
Dr. Katherine Harman, Vice-Chair of Dalhousie Senate and an associate professor in the School of Physiotherapy, then told a story of how in 1985 she was part a group that supported the Rick Hansen team when he came to Ottawa on his 26-month, 34-country, 40,000-kilometre Man in Motion wheelchair marathon.

"His dream," said Dr. Harman, "a world where people with disabilities are not limited by inaccurate perceptions, inaccessible environments and inadequate research funding."

He raised $26 million, a massive amount in those days, and in the three decades since has been a committed and effective advocate for accessibility through his Rick Hansen Foundation. He was named Canada's disabled athlete of the year three times and shared a Lou Marsh Trophy as Canada's best athlete with Wayne Gretzky.

As Dr. Florizone said in bestowing Hansen's honorary degree, "What an honour to honour you, sir."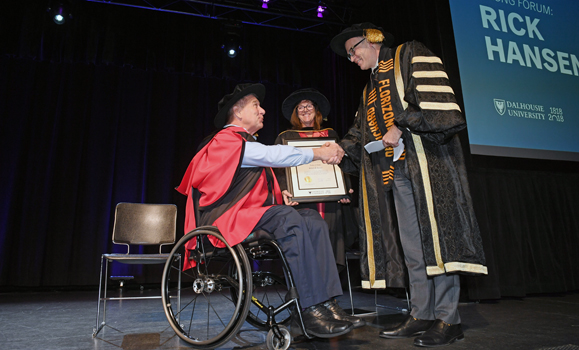 Changing attitudes about disabilities

Hansen's Belong Forum address focused on his efforts to change attitudes and remove barriers to participation. He shared a funny anecdote from his undergraduate days at the University of British Columbia, when he was wheeling up a steep hill, late for class, and a woman chased him all the way up the hill, exhausted, out of breath, and offered him a push. He offered her a ride.

His work has since been focused on demonstrating what can be done when barriers are removed. Hansen also spoke of this in an interview with Dal News afterward, and the need for authentic storytelling about people with disabilities, avoiding stereotypes and focusing on their accomplishments. In particular, stories that focus less on the disability and more on the barriers that prevent people from living life to the fullest.

"What does it mean that the Olympics and Paralympics are separate events?" he asked. "The stigma creates a perception that there are two classes of athlete."

And therefore, two classes of people.
The Rick Hansen backstory

At age 15, Hansen was thrown against a large steel toolbox while riding on a back of a pickup truck, after a fishing trip. He was paralyzed. "All your hopes and dreams are shattered along with that spine."

Lying in a hospital bed for what seemed like an eternity, he was not in a good state of mind. "I inherited all the traditional stereotypes and stigmas that most Canadians in the 1970s had about people with disability."

But he set a goal that he would sit up in bed by his 16th birthday, which he achieved. Hansen was visibly moved looking up at a photo of him on that day, in the hospital, smiling with a birthday cake. "It gives you the belief you can do it again, just one baby step."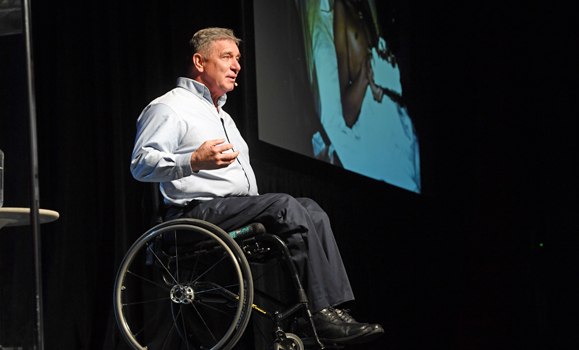 He was fortunate to meet a man named Stan Strong, who was injured in the 1930s and was in hospital for four years. His first wife left him. "I looked into his eyes and all I saw was pure joy." Strong refused to be consumed by what had happened to him, or by his disability.
 
He recruited Hansen to join the Vancouver Cable Cars wheelchair basketball team, with which Strong volunteered. From Strong, Hansen learned to "pay it forward. He built a culture of responsibility."

Hansen recruited several new players to the team, including Terry Fox, who had recently lost his leg to cancer and was still in chemotherapy. Both young men were inspired by their teammates' incredible abilities on the court.

The significance of the Cable Cars, Hansen said, was that they gave him a sense of belonging. "The Cable Cars was a defining moment in my life because it just made me feel like I was home, back being the person I wanted to be, an athlete." They showed him he could still be part of a high-performance team.

Hansen went on to participate in the 1982 Pan American games in Halifax, in wheelchair track, and then the Olympic Games in Los Angeles, where athletes with disabilities were included for the first time. He credits these achievements to the community of people who accepted and believed in him.

"I had no illusions that it was me on my own. I was supported by so many amazing people, the role models, the champions, the fellow competitors and teammates, people like Terry Fox, my coaches, sponsors and supporters and of course, my physiotherapist, Amanda." Amanda is now his wife.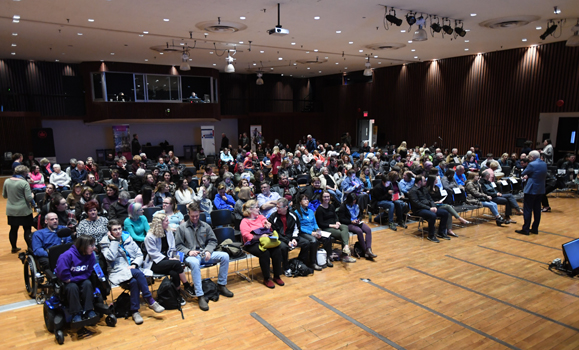 Man in Motion

Gratitude, and the sense of responsibility Stan Strong had instilled in him, drove Hansen to want to help others succeed. "I'd travelled the world as a Parolympian and I saw attitudinal and physical barriers manifested … they were reflected to me by the stories of hundreds of Paralympians … it was devastating to hear, to experience it."

And so, he thought, if he could wheel around the world, it would show people what can be achieved when barriers are removed. The Man in Motion tour started with a literal crash, at the Oakridge Mall in Vancouver. But an inauspicious start took him as far as wheeling on the Great Wall of China, symbolic of the fact that "there is no barrier or wall in this world that can't be crossed."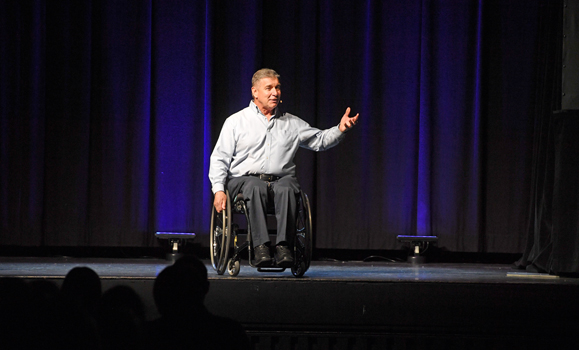 In Halifax, he wheeled across the Macdonald Bridge and at City Hall met a young Kevin Murphy, who had just been injured and is now the Speaker of the Nova Scotia House of Assembly, and himself a strong advocate for accessibility and inclusion. Hansen was buoyed by the response from Nova Scotia and by the many young people with disabilities who he met, who saw in him that it was possible to belong.

Thinking again of the community he was fortunate enough to be embraced by, Hansen realized that going forward, "it couldn't be just one man in motion … it had to be many in motion."
Standardized accessibility

Hansen has seen progress in the decades since his Man in Motion tour. When he revisited the Great Wall of China 25 years later, he found it had a ramp and lift, and that China had adopted rights for people with disabilities.

"I feel optimistic about the world; it's smaller, it's more connected than ever before," he said.

Globally, there are more than one billion people with disabilities. One in five people will have a disability by 2036. In Nova Scotia, one in five already do. "Disability will affect everyone," Hansen said.

While it's good that the focus is more on barriers rather than disability itself, Hansen laments the lack of standard measurability. One person, or city, or country's idea of a barrier can differ from another's, and much work remains in measuring outcomes, he said.

"That's why we decided to take a page out of the LEED energy efficient building environment … [and] create a professional accredited program with a group of access and inclusion specialists."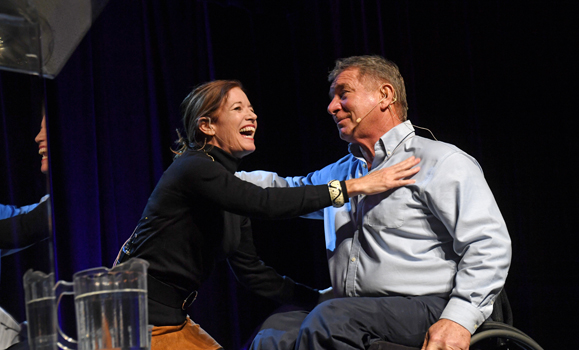 CBC's Colleen Jones greets Rick Hansen ahead of a question-and-answer period.

So far, more than 300 buildings have been rated in British Columbia using the standard developed by Hansen's foundation. Nova Scotia has adopted this system, funding the Nova Scotia Community College to train 24 experts on accessibility certification.
 
"Most people want to change," he said, "they just want to know how."

Hansen also acknowledged Dalhousie's "great research project … an outcome measure, so that the metrics of that work will be translatable … to other universities or other provinces or Canada, to other countries."

Hansen told Dal News he would like to see the university and other institutions create detailed, clear strategic plans for accessibility, engaging people from the top to the bottom in the process, with clear goals and outcomes, inventories of barriers, and also plans for employee recruitment and retention, research and education.

Hansen was clearly moved at the end of his presentation, when para-rower Meredith Bullock presented him with a wool blanket from the hard-working sheep of Dalhousie's Agricultural Campus in Truro.