Dalhousie is the first Atlantic Canadian university that is home to one of the Canadian Institutes of Health Research's (CIHR) 13 specialized research institutes.

The grand opening of the Institute of Genetics (IG) was held in Dalhousie Medical School's Tupper Building lobby earlier this month, just a few steps away from the IG's newly renovated headquarters in the former home of the Dalhousie Medical Research Foundation.

After speeches from Dr. David Anderson, dean of the Faculty of Medicine, and Dr. Roger McLeod, associate dean or research, Dr. Chris McMaster — the institute's scientific director — addressed the crowd of faculty, staff, students and members of the IG's Advisory Board on hand to mark the occasion.
"It's nice that instead of constantly asking for money, I get to give it away," he said to laughter.

As the Government of Canada's health research investment agency, the CIHR invests approximately $1 billion each year to support health research. Two types of research are funded: investigator-driven (or "curiosity-driven") research, in which individual researchers and their teams submit proposals to the CIHR and the top applications receive funding; and priority-driven, in which the CIHR issues a call for research proposals investigating the pressing health matters for Canadians as determined by the Government of Canada.

Dr. McMaster, appointed as the IG's scientific director on July 1, 2018, will play a major role in determining which projects receive CIHR funding.

A new challenge
 
Dr. McMaster spent his first 100 days as scientific director assessing legacy programs and partnerships previously established by the Institute of Genetics' outgoing scientific director, Dr. Paul Lasko, as well as focusing on building new national and international networks.

"We want to ensure that Canada is near the top, if not at the top, of the world in terms of genomic research," Dr. McMaster says of the IG's goal. "To do that, we need to be funding the most important research that has to be performed in the field and identifying gaps that, if they're not filled, will mean that we're falling behind and thus unable to use the information that's coming from the sequencing of hundreds and thousands, if not millions, of human genomes for the benefit of Canadians."

Dr. McMaster is especially excited to build on a partnership with the European Union to examine the legal and ethical barriers of sharing genomic data and patient information and create an efficient system to manage that data.

"The field of genomics has become an international exercise," Dr. McMaster says. "The more data, the better, and the more data that can be combined, the better. Most countries are willing to share their genomic data with each other so that we can understand what keeps us healthy and what makes us sick.

"It's about building those bridges and funding those projects so we can take what's going to be a renaissance in medicine over the next 10 years and be prognostic about health and disease as opposed to being reactionary."

While each of CIHR's 13 institutes have a home base in the university or hospital where its scientific director resides, the agency aims for a "virtual" structure that encourages partnership and collaboration across sectors, disciplines and regions rather than the construction of buildings or research centres.

"In the United States, the National Institutes of Health (NIH) has a campus where NIH-funded scientists work," Dr. McMaster explains. "CIHR doesn't actually have a campus; we provide funding for research exclusively through external grants."

When Dr. McMaster seeks guidance, he'll consult with the Institute's 12-person advisory board, the majority of whom were in attendance for the launch.

"They're national and international experts in all aspects of genomics across the four CIHR pillars (Biomedical; Clinical; Health Services; and Social, Cultural, Environmental, and Population Health Research)," he says of the Advisory Board. "They're the sounding board for our strategic plan and a rolodex for finding potential partners and funding opportunities. They ensure that Canada is running its genetics and genomics research at a world-class level."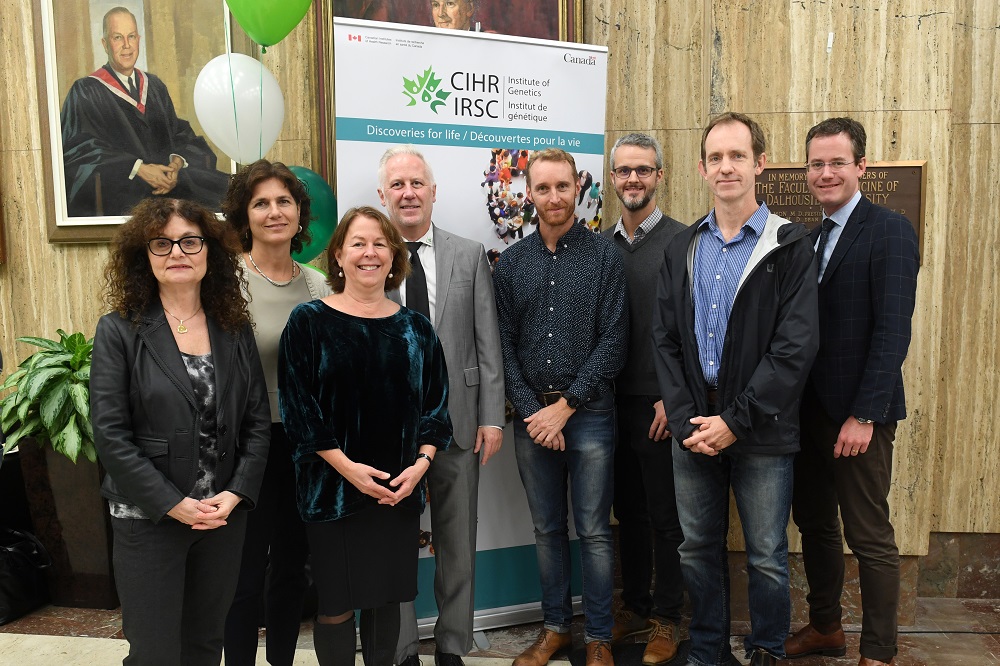 Institute of Genetics Advisory Board and Staff: (L-R): Drs. Rima Rozen, Esther Verheyen, Laura Arbour, Chris McMaster, Guillaume Bourque, Peter Stirling, Matthew Farrer, Étienne Richer (Assoc. Director)
Fresh leadership

Dr. McMaster isn't the only new face at CIHR; President Dr. Michael J. Strong began his position in October.

"The Canadian health research ecosystem is both vast and complex, and CIHR has an important and specific role to play in that environment," he said in a recent speech. "As president, I will always seek to strengthen CIHR's ability to support innovative health research and to collaborate with like-minded organizations both in Canada and around the world.

"Health research is one of the most important investments we can make as a nation."
 
As the IG's Scientific Director, Dr. McMaster is involved in the CIHR's monthly science council meetings with Dr. Strong, members of the agency's executive management committee and other institute scientific directors.

"I think it's the first time Atlantic Canada has had a voice at the big kids' table at CIHR," he says. "Some of the programs that get launched are very good for big universities in big cities in provinces that have big budgets — they will not work for a mid-sized university that doesn't have a big population.

"Balancing those two voices is an important role we can play."

Dr. McMaster notes another advantage to being in Halifax: "the experts come to us rather than us having to go to them."

"When they're here, they can interact with the other folks at Dalhousie and let the rest of Canada and the world know of the great work that's taking place here."