It was a time for celebration, gratitude and even a few quickly brushed away tears.
After three years of construction, the ribbon was cut on the 50,000-square-foot, $28-million Dalhousie Faculty of Dentistry clinic on September 28 as part of the Faculty's Homecoming Weekend and Dal 200th anniversary celebrations.
Dr. Ben Davis, dean of the Faculty of Dentistry, told the audience of alumni, faculty, staff, students and wider Dal community that the Faculty had achieved its fundraising target for the project. He also announced that the new clinic would be named the Dr. William Murphy Dental Clinic in honour of alumnus Bill Murphy (DDS'56), and what Dalhousie President Richard Florizone described as his "catalytic gift" to the campaign.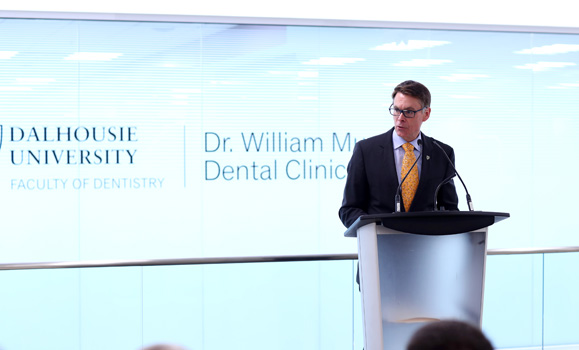 Dean Ben Davis speaks at the opening ceremony.

"This is a tremendous achievement and we are hugely grateful to all our alumni, friends, and corporate partners for bringing this campaign home. We couldn't have done it without you," said Dr. Davis. "It is both poignant and special that we are able to make this announcement and celebrate his legacy on the second anniversary of Dr. Murphy's death, September 28."
Training students for professional life

The Clinic Renewal Project, which was started under former dean Dr. Tom Boran, saw the clinic — last renovated in the 1980s ­— completely gutted and rebuilt. It now incorporates the latest in equipment and technology, enabling the clinic to treat more patients, provide enhanced care, and perform new procedures.  The renovated clinic space makes it possible for dentistry and dental hygiene students to work more collaboratively, and in a way that mirrors professional practice.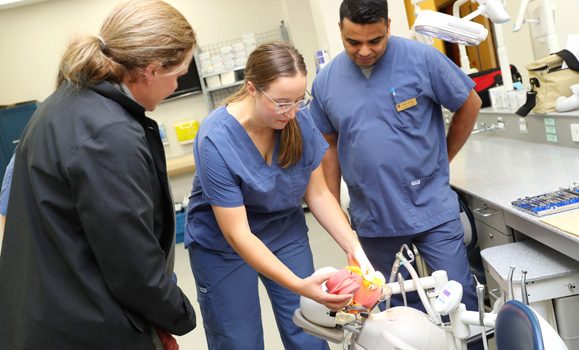 Dentistry students Ellen Woodworth and Rohit Singla demonstrate the typodents in the new simulation lab.
"It is no exaggeration to say that our students, faculty, and staff now teach, learn, and care for patients in one of the most modern and technologically sophisticated oral health education facilities in the country," said Dr. Davis.
The new clinic will also enhance the Faculty's ability to provide care to vulnerable populations through its outreach clinics. "I am proud to say that the new clinic is enabling us to expand our capacity to serve the community, providing oral health care and improving outreach to underserved populations," said President Florizone.
The clinics remained open during the three-year construction project so that students could continue with their studies and patients could continue to receive care.
Honouring Dr. Bill Murphy

Lisa Murphy and Karen Spaulding, Dr. Murphy's daughters, attended the ceremony and spoke about their father.
"Dalhousie University and its school of dentistry ran deep in our father's veins," said Spaulding. "I'm pretty sure the only other dentists he trusted with his teeth were classmates!"
Dr. Murphy was a practising dentist in Liverpool, Nova Scotia, for nearly 25 years before changing careers completely to revive Mersey Seafoods, now a thriving Liverpool firm. In 2008, Dr. Murphy and his wife established the J&W Murphy Foundation to be able to grant funding to the arts and culture, health care, and social services, including many projects at Dalhousie.
"Dad loved being a dentist," said Lisa Murphy. "He loved the science, and the precision, and the creativity of dentistry. He loved his colleagues and his patients. He simply loved being "Dr. Bill," a moniker he held onto long after he ceased to practise actively, and that's how he was known throughout his later years as a seafood entrepreneur.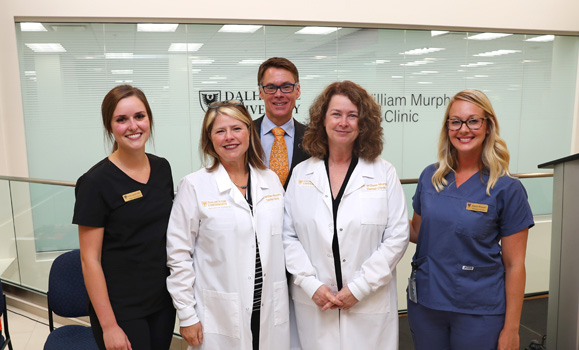 Dr. William Murphy's daughters, Lisa Murphy and Karen Spaulding, were presented with white coats bearing the name of the clinic named after their father. From left: Kristen Gamache, Lisa Murphy, Dr. Ben Davis, Karen Spaulding, and Lexi McLean.
"It is a testament to his pride of profession, and to his particular pride in being a Dalhousie Dental School graduate, that this is the only space that he agreed, during his lifetime, would bear his name. He was so honoured. And we are grateful for the opportunity to remember Dr. William Murphy – Dad – in this way."
The impact on students

Fourth-year dentistry student Lexi McLean and Bachelor of Dental Hygiene student Kristen Gamache both remember the 'old' clinic and now enjoy all the comfort and technology of the new one. They both spoke at the clinic opening about the impact it is having on their learning experience.
"I love the fact that [dentistry] blends art, science and care," said Lexi, who comes from a dentistry family. "As a result of the clinic renovations, all those aspects of our learning have been improved. The labs and the clinics are equipped with the latest equipment, the chairs are modern, lighting and accessibility are better, and my patients have told me how comfortable they feel in the new clinic."
Kristen Gamache received her Diploma in Dental Hygiene from Dalhousie in May this year and decided to return to complete her degree.
"Without the renovations, we would not have had the appropriate space to be able to have the group practice clinic — one of very few in Canada," said Kristen. "I appreciate the large cubicle size, which makes our clinic more accommodating for our diverse patient population, and the updated equipment, which has prepared me for private practice.
"As students who have experienced both the 'before' and the 'after', Lexi and I can say this beautiful renovation has greatly enhanced our quality of learning and will continue to do so for dental students of the future. Thank you all."
After the opening ceremonies, guests had the opportunity to tour the new labs and clinic and watch students carrying out demonstrations and simulations.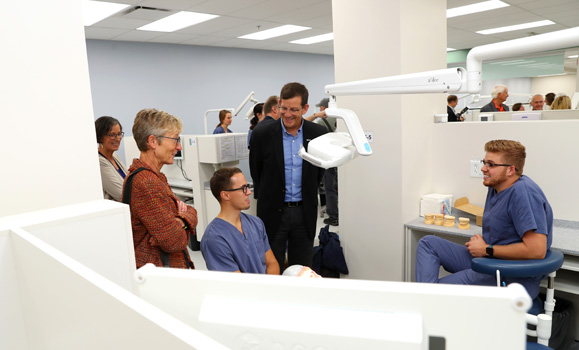 Students carry out demonstrations during clinic tours following the official opening.