Temple Grandin's Belong Forum Thursday afternoon (Sept. 27) took place before a capacity crowd full of people eager to hear from the world's most famous animal scientist and likely world's the most recognizable person with autism.

Dr. Grandin's work on both these fronts led to her being named one of Time Magazine's 100 most influential people on the planet.

Her address, held in Cumming Hall's Alumni Theatre on the Agricultural Campus, was part of Dal 200's "Year of Belonging." She joined past Belong Forum speakers like Buffy Sainte-Marie, Senator Murray Sinclair and Mark Tewksbury in wrestling with the question: "What would it take to create a world where we all feel we truly belong?"

Dr. Grandin, who was nonverbal until she was nearly four years old, has changed the world in at least two significant ways. First, she was behind a revolution in how cattle farming is designed, noting that as long as we eat meat we are ethically responsible for providing farm animals a good life and humane death.

A visual thinker, she was able to see things other humans didn't notice that spooked the cows — from shadows to spraying water to chains hanging down in their pens. She designed facilities that calmed the animals, making their lives and deaths easier. "Animals don't think in words," she said. "It's a sensory-based world."

As a result of her calming innovations, "Half the cattle in North America are handled in equipment I designed," she told the crowd of students, faculty and community members.

Advocacy and understanding

Secondly, Dr. Grandin became an outspoken advocate for people with autism and for visual learners in general, showing the world that genius like hers is more common than we realized, but it is too often screened out by our education systems.

Since the early '90s she has been tirelessly touring the continent educating parents, students and teachers about autism, developing an enormous following. Not surprising, then, that this installment of the Belong Forum series was completely at-capacity within a few hours of it being announced.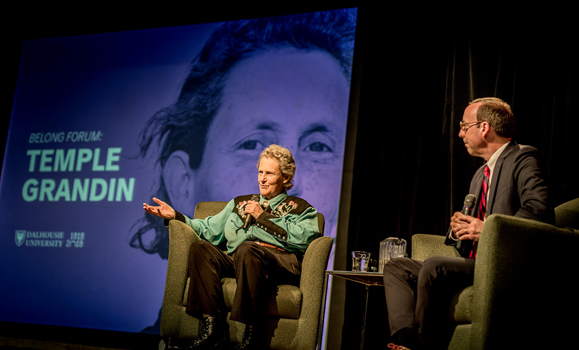 In keeping with the theme of the Belong Forums, Dr. Grandin focused her talk (which was followed by a Q&A with Paul Withers of CBC — one of Dal 200's sponsors) on different learning styles and the need to engage them all, leaving no one out.

"We're getting better at recognizing different kinds of brains, but … we've gotten worse in taking out all the variety of things that kids can do in school to figure out an appropriate career: art, music, woodworking, welding, auto shop, music," said Dr. Grandin in an interview with Dal News prior to her address. "Diverse minds are good at doing different things."
Watch the full Belong Forum: Archived livestream — Temple Grandin

And the key point is that people with different learning styles — including visual or object thinkers, pattern or mathematical thinkers (also excelling in music), and word or concept thinkers, among others — are most effective when they work together.

Dr. Grandin gave the example of her grandfather, John Coleman Purves, who "worked with a guy who was probably on the autistic spectrum, who came up with this crazy idea … everybody in aviation thought it was crazy." Her grandfather was not dismissive, and in fact decided he could make it work. The two men co-invented the autopilot.

It took a visual thinker to conceptualize something new and someone with practical engineering skills to build it. Together the two men "tinkered and tinkered and tinkered" to make the system work, trial and error. "You need different kinds of thinkers working together," Dr. Grandin said. "Engineers calculate risk. Visual thinkers see risk."

The importance of tinkering

Dr. Grandin worries that modern education systems, with their focus on test scores and abstract concepts like algebra, screen out visual thinkers into special-education categories. She asked her audience to consider how someone like Einstein, who didn't speak until he was three, would have fared nowadays.

Tinkering, Dr. Grandin added, is something kids need to do, but they are too often distracted by screens, especially video games. "Kids need to be making things, playing with paper airplanes, trying out different things, adding paper clips, seeing how to make them fly best," she told Dal News. "People need to touch in order to perceive."

Dr. Grandin is also a strong advocate of internships, or "trying on careers," and gave practical advice for young job seekers, especially those with less common learning styles. "When you're weird, you've got to show them your work. Your portfolio should be a 30-second 'WOW.'" Only the best of a person's work.

Dr. Grandin closed with advice for those with disabilities of any kind to focus on what they can do, more so than what they can't do. "Autism is an important part of who I am," she said —  but stressed that her identity is based on her abilities and accomplishments in animal science.
Watch the full Belong Forum: Archived livestream — Temple Grandin
Upcoming Year of Belonging events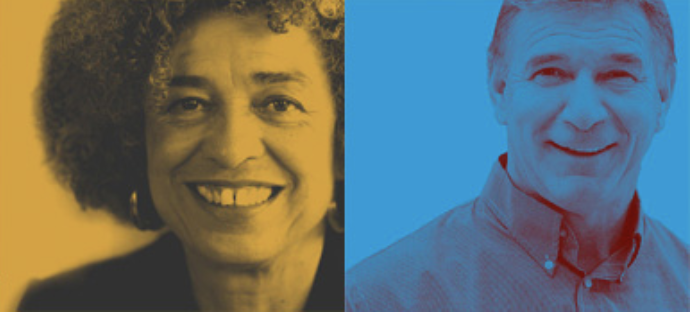 There are two more Belong Forums still to come in 2018: