On a walk between the Dunn parking lot and the Henry Hicks Building, you may notice red tape on many of the trees in the area. The tagged trees are Norway Maples, an invasive species in Canada. In 2016, students, faculty, and community volunteers participating in the first-ever Bioblitz at Dalhousie discovered the Norway Maples.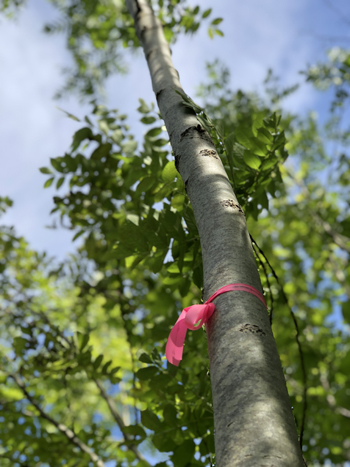 Soon the trees will be removed and replaced with native various native species to naturalize the ecosystem in the area and make it a more inviting space for the campus community.
"There is research that shows if you spend more time outside you'll be more productive," said Lara Gibson, an instructor in the Department of Biology helping with this initiative. "While the planting is good for the earth, it will also be good for the students."
While it may seem counter-productive to remove trees just to plant more, it's important to understand the threat of invasive species. Scientists and staff at Dalhousie have teamed up to tackle this issue.
Learn more: 2018 Bioblitz happening this Friday (Sept. 21)
Identifying the problem

The area of interest is called Ocean Pond. It was originally funded by a gift to the university from Ocean Contracting and planned by now-retired professor Martin Willison.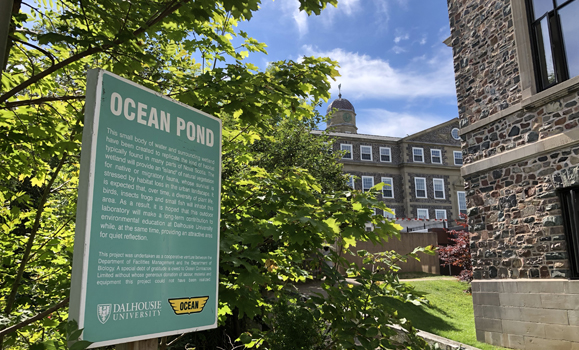 Student volunteers helped Dr. Willison transport Nova Scotia bog plant matter to the Ocean Pond location, which had originally been problematic in spring and summer: it would flood from heavy rain, and then dry up during the hotter summer months. After they transformed the area into a wetland, Ocean Pond acted as a drainage basin where precipitation could be collected and drain out more slowly.
While Ocean Pond is meant to have an ecosystem gradient from a higher elevation to a marshland that includes many species of trees and shrubs, the Norway Maple is taking away resources from native plants.
The Norway Maple was brought to North America from Europe in the 1700s. While it has a quite pretty maple-shaped leaf, it can harm the indigenous species native to this area. This is because it grows quite tall and dense. This limits the amount of sun that can get to the shorter native plants below. Its leaves also release a toxin that can affect the soil fungi and microbes necessary for the many ecosystems that populate Ocean Pond.
Finding solutions

Once the Norway Maples are cleared, an effort to reclaim the area for its native species­­ — White Pine, Larch, Hemlock, and Red Maple — will occur. The project at Ocean Pond is one of many that are included in the University Natural Environment Plan. Ocean Pond is an especially good candidate for remediation. For example, it's used as an outdoor lab location for first-year biology students, which emphasizes its potential benefits moving forward.
While the focus of this project is to revitalize Ocean Pond and plant native species specifically, the Norway Maples being removed will not go to waste. Facilities Management will use the cut-down trees to make mulch to help with other landscaping work across campus.