The Rebecca Cohn was packed Wednesday night as close to a thousand people absorbed the accrued wisdom of Senator Murray Sinclair, who chaired the Truth and Reconciliation Commission of Canada (TRC) from 2009 until its landmark 2015 report on the racialized, cultural, sexual and physical abuse of 150,000 Indigenous children from the 1880s until 1996.
Murray's address was part of Dal 200's Belong Forum series, in which internationally recognized thinkers, trailblazers and change-makers wrestle with the question: "What would it take to create a world where we all feel we truly belong?"
Sinclair said true belonging means there are people around you who will help you when you need it — and you, in turn, will help them.
"Reconciliation, will mutually benefit both of us," he said, speaking to both Indigenous peoples and settlers. "But we have a lot of history to overcome. For a long time now, Indigenous people have not felt like they belong in the same circles as the rest of Canada because the history of our relationship has been about rejection."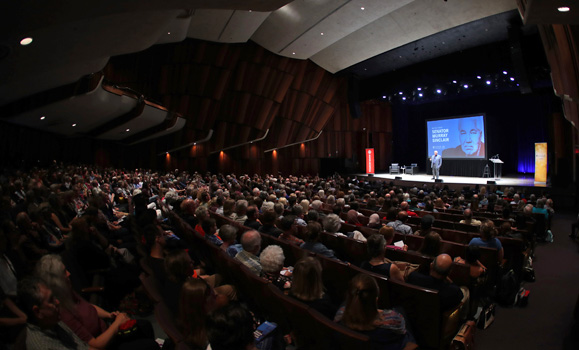 This rejection was perhaps most visibly manifested in the form of residential schools, with the federal government taking children from where they felt they belonged, and forcing them somewhere that didn't want them.
Sinclair said the anger Indigenous people feel as a result of centuries of colonization has been taken out on Indigenous family members and communities, resulting in the highest suicide rates anywhere, medical problems related to poor self-care, and violence in the form of gangs, drugs and alcoholism.
"And then on top of all of that is the fact that they're being criminalized, they're being sent to jail, they're losing their children to the child welfare system at even higher rates than the residential schools took their children away."
Watch: Archived livestream of Senator Sinclair's Belong Forum

Talk of reconciliation

Though Sinclair's humour was frequently on display throughout the evening — including cute anecdotes about his precocious grandaughter — there was no question there was a heavyness in the air as Sinclair and other guests on-stage discussed the legacy of Canada's residential schools.
In her opening prayer, Elder Jane Abram of Millbrook First Nation voice broke slightly as she acknowledged the survivors of residential schools, including those who have since passed. "To those who have gone on to the spirit world, I pray you will find the happiness you longed for."
Naiomi Metallic of Listuguj First Nation, the Chancellor's Chair in Aboriginal Law and Policy at Schulich School of Law, introduced Sinclair. She paraphrased from A Tale of Two Cities, saying this year has been the best and worst of times for Indigenous People, that witnessing two separate high-profile acquittals, of the men who killed Colten Boushie and Tina Fontaine, "highlights the continued crisis of missing and murdered Indigenous women in Canada."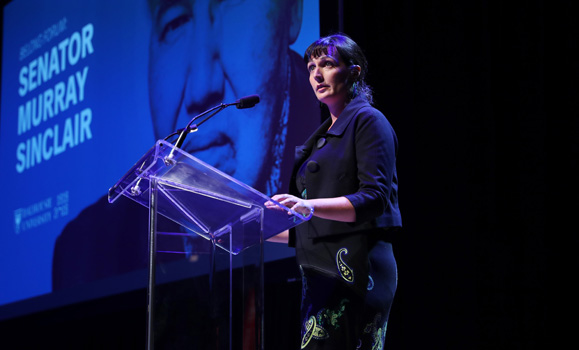 But there is hope, provided in part by the work of the TRC, she said. "There is no question that reconciliation is a lens through which many conversations we are having today is filtered … and I don't think this would be happening if it were not for the work of the Truth and Reconciliation Commission and its commissioners … as well as all the residential school survivors who had the courage to seek justice."
A dialogue for change

Sinclair discussed a fascinating paradox: that the greatest hope for change is education, but at the same time, "Education has been a primary tool of assimilation, and … continues to be." This is because children are still taught from the misguided and inaccurate perspective that a superior race of people settled and civilized this nation.
And so, he said, "We need to change the way we think, talk and act." Schools need to help students address four fundamental questions: Where do I come from? Where am I going? Who am I? And why am I here?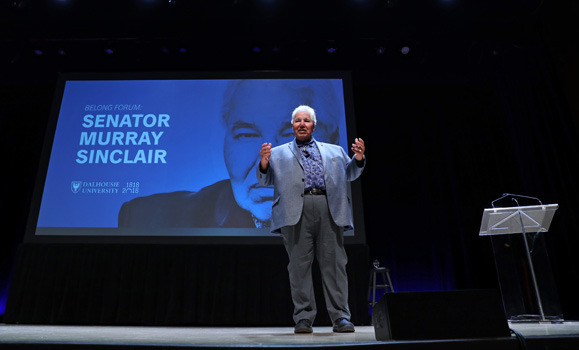 If we don't address this fundamental assumption of racial and cultural superiority, along with all the negative stereotypes about Indigenous people that our children are exposed to in media and conversation, Sinclair said we'll be having the same conversations for many more years. And that will mean Indigenous people will continue to feel they don't belong, will continue to be angry, and their communities will continue to suffer the same problems.
Calls to action

In a backstage interview with Dal News — following his post-lecture Q&A, hosted by journalist Tom Murphy of CBC News (a Dal 200 sponsor) — Sinclair said he has been impressed by the progress he's seen so far regarding the 94 Calls to Action in the TRC's final report.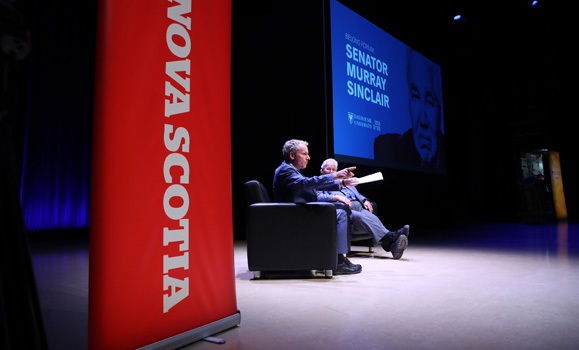 "We recognized that waiting for government to act was going to be a process of frustration," he said. The commission was strategic in directing its calls to action more broadly — to communities, cities, churches, schools and other institutions and workplaces, and to the leaders of these places.
Sinclair has been heartened that cities have declared months of reconciliation, and leaders have made commitments to include Indigenous people in the work they do. "Halifax for example has their treaty celebration day in recognition of the 1763 treaty."
The Government of Canada, he said, has been slow to act, as have some provinces. "But we've seen curriculum changes in some provinces. And churches, he said, outside of the Catholic Church, have also been very engaged in the reconciliation process.
As an educational institution, Sinclair would like to see Dalhousie be a resource for Indigenous children living in Halifax, building on current outreach initiatves to become an even more welcoming space for Indigenous youth.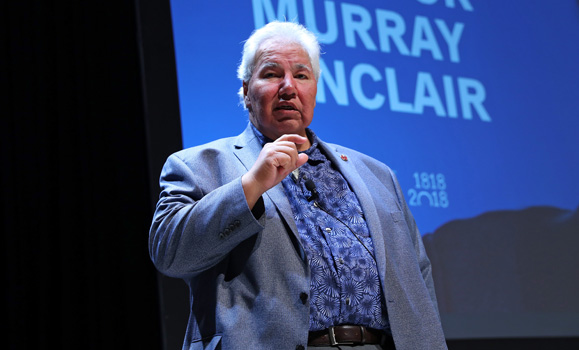 "They should have a chance to come to the university and see it as welcoming to them," he said. They could be invited to use university resources such as the gym or computers, for example. He also calls for "engaging with Indigenous leaders about their decision-making process."
Watch: Archived livestream of Senator Sinclair's Belong Forum
Upcoming Year of Belonging events
As with all of the Belong Forums, Senator Sinclair's lecture is followed this week by a "Building Belonging" workshop on Friday — a guided conversation circle on how to enact the "Truth and Reconciliation Calls to Action," and thoughts and ideas regarding embedding Indigenous content, worldviews, and ways of knowing and learning in our classes. Learn more.
There are also three more Belong Forums still to come this year: