Even though Nick Belliveau received his degree in May, he's still spending most of his days in the Biology department. That's because Nick is helping to digitize the university's nearly 100-year-old Herbarium.
"The Herbarium was founded around 1930 so it's been part of Dalhousie for nearly half the university's history," Nick says. "It contains about 10,000 specimens, give or take a thousand. And it might actually be bigger because I think I really underestimated how many seaweeds we have."
A herbarium is a collection of preserved plant specimens usually dry mounted on archival paper and stored in file cabinets.
"Some of them are on paper that's over a hundred years old. We have a sarsaparilla that was collected in 1901."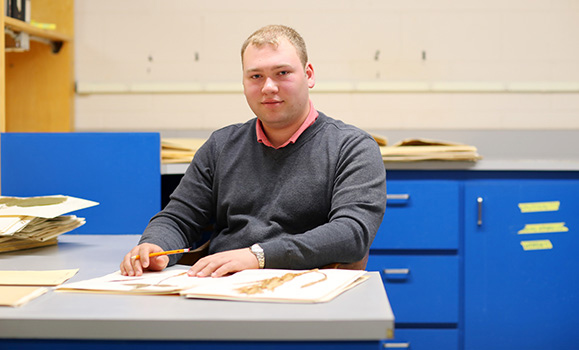 Growing interest

To take these physical records and turn them into digital files is a big job — one that's perfectly suited to a Biology graduate who has developed a keen interest in plants.
"I originally wanted to go to Medical School, like a lot of starting Science majors," Nick admits, "but I ended up really falling in love with the flora of Nova Scotia and Botany and that part of the Biology program."
Once he decided to commit to studying plants, he took any courses he could that were relevant to the subject including the Tropical Ecology & Biodiversity Field Class, which took Nick and 16 classmates to Sri Lanka for 18 days.
"We travelled all over the southern half of the country an saw a huge amount of biodiversity — insects and mammals, birds, plants, everything. It's just so incredible. I mean, for example, we have 25 or 30 species of trees in Nova Scotia that are native; in Sri Lanka, I think the statistic is that in one hectare you might find 300 different species of trees."
Read more: Science students trek through Sri Lanka for a unique field experience
Ground work


For his honours thesis Nick had an opportunity to do some field work closer to home. He spent a month in the field looking at the difference between what the Forest Ecosystem Classification calls Treed swamps and Tall Shrub swamps in Nova Scotia.
"They define a treed swamp as having trees greater than 10 meters in height covering more than 30% of the canopy cover overall. Whereas tall shrub swamps have the same canopy cover requirement but the plants are 2-10 metres in height. The 10 metre cut off didn't really make sense to me, so I wanted to investigate it."
In addition to getting some rewarding time in the field and meeting other like-minded people, Nick's local ecological survey was invaluable preparation for the herbarium project.
"I found one specimen in the Herbarium that was classified as something in the sunflower family but it ended up being in a completely different class of plants," Nick explains. "It was a monocot, a sedge, black sedge. I recognized it because I'd collected that particular species."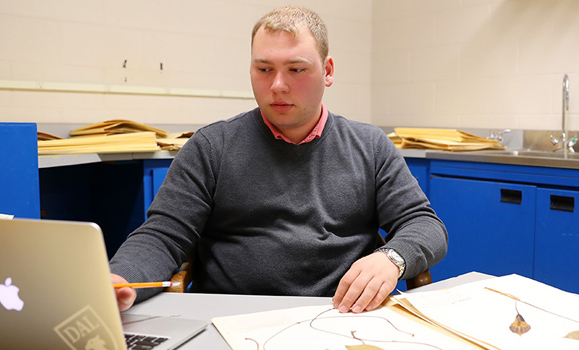 Process of discovery

The Herbarium Digitization Project is a collaboration between the Department of Biology and the University Archives. A four-step process, the digitization involves verification, cataloguing, recording included information and then photographing each specimen. While taking the Herbarium through this process, Nick has uncovered a few fun surprises.
"There are some really interesting notes that we find on some of these specimens," he says. "There was one with Poison Ivy where the person who collected it put a testimonial of what happened after he collected them. I guess he didn't know it was Poison Ivy and he ended up getting a rash, an infection, and he was very detailed in his testimonial."
Nick also came across a specimen that has a journal article from the 1930s attached to it.
"It was the first specimen of this species that was found in Canada," he explains. "The person who collected it, Margaret S. Brown, a very well-noted Biologist from Nova Scotia who collected most of our mosses, liverworts and lichens, wrote the article about this species that they found in somewhere in Halifax County."
Nick received the Sarah Lawson summer research scholarship so he can work on the project full time over the summer. At the end of August, he moves to Saskatoon to start a master's degree in Plant Systematics.
"By the end of the summer, my goal is to get about 50 per cent done and then the volunteer, who is also working with the project now, is going to take it over so the project will continue," Nick explains. "I hope it will be completely done by the end of the next academic year. Even better would be to have it done by the end of 2018 to make it all happen within the bicentennial year."