HONOURS: Biology & Marine Biology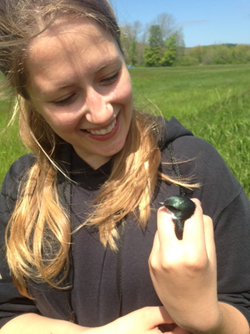 The aim of Dalhousie's Biology and Marine Biology Honours Program is to give undergraduate students a complete scientific research experience. Under the tutelage of a Faculty supervisor, students coordinate all aspects of an independent research project — from the identification of central research questions and hypotheses, to the design of experiments, to the collection and analysis of data, and finally to the interpretation of results, all of which culminates in a final written thesis. In short, students learn how to become scientists. Part of the thesis program also involves science communication, and all students participate in our annual Cameron Conference, which is a formal, 1-day conference where students present their results to their peers, to faculty from across the University, and to other attendees and guests.
Our students initiate thesis projects that are a diverse as biology itself, ranging from cell and molecular studies, to animal behaviour and physiology, to behavioural ecology, as well as ecosystems ecology and oceanography. It is available to advanced, 4th year students who intend to continue their academic careers at the postgraduate level in Biology and other related fields, or to students who intend to pursue a career where research experience might be a valuable asset. Many students end up publishing their theses as articles in international peer-reviewed scientific journals, which is a terrific thing to list on a CV and in graduate or professional school applications.
More details about the program, including contact information for Honours Advisors, can be found in the documentation listed to the right. The "Guide for Students and Supervisors" provides information about the academic requirements for admission to Honours, and other specifics about the Honours courses BIOL/MARI 4901 & 4902.
Honours Advisors
HONOURS (Biology and Marine Biology)
Availability
Margi Cooper

mhcooper@dal.ca
by appointment
Patrice Côté
patrice.Cote@dal.ca
by appointment
Julie LaRoche
julie.laroche@dal.ca
by appointment

Aaron MacNeil
a.macneil@dal.ca
by appointment  
Mindy McCarville
mindy.mccarville@dal.ca
by appointment
Honours Co-op Advisors
CO-OP (Biology)
Availability
Mindy McCarville
mindy.mccarville@dal.ca
by appointment

CO-OP (Marine Biology)
Availability
Nancy McAllister-Irwin

nancy.mcallister-irwin@dal.ca
by appointment